Photo Flash: FREUD'S LAST SESSION Stars Ring NASDAQ Closing Bell
The stars of Off-Broadway's hit play FREUD'S LAST SESSION, Mark H. Dold and Martin Rayner, presided over the closing bell at NASDAQ MarketSite on November 11th (Veterans Day). The ceremony was broadcast live on the 7-story-tall NASDAQ Tower looming over Times Square at Broadway & 43rd Street. FREUD'S LAST SESSION, by Mark St. Germain, opened on July 22nd to rave reviews and immediately became a sellout sensation at the Marjorie S. Deane Little Theater, 10 West 64th Street (at Central Park West). Due to a prior December booking commitment at the theatre, this strictly limited engagement of FREUD'S LAST SESSION must end Sunday, November 28th. The Off-Broadway premiere of FREUD'S LAST SESSION is directed by Tyler Marchant.
FREUD'S LAST SESSION centers on legendary psychoanalyst Dr.
Sigmund Freud
(
Martin Rayner
), who invites the young, rising academic star
C.S. Lewis
(
Mark H. Dold
) to his home in London. Lewis, expecting to be called on the carpet for satirizing Freud in a recent book, soon realizes Freud has a much more significant agenda. On the day England enters World War II, Freud and Lewis clash on the existence of God, the joy of love, the purpose of sex, and the meaning of life - just a few weeks before Freud's own death. Not just a powerful debate, this is a profound and deeply touching play about two men who boldly addressed the greatest questions of all time.
Mark
St. Germain
's celebrated new play was suggested by the bestselling book The Question of God by Harvard's Dr. Armand M. Nicholi, Jr.FREUD'S LAST SESSION is presented Off-Broadway by
Carolyn Rossi
Copeland,
Robert Stillman
and
Jack Thomas
. Performances are Tuesdays at 7pm, Wednesday through Saturday evenings at 8pm, with matinees Wednesday and Saturday at 2pm and Sunday at 3pm. There will be no performance on Thanksgiving, November 25th and there will be a special added matinee on Friday, November 26th at 2pm. Tickets are $65 and are available by calling 866-811-4111 or through www.FreudsLastSession.com. A limited number of $20 Student Rush tickets (with valid student ID) are available at the box office beginning three hours prior to each performance.
For more information, visit www.FreudsLastSession.com.
Photos courtesy of The NASDAQ OMX Group, Inc.


FREUD'S LAST SESSION Company & Friends

Mark H. Dold and Martin Rayner

FREUD'S LAST SESSION Company & David Wicks

Mark H. Dold, Martin Rayner, Nasdaq VP David Wicks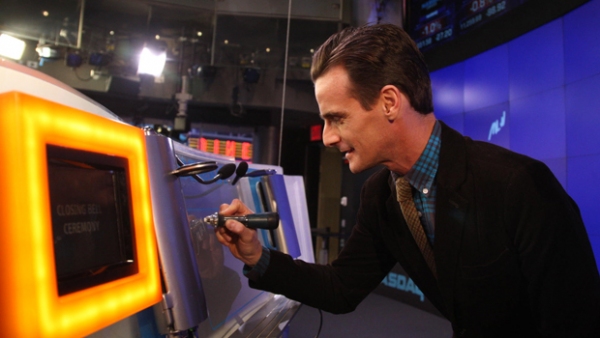 Mark H. Dold