Photo Flash: 'Cherubina' Opens Feb.4
The World Premiere of Paul Cohen's new drama Cherubina, directed by Alexis Poledouris, officially opens at The Sanford Meisner Theater on February 4 with performances through February 23.
"Set in Saint Petersburg, Russia in 1913, Cherubina is based on the true story of Elisa Ivanovna, a frustrated poet and crippled school teacher. Elisa and her friend create Cherubina deGabriak, Elisa's young, beautiful, and fictional nom de plume, to see if Nikolai, who publishes the literary paper, will be more likely to print poems by this mysterious, voluptuous writer. He does, and falls in love with the idea of Cherubina through her poems and the letters they exchange. It is a dark comedy that explores the relationship between art and love, beauty and truth, all with a biting wit that will leave audiences breathless," describe press materials.
The production stars Teddy Bergman (I Was Tom Cruise at FringeNYC, Hell House at St. Ann's Warehouse and I.E. in Other Words at The Flea), Amanda Fulks (Charlie Kaufman's forthcoming Synechdoche, New York, starring Phillip Seymour Hoffman) and Jimmy Owens.
Lighting and set by Gina Scherr (Two Rooms at 78th Street Theatre Lab) and costumes by Zane Pihlstrom (The Brothers Size).
Playwright Paul Cohen is a native New Yorker and a product of its public school system. His plays have been produced at the John Houseman Theatre, The Riant Theatre, The Posseble Theatre, and Maeutic Theatre. His plays include Mourn the Living Hector, The Library Play and Between You and Me.
Alexis Poledouris's New York directing credits include: All This Beautiful Life (chashama); Baby Face by Ashlin Halfnight (walkerspace); Momma by Edith Freni (PS122); DIRGE with text and lyrics by Claire Brownell (Target Margin Theater/The Ohio Theater)
Cherubina runs February 1 - 23, Thursday - Sunday at 8PM with an additional performance Monday, February 4 at 8PM.
The Sanford Meisner Theater is located at 164 Eleventh Avenue (between 22nd & 23rd Sts. accessible from the C & E trains at 23rd Street). Tickets are $18, available by calling 212-352-3101 or at www.TheaterMania.com. For more info visit www.thecherubina.com.
Photos by Matthew Koschara

Jimmy Owens and Teddy Bergman

Amanda Fulks

Amanda Fulks

Amanda Fulks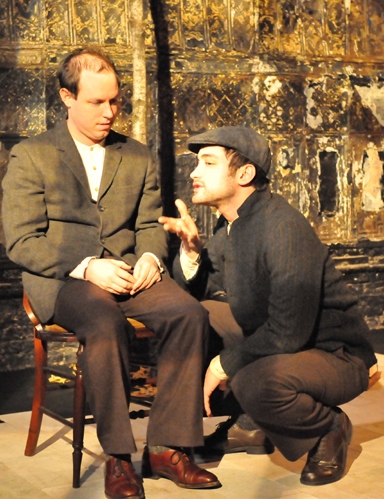 Jimmy Owens and Teddy Bergman
Featured This Week on Stage Door
Shoutouts, Classes, and More from Your Favorite Broadway Stars
Related Articles
From This Author BWW