Photo Flash: Brian Stokes Mitchell and More Visit NOT THAT JEWISH Off-Broadway
Recent VIP audience members at NOT THAT JEWISH, the new hit comedy written by and starring Monica Piper at New World Stages, have included Tony Award winner Brian Stokes Mitchell, comedienne Carol Leifer, TV journalist Geraldo Rivera and lawyer Alan Dershowitz with their families. Scroll down for photos of them backstage!
NOT THAT JEWISH recently announced a new block of tickets on sale through April 30, 2017. If you've ever broken your Yom Kippur fast at Hunan Palace? Or forgotten that it was Rosh Hashana until your doorman Pedro wished you a Happy New Year? Or realized that you really don't know how to spell Chanukah? (Hanukkah? Or is it Hannukah?) ...Then have we got a show for you!
NOT THAT JEWISH is the hilarious new comedy written and performed by Emmy Award-winning and Golden Globe nominated writer, actress and comedian Monica Piper, directed by Mark Waldrop (Howard Crabtree's When Pigs Fly, Bea Arthur on Broadway: Just Between Friends.) Piper stars in this autobiographical ride of a Jew'ish' woman's life. From her show business family in the Bronx, to a WASP wedding, to her first step on a Comedy Club stage and life as a single mom, Piper shares the milestones and moments that shaped her life with the same signature wit found in her writing on "Roseanne," "Mad About You," and her Emmy Award winning work on "Rugrats." Reminiscent of Billy Crystal's 700 Sundays with a peppering of Neil Simon's Lost In Yonkers, NOT THAT JEWISH is 90 lightning-fast minutes of funny, moving and inspirational theater.
Monica Piper began her career studying improv with Second City in Chicago, and performed with "Sons of the Sunset," and "Papaya Juice" in San Francisco, before going solo as a stand up and becoming one of Showtime Network's "Comedy All Stars." Her Ace Award-winning Showtime Special, "No, Monica... Just You" was nominated for an American Comedy Award. Piper went on to become an acclaimed television writer, eventually becoming the showrunner of the #1 children's animated series, Rugrats, for which she won an Emmy.
NOT THAT JEWISH features set design by Michael Carnahan, lighting design by Julie Duro, sound design by Ian Wehrle, and projection design by Zachary G. Borovay. NOT THAT JEWISH is produced by Michael Alden, Ronda Spinak, Alan Duncan Ross, Marcia Seligson, Jim Russek, Richard Winkler, Jamie deRoy and The Leighton Family, in association with Jewish Women's Theatre.
Photos Courtesy of Not That Jewish


Brian Stokes Mitchell and Monica Piper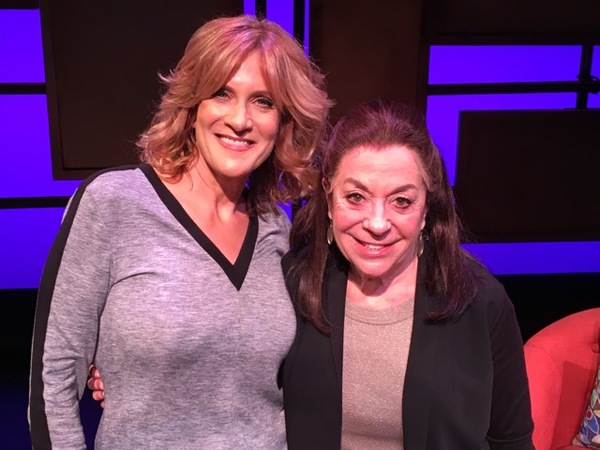 Carol Leifer and Monica Piper

Geraldo Rivera, Alan Dershowitz and company with Monica Piper