Photo Flash: Aaron Paul and Friends Turn SLEEP NO MORE Into Scene From MR. ROBOT
On Monday, July 18th, AaRon Paul, his wife Lauren, actor/singer Troye Sivan, and model Jacob Bixenman turned the popular immersive theater experience SLEEP NO MORE (now in its fifth hit year at The McKittrick Hotel in NYC) into a scene out of "Mr. Robot" as they donned SLEEP NO MORE's now-famous masks (which all Audience members wear while attending the performance) and took to the streets of Chelsea, NYC for a homage to the 'F Society' characters (who also don masks) on the red-hot Emmy-nominated TV show.
Scroll down for a photo from Lauren Paul's Instagram!
SLEEP NO MORE has been a celebrity magnet for years in large part because celebs can wear masks in the show, a rare moment of anonymity out in public. Among the celebs who have repeatedly returned to the show: Leonardo DiCaprio, Jennifer Lawrence, Emma Stone, Justin Timberlake, Madonna, and Ryan Gosling, just to name a few.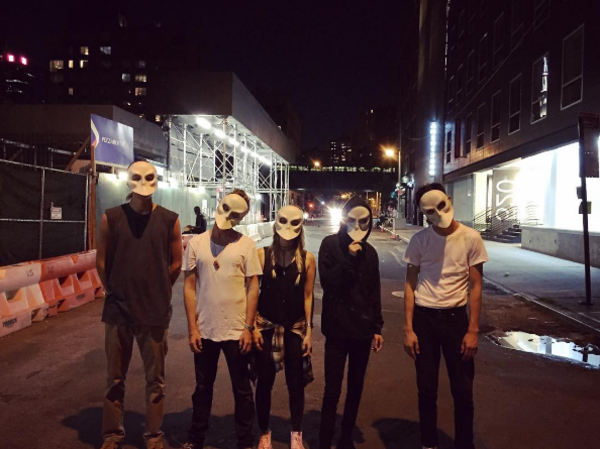 AaRon Paul, Lauren Paul, Troye Sivan, and Jacob Bixenman wearing SLEEP NO MORE masks in Chelsea
More Hot Stories For You