Nia Vardalos to Return for TINY BEAUTIFUL THINGS Encore at The Public Theater; Cast Announced!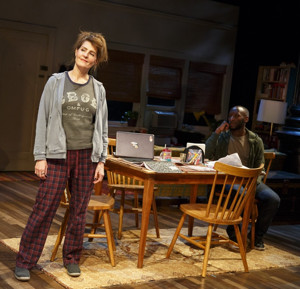 The Public Theater announced complete casting today for the encore engagement of the acclaimed production of Tiny Beautiful Things, part of The Public's Astor Anniversary Season at their landmark downtown home on Lafayette Street, celebrating 50 years of new work at 425 Lafayette Street and the 50th Anniversary of HAIR.
Based on the book by Cheryl Strayed, adapted for the stage by Nia Vardalos, co-conceived by Marshall Heyman, Thomas Kail, and Nia Vardalos, and directed by Thomas Kail, the show returns after a sold-out run in The Public's Shiva Theater in Fall 2016.
Featuring Nia Vardalos returning as "Sugar," the show begins previews in The Public's Newman Theater on Tuesday, September 19 and runs through Sunday, November 12, with an official press opening on Monday, October 2.
The complete cast of Tiny Beautiful Things features Teddy Cañez, Ceci Fernandez, DeLance Minefee, Hubert Point-Du Jour, Nia Vardalos, and Natalie Woolams-Torres.
Following its critically-acclaimed and sold-out run last season, the uplifting and richly funny Tiny Beautiful Things, based on the best-selling book by author Cheryl Strayed, returns to The Public's larger Newman Theater with Academy Award-nominee Nia Vardalos reprising the role of "Sugar." Thousands of people wrote letters asking for advice from an anonymous online columnist named "Sugar," who drew from her own life experiences to answer in a candid, often brutally honest exchange. It was later revealed that "Sugar" was Cheryl Strayed.
Vardalos adapts the book, weaving together the real letters to explore the monstrous beauty, unfathomable dark and glimmering light which are at the heart of being human. Tony Award winner Thomas Kail directs this "incredibly moving" play about reaching out when you're stuck, healing when you're broken, and finding the courage to take on the questions which have no answer.
TINY BEAUTIFUL THINGS features scenic design by Rachel Hauck, costume design by Jennifer Moeller, lighting design by Jeff Croiter, and sound design by Jill BC Du Boff.
Tiny Beautiful Things is made possible with the generous support of The Edgerton Foundation New Play Award and The Ted & Mary Jo Shen Charitable Gift Fund.
ABOUT THE ARTISTS:
Cheryl Strayed (Original Book) is the author of Tiny Beautiful Things, Torch, Brave Enough and the number one New York Times bestseller Wild. Her books have been translated into more than 40 languages around the world. The Oscar-nominated film adaptation of Wild was released in 2014. Strayed's essays and stories have appeared in the Best American Essays, Vogue, The New York Times, The Washington Post and elsewhere. Strayed is the co-host of The New York Times "Dear Sugar Radio" podcast, which originated with her popular "Dear Sugar" column.
Nia Vardalos (Adapter, Co-Conceiver, Sugar) has appeared on stage as Jennie in Theatre20's Company directed by Gary Griffin; writer/actor, twelve revues in The Second City (Chicago Jeff Award winner). Writer/actor, film credits include My Big Fat Greek Wedding 1 & 2 (Academy Award & Golden Globe nominations, Indie Spirit & People's Choice award winner), Connie and Carla, I Hate Valentines Day. Actor, film, and television credits include My Life in Ruins; For a Good Time, Call...; "Graves"; "The Catch"; "Jane the Virgin." Author of Instant Mom.
Thomas Kail (Co-Conceiver, Director). The Public: Hamilton and Dry Powder. Broadway: Hamilton, In the Heights, Lombardi and Magic/Bird. Off-Broadway: In the Heights, Faust, The Wiz, Broke-ology, When I Come to Die, Family Furniture, Daphne's Dive, and The Tutors. TV: "Grease Live!" He is the co-creator and director of the hip-hop improv group Freestyle Love Supreme. Graduate of Wesleyan University.
Marshall Heyman (Co-Conceiver) has written for the Wall Street Journal, The New York Times,The New Yorker, Vanity Fair, Vogue, InStyle, W, Harper's Bazaar, New York and many others. He is currently writing for the new AMC show "Dietland."
TEDDY CAÑEZ recently appeared at The Public in ToasT. His Broadway credits include A Streetcar Named Desire; and his additional Off-Broadway credits includeChimichangas & Zoloft (Atlantic), Post No Bills (Rattlestick). Regionally he has appeared in The Adventures of Tom Sawyer (Hartford), Mister Roberts (Kennedy Center), Our Lady of 121st Street (Woolly Mammoth). His film and television credits include Shelter; Now You See Me; Frances Ha; Tracers; Sleepwalk with Me;Enduro; "Blindspot"; "The Detour"; "Elementary"; "Invisible"; "Person of Interest"; "Madam Secretary"; "The Blacklist"; "Blue Bloods"; "Mob Doctor"; "Smash"; "Law & Order"; "Law & Order: SVU"; "Law & Order: C.I."; "Conviction"; "How To Make It In America"; "The Wire."
Ceci Fernandez recently appeared in The Public's Mobile Unit production of Twelfth Night. Her additional credits include Frontieres sans Frontieres (Bushwick Starr); The Fatal Eggs and Ermyntrude and Esmeralda (Ars Nova); These Paper Bullets! (Yale Rep); Vanity Fair, Romeo and Juliet (Bristol Old Vic Theatre Royal); Miss Julie, Heart's Desire, Have I None, and reWilding (Yale Cabaret). Her television credits include "The Exorcist," "The Good Wife," "Squad 85." Fernandez is head writer at InstaMiniSeries and Haberdasher at New Neighborhood. MFA from the Yale School of Drama.
DeLance Minefee recently won the 2016 SALT (Syracuse Area Live Theater) Award for Best Supporting Actor. Theater Credits include HONKY (Off-Broadway), Dust (Off-Broadway), The Christians (Syracuse Stage/Wilma), Lights Rise On Grace (Woolly Mammoth), Donnie Dark (American Rep), A-Train Plays (Neighborhood Playhouse), Walken On Sunshine (NY Fringe), and Veritas (The Representatives). His television credits include "The Sinner" (USA), "Luke Cage" (Netflix), "Shades Of Blue" (NBC), and "Frank and Lamar" (IFC Comedy Crib). He holds a BA in Theatre Art from Henderson State University, and an MFA in Acting from The American Repertory Theatre/Moscow Art Theatre-Institute for Advanced Theatre Training at Harvard University.
Hubert Point-Du Jour has appeared Off-Broadway in Sojourners (NYTW), The Model Apartment (Primary Stages), A Beautiful Day in November on the Banks of the Greatest of the Great Lakes (Women's Project/New Georges), A Map of Virtue (13P), Every Angel is Brutal (Clubbed Thumb). Regionally he has appeared in Imogen Says Nothing (Yale Rep), The Lion in Winter (Two River Theater). His film and television credits include Trouble, James White, "The Path," and "Law and Order: SVU."
Natalie Woolams-Torres recently appeared in The Public Theater's Shakespeare in the Park production of Julius Caesar and Mobile Unit tour of Hamlet. Other Public Theater credits include Shakespeare in the Park productions of The Taming of the Shrew and The Comedy of Errors. New York Theatre credits include Death for Sidney Black directed by Kip Fagan and Magdalena's Crossing directed by Elena Araoz. Recent film and television credits include Tramps directed by Adam Leon, After Louie directed by Vincent Gagliostro, and "Difficult People."a She attended SUNY Purchase Conservatory of Theater Arts and Film.
The world-renowned Public Theater, under the leadership of Artistic Director Oskar Eustis and Executive Director Patrick Willingham, is the only theater in New York that produces Shakespeare, the classics, musicals, contemporary and experimental pieces in equal measure. This fall begins The Public's Astor Anniversary Season celebrating 50 years of new work at 425 Lafayette Street and the 50th Anniversary of HAIR which opened the landmark theater in October 1967. The Public continues the work of its visionary founder, Joe Papp, by acting as an advocate for the theater as an essential cultural force, and by leading and framing dialogue on some of the most important issues of our day. Creating theater for one of the largest and most diverse audience bases in New York City for nearly 60 years, today the Company engages audiences in a variety of venues-including its landmark downtown home at Astor Place, which houses five theaters and Joe's Pub; the Delacorte Theater in Central Park, home to Free Shakespeare in the Park; and the Mobile Unit, which tours productions for underserved audiences throughout New York City's five boroughs. The Public's wide range of programming includes Free Shakespeare in the Park, the bedrock of the Company's dedication to making theater accessible to all; Public Works, an expanding initiative that is designed to cultivate new connections and new models of engagement with artists, audiences and the community each year; the Under the Radar Festival, a yearly festival celebrating diverse and cutting-edge performance from the U.S. and abroad; and audience and artist development initiatives that range from the Emerging Writers Group to the Public Forum series. The Public's work is also seen on tour throughout the U.S. and internationally and in collaborations and co-productions with regional and international theaters. The Public is located on property owned by the City of New York and receives annual support from The New York City Department of Cultural Affairs. The Public is currently represented on Broadway by the Tony Award-winning acclaimed American musicalHamilton by Lin-Manuel Miranda. The Public has received 59 Tony Awards, 169 Obie Awards, 53 Drama Desk Awards, 54 Lortel Awards, 32 Outer Critics Circle Awards, 13 New York Drama Critics Awards, and six Pulitzer Prizes. Visit www.publictheater.org.
Related Articles
More Hot Stories For You