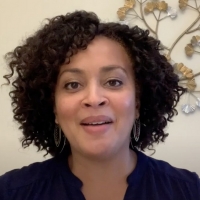 by Stage Tube - Jul 18, 2020
Opal Alladin has performed at The Old Globe in Hamlet, Tiny Beautiful Things, and Hurricane Diane. In a new video, as part of the GlobeRISING series, Alladin revisits some of those memories and shares why the Globe matters to her.
by BWW News Desk - Feb 28, 2019
TINY BEAUTIFUL THINGS opened at Old Globe in San Diego, California on February 9 and is running through March 17, 2019. Based on the best-selling book by Cheryl Strayed, Tiny Beautiful Things follows the relationships between an anonymous advice columnist named Sugar and the many real-life readers who pour out their hearts to her. Academy Award nominee Nia Vardalos (My Big Fat Greek Wedding) adapts Strayed's book into an enrapturing and uplifting play that surges with emotion and is called by Variety 'a theatrical hug in turbulent times.' Tiny Beautiful Things is about reaching when you're stuck, recovering when you're broken, and finding the courage to ask the questions that are hardest to answer. Tissues recommended. Contains strong language and adult content.

by Theater Talk - Nov 20, 2017
'Tiny Beautiful Things' writer/actor Nia Vardalos and co-conceiver Marshall Heyman discuss their theatrical adaptation of Cheryl Strayed's bestselling book, with co-hosts Susan Haskins and Tony-winning playwright Warren Leight. Next, Scott Alan Evans, executive artistic director of The Actors Company Theatre (TACT), Trustee at The No l Coward Foundation Geoffrey Johnson, and actress Kristine Nielsen discuss the never-produced No l Coward play 'Salute to the Brave,' with co-hosts Susan Haskins and Donna Hanover.