KNIVES IN HENS Recasts Role Off-Broadway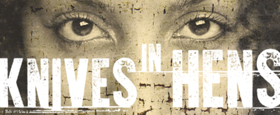 Due to scheduling conflicts with a film project, Alvin Keith is unable to play the role of Gilbert Horn in David Harrower's Knives in Hens as previously announced. Devin E. Haqq, who was recently seen Off-Broadway in the world premiere of Tina Howe's Singing Beach, will step into the role.
He joins Robyn Kerr (Broadway's The Curious Incident of the Dog in the Night-Time; Philip Ridley's Dark Vanilla Jungle with The Shop at HERE) and Shane Taylor (Jitney at Cincinnati Playhouse in the Park) in the New York premiere of Harrower's classic play.
Previews still begin on Thursday, October 19 for a Sunday, October 29 at 3:30 PM opening. However, the performance on Thursday, October 26 has been canceled due to a scheduling conflict. There will be an added performance on Sunday, October 29 at 7:30 PM. Ticket holders for the Thursday, October 26 performance should contact their point-of-purchase to rebook their seats.
Set in a world on the cusp of change, the fates of a young woman, her plowman husband and a locAl Miller collide in a quest for knowledge, agency, and freedom. David Harrower's seminal work unpacks the subtle power of words and ideas to liberate, empower, and lift the mind and soul.
Director Paul Takacs reimagines Harrower's critically acclaimed play in the American frontier and with a multicultural cast, making this production a uniquely American version of Harrower's stark tale.
Produced by The Shop, the NYC premiere of David Harrower's Knives in Hens, directed by Paul Takacs runs through Sunday, November 12. The performance schedule is Tuesday - Thursday at 7:30 PM; Friday at 8:30 PM; Saturday at 2:30 PM and 8:30 PM; and Sunday at 3:30 PM, with an added performance on Sunday, October 29 at 7:30 PM. There is no performance on Thursday, October 26. Performances are at 59E59 Theaters (59 East 59th Street, between Park and Madison Avenues).