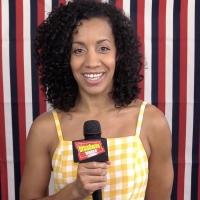 by BroadwayWorld TV - Nov 13, 2019
BroadwayWorld is checking in with the cast to uncover some little known facts about the political giants they play onstage. Today, watch as Robyn Kerr gives us a lesson on the Voting Rights Act.

by Rona Kelly - Aug 24, 2017
'I must look close enough to discover what it is'. Uttered by one of the characters in Knives in Hens, the same could be said of the play itself. Obscuring and drawn out at points, an impressive cast and some illuminating lighting shine through, rediscovering this classic in the Donmar Warehouse's revival.