K. Lorrel Manning and Martin Van Treuren Lead TBG's A WALK IN THE WOODS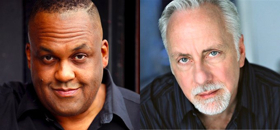 The Barrow Group Theatre Company (Seth Barrish and Lee Brock, Co-Artistic Directors; Robert Serrell, Executive Director), recipient of a Drama Desk and Lucille Lortel Award, concludes their 2017-2018 season with the New York revival of A Walk in the Woods, a play by Lee Blessing. Directed by Donna Jean (DJ) Fogel, the two-member cast features K. Lorrel Manning as John Honeyman, an American negotiator and Martin Van Treuren as Andrey Botvinnik, a career Russian diplomat.
Performances begin Saturday, March 17, 2018 for a limited engagement through Sunday, April 15, 2018 at The Barrow Group Mainstage Theatre (312 West 36th Street, 3rdFloor). Opening Night is Monday, March 26, 2018 at 7:00PM.
A Walk in the Woods, Lee Blessing's insightful two-character play set during the end of the Cold War, tells the tale of a series of meetings between two diplomats, American and Russian. The play raises deep questions, "What can we do to heal the world?" "What is the value of human connection?" "How can we best bridge fundamental differences?" Blessing's story has chilling resonance in today's political climate.
"A Walk in the Woods is as relevant as ever," says Co-Artistic Director Lee Brock. "In these times of extreme political divisiveness, we need to look closely at how we might navigate the challenges of conflict resolution and find paths to humanizing our perceived enemies. We are thrilled to produce this play with long-time members of The Barrow Group's artistic community."
The creative team for A Walk in the Woods includes: Edward T. Morris (set), Kristin Isola (costumes), Elizabeth Mak (lights), and Matt Otto (sound). The Production Stage Manager is Allison Raynes.
A Walk in the Woods plays the following performance schedule: Monday at 8:00 p.m., Wednesday through Saturday at 8:00 p.m., and Sunday at 7:00 p.m.
Single tickets for A Walk in the Woods are priced at $35 (Premium Seats) & $25 and are available by visiting the website at www.barrowgroup.org or by calling OvationTix at 866-811-4111.
Subscription memberships and single tickets are available by visiting the website at www.barrowgroup.org or by calling OvationTix at 866-811-4111.
ABOUT THE ARTISTS
K. Lorrel Manning (John Honeyman) is an award-winning writer, director, and actor, returning to the stage after a 10-year absence. Favorite roles include: "D.J." in Medal of Honor Rag (The Barrow Group); "William" in Lobby Hero (Barrow Group); "Steven" in Executive Dance (Barrow Group); and "Michael" in Padding The Wagon (4th Unity). As a theatre director, Manning's most recent stage credits include: Enemy of the People (new adaptation, co-written with Seth Barrish, Barrow Group); The Unrepeatable Moment (Barrow Group), and Danny and the Deep Blue Sea (We R Here). As a film director, Manning's credits include his award-winning first feature film, Happy New Year, based on his critically-acclaimed play and award-winning short film of the same title. Most recently, he wrote and directed three short films for Guggenheim Studios: The Great Love Rosemary, Pure, & My Father's Heart (based on the short play by John Yearley), all three of which had their world premiere at the Rhode Island International Film Festival in 2016. Manning holds an MFA in Film from Columbia University and a BFA in Drama from the University of Georgia.
Martin Van Treuren (Andrey Botvinnik) has been part of The Barrow Group Community for over 18 years. He has appeared in TBG's productions of Enemy of the People, The Beautiful Dark, Medal of Honor Rag, Sonnets for an Old Century and Uncle Vanya. His career has spanned over 30 years, appearing on Broadway in Jekyll & Hyde, Dr. Seuss' How the Grinch Stole Christmas, A Christmas Carol, Me and My Girl, and Singin' in the Rain. Off-Broadway: The Pirates of Penzance (at NYC's Seaport), Blessing in Disguise, The Miser, Anyone Can Whistle (Carnegie Hall), and Allegro (City Center Encores). He made his NYC Opera debut as Voltaire/Pangloss in Candide. National Tours: J & H (Pre- B'way), Grand Hotel directed by Tommy Tune and Camelot starring Richard Harris. Regional Theatres: The Old Globe (San Diego), The Alley Theatre (Houston), Capital Rep. (Albany), and the Menier Chocolate Factory (London) working with Hal Prince and Susan Stroman. TV: 'The Good Wife," "Forever," "Law & Order SVU," and "Jekyll & Hyde The Musical."
Lee Blessing (Playwright). Plays include A Walk in the Woods (Broadway and London's West End), Going to St. Ives, (Outer Critics Circle Award, Best Play; Obie Award for Ensemble Performance), Thief River (Drama Desk nomination, Best Play), Cobb (Drama Desk Award, Best Ensemble), Chesapeake, Eleemosynary, Down the Road, The Authentic Life of Billy the Kid, and Cold Water. In the 1992-93 Signature Theatre season: Fortinbras, Lake Street Extension, Two Rooms and the world premiere of Patient A. Recent regional world premieres A Body of Water at the Guthrie Theater and the Old Globe Theatre; Lonesome Hollow, Flag Day and Whores, all at the Contemporary American Theatre Festival; The Scottish Play at La Jolla Playhouse; Black Sheep at Florida Stage and The Winning Streak at George Street Playhouse. Other plays: Independence, Riches, Oldtimers Game and Nice People Dancing to Good Country Music and Perilous Night. Other awards: The American Theater Critics Circle Award, the L.A. Drama Critics Award, The Great American Play Award, The Humanitas Award and the George and Elisabeth Marton Award among others. Nominations for Tony and Olivier awards, as well as for the Pulitzer Prize. Blessing is married to playwright and TV writer Melanie Marnich.
Donna Jean (DJ) Fogel (Director) is a grateful to be a part of The Barrow Group community, where past projects directed include When I Wished I Was Here, Glass Jaw, Release, Lobby Hero (co-producer Theater at St Mary's), Amarillo (FAB Women's Origin-8 Fest), and actor/co-producer in Stop Kiss. Other directing in and around NYC: Auntie Mayhem, Love Scenes, A Phoenix Too Frequent, The Body Politic. DJ has directed many young actors at Stella Adler Studio of Acting (One Flee Spare, Triptych, Dancing at Lughnasa, Light Up the Sky, Euridice, These Shining Lives, On the Lake), Long Island University-CW Post (Flesh & Blood), American Academy of Dramatic Arts (The Early Girl), former company director for NYU's Department of Dramatic Writing. As an actor she has performed in numerous new plays in NYC and regionally and has appeared on screen in Law and Order and the independent film Nine. In December DJ received her MFA in Devised Theater at The University of the Arts/Pig Iron in Philadelphia.
ABOUT THE Barrow Group
For over thirty years The Barrow Group (TBG) has been producing theatre and training people of all ages in the performing arts. TBG's success is due to the exceptional quality of its performance ensemble and teaching staff, as well as the proven techniques it has developed and refined. TBG believes that a well-told story has the power to connect, transform and inspire.
In its 9,000 sq. foot arts center in midtown Manhattan, TBG offers affordably priced classes in acting, directing, playwriting, and filmmaking, as well as a full season of plays and developmental readings. In addition, TBG engages in off-site activities such as youth education outreach and corporate workshops.
TBG has won numerous awards for its theatrical productions, including a Drama Desk and OBIE Award, and received numerous nominations over the years. Alumni have won Academy, Emmy, OBIE, and Lucille Lortel Awards. TBG serves nearly twenty-thousand people each year.
Featured at the Theatre Shop
T-Shirts, Mugs, Phone Cases & More

More Hot Stories For You