Jill Abramovitz and Anika Larsen Host Prospect's 'Good to Go' Concert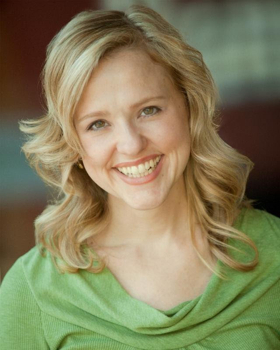 Lyricist, bookwriter, and Broadway performer Jill Abramovitz and Tony-nominated actor Anika Larsen (Beautiful) will co-host Prospect Theater Company's upcoming Good to Go Songwriters' Showcase: a concert celebrating new works-in-process created or co-created by women writers. This special one night event will be presented on March 10, 2018 at 8pm at The TimesCenter (242 West 41st, NYC).
The concert will feature performances by a line-up including numerous Broadway veterans and Prospect alumni, including:
Krystina Alabado
(
The Mad Ones
, American Idiot),
Courtney Bassett
(The Great Comet),
Danielle Greaves
(Rent),
Diana Huey
(The Little Mermaid, National Tour),
Devin Ilaw
(Miss Saigon),
Brittney Johnson
(Les Misérables),
Robert Lenzi
(Tuck Everlasting),
Christiane Noll
(Ragtime, Tony Nomination),
Joel Perez
(Fun Home),
Drew McVety
(Bandstand),
Destinee Rea
(Amélie), and
Shelley Thomas
(Brooklyn). The evening will also include performances by Sojourner Brown,
Elijah Caldwell
,
Katie Mariko Murray
,
Jamie Petrone
,
Allison Posner
,
Saidu Sinlah
, and Ian Way.
The evening will feature interviews with and new work by Masi Asare (The Family Resemblance); Maggie-Kate Coleman & Erato A. Kremmyda (Marie in Tomorrowland); Christine Toy Johnson (Barcelona); Dana Levinson & Stacey Weingarten (5th Republic); Stacey Luftig & Jennie Redling (My Heart Is the Drum); Mary Liz McNamara (Body & Soul); and Georgia Stitt (Snow Child). The Alaskan wilderness, the architecture of Barcelona, and a small village in Ghana are among the diverse worlds explored in the selected new musicals. The complete list of collaborators and show descriptions can be found below. For writer bios please visit www.GoodToGoFestival.org.
The concert will be directed by Laura Brandel with musical direction by Britt Bonney. Stage management is by Katie Sammons and Kristina Vnook.

Conceived by the Good to Go Festival's Producing Artistic Director Judy Zocchi as a response to media reports noting a lack of female voices in the American theater, this year is the third annual concert. "In 2018, we highlight shows that have been developed at the BMI Workshop, the National Alliance for Musical Theatre's annual Festival of New Musicals, the American Music Theatre Project at Northwestern University, and many more outstanding programs and organizations," said Zocchi. "Prospect is thrilled to once again partner with The Good to Go Festival, after our previous concert collaborations," said Reichel. "We are honored to continue bringing attention to new works by outstanding women writers."
Prospect Theater Company (under the leadership of
Cara Reichel
, Producing Artistic Director and Melissa Huber, Managing Director) in partnership with The Good to Go Festival, continues its 2017-18 IGNITE Series at The TimesCenter with the third year of the Good to Go Songwriters' Showcase. Launched in 2015, Prospect's IGNITE Series is an ongoing concert initiative featuring today's new voices shaping tomorrow's musical theater. Reflecting Prospect's dedication to fostering and producing work by emerging artists, IGNITE Series programming will include premieres of original material by award-winning songwriters; cutting-edge creations straight from Prospect's annual Musical Theater Lab; concert presentations of musicals in development; and more.

Prospect's IGNITE Series is generously supported by the Ford Foundation's Good Neighbor Committee.

Single tickets are $20, $30 and $40, and may be obtained through online purchase at www.ProspectTheater.org / www.GoodToGoFestival.org, or by calling (212) 352-3101. Tickets may also be purchased at the door beginning one hour prior to curtain, if available.
The TimesCenter (www.TheTimesCenter.com) is located at 242 West 41st Street, between 7th and 8th Avenues, in the heart of NYC's Times Square District. The venue features a 378-seat auditorium with state-of-the-art lighting, sound, and video capability, and a Steinway Concert Grand Piano.
Good to Go Songwriters' Showcase Show List - March 10, 2018
THE FAMILY RESEMBLANCE
book, music & lyrics by Masi Asare
Akosua and her mixed race family are expecting an ordinary Christmas back home in central Pennsylvania, but heavy winds, a corporate crisis, and a visitation from an African ancestor mean things do not go as planned. Even when your heritage is all over the map, you have to go back to your roots to find your own way.

MARIE IN TOMORROWLAND
conceived by Maggie-Kate Coleman, Erato A. Kremmyda and Sam Pinkleton
book & lyrics by Maggie-Kate Coleman
music by Erato A. Kremmyda

In this musical collage, Marie Curie journeys through The Remains of a Chernobyl-inspired theme park and encounters much of America's troubled history with radioactivity. Featuring a cast of women playing a kaleidoscope of Marie Curies, the piece explores the intersections between science and art, women and history.
BARCELONA
book & lyrics by Christine Toy Johnson
music and lyrics by Jason Ma
When the death of her sister sends an American novelist into a downward spiral, a mysterious dream revives her with a jolt: an inexplicable desire to visit Barcelona. In a Gaudi's city -- shining with architecture, music, and romance -- time is unlocked as the spirit of her sister leads her on an extraordinary journey of healing.

5TH REPUBLIC
book & lyrics by Stacey Weingarten
music & lyrics by Dana Levinson
Set in 1958-59 during the fall of the French 4th Republic, an Algerian refugee and Pied Noir soldier find love amidst the political turmoil of the Algerian War for Independence and Charles de Gaulle's return to power. This epic romance is inspired by
Victor Hugo
's Notre Dame de Paris. MY HEART IS THE DRUM
lyrics by
Stacey Luftig
book by Jennie Redling
music and concept by
Philip Palmer

A 16-year-old girl yearns to leave behind her poor village in Ghana and become a teacher. When economic hardship forces her parents to pull her from school to work on the family farm, she rebels. In her struggle to survive, she finds a way to bring together her love of her family and village with her desire to explore the world beyond them.
BODY & SOUL
book, music & lyrics by
Mary Liz McNamara
based on the documentary by Alice Elliott
Two amazing women, despite having significant disabilities, find meaning and independence by living together. Diana Braun, who has Down syndrome, cares for Kathy Conour, who has cerebral palsy. Together, they cope with almost every problem in their daily life with humor and grace. SNOW CHILD
Lyrics by
Georgia Stitt
Book by
John Strand
Music by Bob Banghart and
Georgia Stitt
adapted from Eowyn Ivey's novel, The Snow Child
Reeling from the loss of an unborn child, a couple struggles to rebuild their lives amidst the beautiful and violent landscape of the 1920 Alaskan wilderness. The visit of a wild and mysterious girl promises to transform them all.

ABOUT THE GOOD TO GO FESTIVAL
The Good to Go Festival is a platform that features plays, musicals and songs written by women that are "good to go" and ready for full production. Launched in 2015 with the Good to Go Summit, a day of panel discussions on the topic of gender parity, the Good to Go Songwriters' Showcase actively places women's work in front of audiences and industry professionals.

ABOUT PROSPECT THEATER COMPANY
Prospect Theater Company (founded in 1998) is dedicated to fostering and showcasing today's new voices shaping tomorrow's musicals. Since 2000, the company has fully produced more than 30 premiere musicals in New York City, in addition to new plays and numerous re-inventions of classic works. Reflecting its investment in the future of the field, Prospect leads a variety of developmental initiatives, including an annual Musical Theater Lab for emerging writers, and the IGNITE Series of concerts at The TimesCenter. In recognition of its enterprising and risk-taking new musical theater, the company received a 2016 OBIE Award grant. Their work as a community anchor for emerging artists that strengthens the quality, diversity, and dynamism of American theater was also honored with a 2013 National Theatre Company Grant from the American Theatre Wing. Notable productions include: the Drama Desk Award-winning Working (2012), Death for Five Voices (2016), Long Story Short (2015),Jasper in Deadland (2014), the Drama-Desk nominated Tamar of the River (2013), Unlock'd(2013), Iron Curtain (2006, 2011), Myths and Hymns (2012), With Glee (2010), The Blue Flower (2008), Golden Boy of the Blue Ridge (2009), The Hidden Sky (2010), Illyria (2002, 2008), and the Drama-Desk nominated The Pursuit of Persephone (2005).