GLORIA: A LIFE Will Complete Extended Run On March 31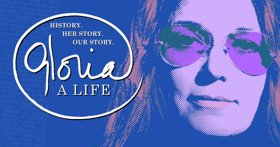 GLORIA: A Life, the groundbreaking play celebrating the life of activist and icon Gloria Steinem, will complete its extended run as scheduled on March 31, 2019. The production was originally scheduled to close on January 27, 2019, but extended to March 31 due to popular demand.

Presented by Tony Award-winning producer Daryl Roth (Kinky Boots, The Normal Heart, Indecent), Gloria: A Life opened October 18, 2018 at the Daryl Roth Theatre on Union Square (101 East 15th Street at Park Avenue South). The world premiere production will have played 17 previews and 188 regular performances.

"We are so proud to have presented Gloria: A Life, and to have extended its run through March 31 so that more people would have a chance to experience the play, including the students who participated thanks to our Hope-aholics initiative. We continue to be grateful for our wonderfully responsive audiences, who have embraced our Talking Circles and ignited meaningful conversations at every performance," said Roth.

GLORIA: A Life will be presented at McCarter Theatre Center, where playwright Emily Mann is the Artistic Director/Resident Playwright, in the fall of 2019, and will be part of the 2019/20 Season of American Repertory Theater at Harvard University, where director Diane Paulus is the Terrie and Bradley Bloom Artistic Director.

Hailed by New York Magazine as "a unique, deeply moving" experience, Gloria: A Life is a "living, breathing documentary" (WNYC) celebrating one of the most inspirational activists of our time. The first act is her story; the second is our own: Act Two is a Talking Circle in which the audience is invited to carry the play into an open conversation.

Over 2,200 students have seen Gloria: A Life thanks to the generosity of Hope-aholics. Named for Steinem, who coined the phrase, the Hope-aholics initiative allows donors to underwrite student tickets so that the next generation of activists can take inspiration from her story. Launched in October 2018, the program has raised over $66,000 in donations in under five months.

For more information about the Hope-aholics program, or to become a Hope-aholic, visit www.GloriaThePlay.com.

The production honors Gloria Steinem's gender equality activism with a company comprised almost entirely of women - cast, creative team, designers, production staff, and producers. Women are represented across every department of the production and occupy nearly all of the highest positions throughout the company. Even in a theatre industry often regarded as an equality leader in the entertainment world, this extraordinary group of women is unprecedented either on or Off-Broadway.

Tickets are on sale through March 31, 2019 at www.gloriatheplay.com. Performances are Tuesday at 7:00 PM, Wednesday at 2:00 and 8:00 PM, Thursday at 7:00 PM, Friday at 8:00 PM, Saturday at 2:00 and 8:00 PM, and Sunday at 3:00 PM.