Emmy Nominee Polly Draper and More to Star in 20TH CENTURY BLUES Off-Broadway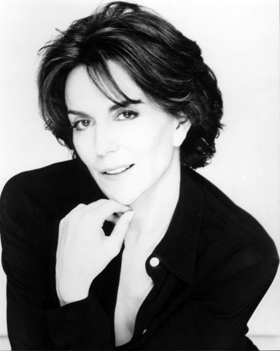 Producer Lida Orzeck and Executive Producer Eva Price have announced the cast of The New York premiere of the new play, 20TH CENTURY BLUES, from Susan Smith Blackburn Prize-winner and two-time OBIE Award-winning playwright Susan Miller (MY LEFT BREAST).
Two-time OBIE Award-winner and Tony Award nominee Emily Mann (HAVING OUR SAY, ANNA IN THE TROPICS) will direct the company, which features Beth Dixon ("The Good Wife," Infinitely Polar Bear, MAJOR BARBARA,), three-time Helen Hayes Award-winner Franchelle Stewart Dorn (Red Bull Theater's 'TIS PITY SHE'S A WHORE), Emmy Award nominee Polly Draper ("thirtysomething,"Obvious Child, CLOSER), two-time OBIE Award-winner Kathryn Grody (TOP GIRLS, THE MODEL APARTMENT), OBIE Award-winner Ellen Parker (THE HEIDI CHRONICLES), and Charles Socarides (SONS OF THE PROPHET, "When We Rise").
"It's rare to encounter a new play with five stunning roles for actresses, so it's a particular pleasure to direct this funny, touching new play by the extraordinary Susan Miller," commented Ms. Mann. "Our five leading actresses bring with them a lifetime of extraordinary stage work. It's a thrilling event to have them all on the same stage at one time."
The 10-week limited engagement will begin Sunday, November 12 with performances through Sunday, January 28, and an official opening night set for Sunday, November 26. 20TH CENTURY BLUES will play at The Alice Griffin Jewel Box Theatre at The Pershing Square Signature Center (480 West 42nd Street).
A reunion. An argument. A Ted Talk. Emotional mutiny. And a bond that connects four women who meet once a year for a photo shoot, chronicling their changing (and aging) selves as they navigate through love, careers, children, and major world events. But, when these private photographs have the potential to go public, their relationships are tested, forcing the women to confront who they are, what they've become, and how they'll deal with whatever lies ahead. Sharply funny and evocative, 20TH CENTURY BLUES is a new play by Susan Miller that questions our place in the world and with one another.
The award-winning design team includes scenic design and projection design by Tony Award-winner Beowulf Boritt (ACT ONE), costume design by OBIE Award-winner Jennifer Von Mayrhauser (DISGRACED), lighting design by Tony Award-winner Jeff Croiter (BANDSTAND), and sound design by Tony Award-winner Darron L West (PETER AND THE STARCATCHER). [Editor note: 'L' is not a middle initial and there should NOT be a period after it.]
Casting is by David Caperelliotis. Maximum Entertainment Productions serves as general manager, and Samantha Flint is the Production Stage Manager.
20TH CENTURY BLUES performance schedule: Monday DARK, Tuesday at 7:30 PM, Wednesday at2:00 PM & 7:30 PM, Thursday at 7:30 PM, Friday at 7:30 PM, Saturday at 2:00 PM & 8:00 PM, Sunday at 2:00 PM. Tickets ($79 - $99) can be purchased through Ticket Central via www.ticketcentral.com, by calling212.279.4200, or in person at 416 West 42nd Street (12:00-8:00 PM daily).
Visit www.20thcenturyblues.com or follow 20TH CENTURY BLUES on Facebook, Twitter, and Instagram.
ABOUT THE ARTISTS:
Beth Dixon (Bess) Most recently: Clubbed Thumb. The New Line Humana Festival 2017. Broadway: MAJOR BARBARA, WRONG MOUNTAIN. Off-Broadway: CITY OF CONVERSATION (Drama Desk and Lortel nominations), RAPTURE BLISTER BURN, WINGS, VIEUX CARRE, THE CRIPPLE OF INISHMAAN, Mary Stuart, ENDPAPERS, TERESE RAQUIN, BOOTH IS BACK, AMERICA DREAMING, UNBOUND, THE GRILLE ROOM. Regional: LONG DAY'S JOURNEY INTO NIGHT, ON GOLDEN POND, THREE TALL WOMEN, TARTUFFE, ALL MY SONS, THE GRAPES OF WRATH, THE GLASS MENAGERIE, VINCENT IN BRIXTON, THE CONSTANT WIFE, etc. Film and Television: Non Stop, Zero Hour, Off-Ramp, Ballad of the Sad Café, Dark Tides, "The Good Wife," "The Blacklist," Incredible Polar Bear, "Storm of the Century," "Law and Order," "Law & Order: Criminal Intent", Game Change.
Polly Draper (Danny) has worked extensively as a New York Theatre actress, originating over thirty roles on and off Broadway (NY Magazine Best Broadway Actress Award) and equally extensively in film and television, most notably for her starring role in the groundbreaking series "thirtysomething" (Emmy nomination), and most recently in the highly critically acclaimed independent feature Obvious Child, the Steven Soderbergh film Side Effects, upcoming featuresDemolition, Dynamite: A Cautionary Tale and Jane Wants a Boyfriend. On television, she has recently recurred on the CBS series "The Good Wife" and "Golden Boy". Other recent television includes "The Mysteries of Laura." She wrote, produced and starred in the feature film The Tic Code. She also wrote and starred in GETTING INTO HEAVEN at the Flea Theatre in NYC in 2003, and in 2005, wrote and directed the feature The Naked Brothers Band, before becoming a long-running hit television series on Nickelodeon for which she worked as Head Writer, Director, Producer and Show Runner. She was nominated for two Writers Guild Awards, winning in 2009 for her two-hour episode, "Polar Bears." Ms. Draper has also directed four music videos and a web series starring her two teenage sons, Nat and Alex Wolff. Upcoming, Draper has written, directed and will star in Stella's Last Weekend. She has recently written and plans to direct two feature films commissioned by legendary producer Fred Roos. She has a BA in English from Yale University, and an MFA in Acting from the Yale Drama School.
Franchelle Stewart Dorn (Mac) has performed at the Shakespeare Theatre Company, Arena Stage, the American Conservatory Theater, Yale Rep, Long Wharf, George Street Playhouse, Great Lakes Theater Company, Cleveland Playhouse, Arizona State Theatre, Seattle Children's Theatre, Chautauqua Theatre, the Guthrie, OSF, CATF, off Broadway at Red Bull and at The State, Zach and Austin Shakespeare theaters in Austin. She played Dr. Rita Madison on NBC's "Another World." She was nominated for seven Helen Hayes Awards, and won three. She also received The Austin Critics' Circle Award for WHO'S AFRAID OF Virginia Woolf?, MRS. WARREN'S PROFESSION, EDGE OF PEACE, and MEDEA.
Kathryn Grody (Gabby) was born in Los Angeles, which was a cosmic error she corrected 45 years ago by moving to NYC. Joe Papp and Gail Merrifield became life long mentors and she won OBIEs for TOP GIRLS and THE MARRIAGE OF BETTE AND BOO, as well as a Drama Desk nomination for her three-character solo show, A MOM'S LIFE, all at the Public. Most recently, she created Lola in Donald Margulies' THE MODEL APARTMENT, directed by Evan Cabnet, and this summer co-created AN UNLIKELY BUNCH OF CHARACTERS at Dartmouth with NYTW and two South African theatre makers, Bulelani Mabutyana and Xolisa Kapakati. She is an advisory member of The Team, on the board of Noor Theatre, a Usual Suspect at NYTW and works with IRC and Search For Common Ground.
Ellen Parker (Sil) Original Broadway productions include THE HEIDI CHRONICLES, PLENTY and EQUUS. Off-Broadway: AUNT DAN AND LEMON, PLENTY, FEN at the Public; TRANSLATIONS etc., through HOUSE/ GARDEN at MTC; LCT3, Atlantic, MCC, LaMama,CSC, Playwrights Horizon, WPA. Regional: Long Wharf, Yale Rep, Cap Rep and O'Neill. Emmy for "Guiding Light." Television: most recently, "Black Box," and "Leftovers." Various film appearances. OBIE for "Sustained Excellence of Performance."
Charles Socarides (Simon) Earlier this year, Charles was a lead on the ABC miniseries "When We Rise." Other recent film and television credits include "Madam Secretary," "The Good Wife," and the feature Bad Hurt. His theatre credits include KINGS (Women's Project), SONS OF THE PROPHET (Roundabout), RED (opposite Tim Daly, Dorset, Broadway World Best Actor), TRUST (Second Stage), THE MARRIAGE OF BETTE AND BOO (Roundabout), INDIAN BLOOD (Primary Stages), TWELFTH NIGHT (Pig Iron), GUADALUPE IN THE GUEST ROOM (Two River) and Colt Coeur's production of HOW TO LIVE ON EARTH. Charlessocarides.com
Susan Miller (Playwright) is a two-time OBIE Award-winner and Guggenheim Playwriting Fellow, known for her critically acclaimed one-person show, MY LEFT BREAST, which premiered in Louisville's Humana Festival and has been performed across the U.S, Canada, and France. She also received the coveted Susan Smith Blackburn Prize as well as The Pinter Prize for her play, A MAP OF DOUBT AND RESCUE. She has been a Core Writer at The Playwrights Center in Minneapolis and her plays, which include NASTY RUMORS AND FINAL REMARKS (OBIE); AVERAGE AMERICAN; FLUX; CONFESSIONS OF A FEMALE DISORDER; CROSS COUNTRY; THE GRAND DESIGN; FOR DEAR LIFE; IT'S OUR TOWN, TOO; and READING LIST, have been done at The Public Theatre, Second Stage, Naked Angels, New York Stage & Film, The Mark Taper Forum, Theatre J, Trinity Rep, Walnut St. Theatre, The O'Neill National Playwrights Conference, and Ojai Playwrights Conference, among others. Miller was a Consulting Producer/Writer on Showtime's "The L Word," and ABC's "thirtysomething." She won The Writers Guild of America Award for her hit Indie web series, "Anyone But Me," which has earned over 50 million views worldwide.
Emily Mann (Director) has overseen 150+ productions as Artistic Director and Resident Playwright of the Tony Award-winning McCarter Theatre Center in Princeton, New Jersey. Her McCarter directing credits include the world premieres of: Ken Ludwig's adaptation of MURDER ON THE ORIENT EXPRESS, her co-adaptation with Pierre Laville of BABY DOLL, Rachel Bonds' FIVE MILE LAKE, Danai Gurira's THE CONVERT; Sarah Treem's THE HOW AND THE WHY; Christopher Durang's MISS WITHERSPOON; and Edward Albee's ME, MYSELF & I. This spring, Mann will direct the McCarter-commissioned world premiere of Chris Durang's TURNING OFF THE MORNING NEWS. Broadway: A STREETCAR NAMED DESIRE, ANNA IN THE TROPICS, EXECUTION OF JUSTICE, HAVING OUR SAY. Her plays: HAVING OUR SAY, adapted from the book by Sarah L. Delany and A. Elizabeth Delany with Amy Hill Hearth; EXECUTION OF JUSTICE; STILL LIFE; ANNULLA, AN AUTOBIOGRAPHY; GREENSBORO (A REQUIEM); MESHUGAH; MRS. PACKARD, and HOODWINKED (A PRIMER ON RADICAL ISLAMISM). Adaptations include: BABY DOLL, SCENES FROM A MARRIAGE, UNCLE VANYA, THE CHERRY ORCHARD, A SEAGULL IN THE HAMPTONS, THE HOUSE OF BERNARDA ALBA, and ANTIGONE. She is also writing a play with Gloria Steinem to premiere fall of 2018. Awards include: Peabody, Hull Warriner, NAACP, OBIEs, Guggenheim fellowship; Tony, Drama Desk, Outer Critics Circle nominations; a Princeton University Honorary Doctorate of Arts, a Helen Merrill Distinguished Playwrights' Award, and the Margo Jones Award given to a "citizen-of-the-theatre who has demonstrated a lifetime commitment to the encouragement of the Living Theatre everywhere."
In 1977, Lida Orzeck (Producer) co-founded Hanky Panky, the coveted apparel brand which revolutionized the intimate apparel landscape with its World's Most Comfortable Thong. Dedicated to American manufacture and ethical business practices, the company's success has allowed Lida to support her interest in the arts and concern for social justice and educational equality. She is a board member of the Southern Poverty Law Center, and a trustee of Barnard College, where she endowed the Distinguished Artist-in Residence Fund in 2015. Lida is a past board member of Doug Varone and Dancers. 20TH CENTURY BLUES is her first and probably only producing credit. She loves good theater!
Eva Price (Executive Producer) is a Tony Award-winning producer whose credits include over 15 Broadway plays, musicals, and concerts. She is a member of The Broadway League's Board of Governors and was named one of Crain's NY 40 Under Forty Rising Business Stars. Current and notable productions include: DEAR EVAN HANSEN (6 Tony Awards); ON YOUR FEET! (The Story of Gloria and Emilio Estefan); Frankie Valli AND THE FOUR SEASONS ON BROADWAY!; PETER AND THE STARCATCHER (5 Tony Awards); Colin Quinn LONG STORY SHORT (directed by Jerry Seinfeld); ANNIE (Tony-nominated Musical Revival); THE MERCHANT OF VENICE starring Al Pacino (Tony-nominated Play Revival); Carrie Fisher'S Wishful Drinking; THE ADDAMS FAMILY (starring Nathan Lane and Bebe Neuwirth); as well as several solo shows and critically acclaimed concerts starring The Temptations & The Four Tops; Kathy Griffin; Lewis Black; and Hershey Felder. Recent off-Broadway projects include the Drama Desk-nominated FOUND (Atlantic Theater Company & Philadelphia Theater Company); Benjamin Scheuer's award-winningTHE LION (Drama Desk winner, Off-West End winner for Best Musical); and Bess Wohl's critically acclaimed SMALL MOUTH SOUNDS. International and Touring Credits include: THE HIP HOP NUTCRACKER, featuring Rap Icon Kurtis Blow, CAREFREE: DANCIN' WITH FRED AND GINGER (Directed/Choreographed by Tony Winner Warren Carlyle), as well as THE MAGIC SCHOOL BUS, LIVE! THE CLIMATE CHALLENGE; ELLA, a biomusical about the life and music of Ella Fitzgerald; 'S WONDERFUL: THE NEW GERSHWIN MUSICAL; Tomie dePaola's STREGA NONA THE MUSICAL, Irving Berlin's I LOVE A PIANO (National Tour and Japan), THE GREAT AMERICAN TRAILER PARK MUSICAL, PRIVATE JOKES, PUBLIC PLACES (London). For five years Eva worked as an assignment editor and coordinating producer for special projects at ABC News, spending her last year producing and reporting on stories relating to Broadway for ABCNews.com. Upcoming: Alanis Morissette's JAGGED LITTLE PILL.
The Pershing Square Signature Center, the permanent home of Signature Theatre, is a three-theatre facility on West 42nd Street designed by Frank Gehry Architects to host Signature's three distinct playwrights' residencies and foster a cultural community. The Center is a major contribution to New York City's cultural landscape and provides a venue for cultural organizations that supports and encourages collaboration among artists throughout the space. In addition to its three intimate theatres, the Center features a Studio Theatre, rehearsal studio, a bookstore, and the Signature Café + Bar, open to the public from noon-midnight Tuesdays - Sundays. For more information on renting the Center, visit www.signaturetheatre.org/rentals.