Dimo Kim Musical Theatre Factory Announces the Cast of COMFORT WOMEN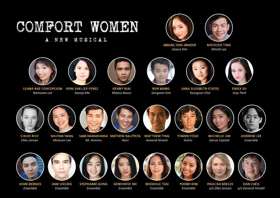 Dimo Kim Musical Theatre Factory, a new theatre company providing more roles for Asian American actors has announced the cast of COMFORT WOMEN: A NEW MUSICAL written by Dimo Hyun Jun Kim, Osker David Aguirre, and Joann Malory Miese with music by Bryan Michaels and TaeHo Park. Featured in the new musical are: Abigail Choi Arader, Matheus Ting, Leana Rae Concepcion, Roni Shelley Perez, Kenny Mai, Ben Wang, Sara States, Emily Su, Chloe Rice, Shuyan Yang, Sam Hamashima, Mathew Bautista, Matthew Ting, Tenzin Yeshi, Michelle Lim, Andrew Lee, John Bernos, Jake Vielbig, Stephanie Gong, Genevieve Shi, Michelle Tsai, Yoomi Kim, Paulina Breeze, and Dan Chen. Previews begin on Friday, July 20th and the production will run through Sunday, September 2nd in the Peter Jay Sharp Theatre at 416 West 42nd Street. The official opening will be on Friday, July 27th. The production is supported by the Korean Council for the Women Drafted for Military Sexual Slavery by Japan.
COMFORT WOMEN: A NEW MUSICAL first premiered at Theatre at St. Clements in 2015, and was nominated for Best Off-Broadway Musical by BroadwayWorld and has received critical acclaim for shedding a light on the horrific story of 'comfort women' and featured the first all-Asian Off-Broadway cast led by an East Asian native.
Set in Korea under Japanese colonial rule, COMFORT WOMEN tells the story of a Korean teenage girl named Goeun who embarks on a journey to Tokyo to make money for her family, but ends up at a 'comfort station' in Indonesia, where hundreds of teenage girls were abducted and forced to become sex slaves, also known as 'comfort women,' for the Japanese Imperial Army during World War II. The musical revolves around the stories of Goeun and other 'comfort women,' and the audience witnesses how such a tragedy can permanently and painfully transform the life of a young woman.
Based on true war crimes committed by the Japanese Imperial Army, 'comfort women' included girls as young as 14, who were promised with well-paying jobs abroad but instead were taken to islands in Indonesia to forcefully serve as sex slaves for 50 to 100 soldiers a day. Many died from the horrendous mistreatments, and the small number of survivors still alive today are scarred forever, living in shame and reluctant to speak out about what happened to them.
COMFORT WOMEN: A NEW MUSICAL features Director Dimo Hyun Jun Kim, Associate Director, Mark Cirnigliaro, choreography by Natanal Hyun Kim and music direction by Tek Goo Kang, set design by Stella Hyun Joo Oh and associate Kelvin Pater, lighting design by Byung Chul Lee and associate Jiyoung Chung, sound design by Tae Jong Park and associate Gahyae Ryu, mixing engineering by Jisu Jang, costumes by Lucius Seo. The show's dramaturg is Dayoung Jeong, General Manager is Sarah Reynolds, the Managing Director is So Jung Choi, Production Manager is Michelle Strauss and Production Stage Manager is Alexis Nalbandian, Stage Manager is Dennis Ho and the assistant stage manager is Mariko Takizawa.
This production is hosted by I.A. Lab and Hwarang Entertainment and is produced by the Dimo Kim Musical Theater Factory, Sejoon Oh, and Matthew Thomas Burda. Associate producer is Janice Yeonju Lee. Marketing is by Hyun Jae (Amy) Hong, and assistant producer is Yourhee Min.
Performances are on Wednesdays, Thursdays, Fridays, and Saturdays at 7:30 PM with matinees on Saturdays at 2 PM and Sundays at 2 PM. There are also Sunday evening performances at 7 PM.
Tickets are $39 - $79 and available at https://www.dimokimfactory.org/tickets- by calling Ticket Central at 212-479-4200 or at the Ticket Central box office prior to each performance.
Dimo Kim Musical Theatre Factory is a theatre company based in New York City and providing more opportunities for Asian American actors and theater professionals. Since its foundation in 2015, its staff has been committed to the development and production of entertaining and thought-provoking contemporary musicals that can engage audiences from all over the world. The company stages emotionally engaging stories that deserve to be told in musical form, through collaboration with multi-talented and multi-ethnic artists.
Related Articles View More Off-Broadway

Stories

Shows
More Hot Stories For You