Diana DeGarmo and Ace Young to Lead New Musical HIT HER WITH THE SKATES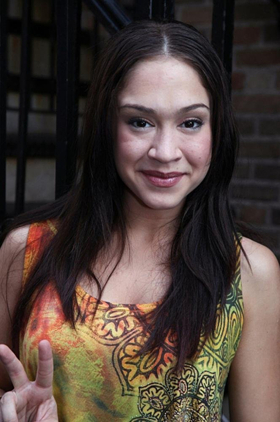 American Idols and real-life couple, Diana DeGarmo and Ace Young have signed on to star in the upcoming musical, HIT HER WITH THE SKATES, by Christine Rea & Rick Briskin,
directed by Michael Schiralli. After a sold-out run at Hamilton Stage in New Jersey last season, HIT HER WITH THE SKATES will get its official Off-Broadway debut this fall. For more information on the show visit http://www.HitHerWithTheSkates.com.
HIT HER WITH THE SKATES is GREASE meets HAIRSPRAY with a dash of XANADU! It's 1994 and Pop/Rockstar, Jacqueline Miller has a lot to celebrate. She's headlining her first national tour and returning to her hometown to kick off the gala re-opening of her beloved Windy City Skates. When complications hit her head on, Jacqueline comes face-to-face with her 12 -year-old self and all the things she learned during the golden age of the roller rink in 1977. From the wisdom of the Ouija Board to the power of All-Skate Saturday, HIT HER WITH THE SKATES explores the magic and hope of finding your one true love, while still being true to yourself.
"We are thrilled to welcome Diana DeGarmo & Ace Young to the HIT HER WITH THE SKATES family! A couple in life, they'll also be an on-stage couple who experience twists and turns in their relationship that precipitate the retrospective journey from 1994 back to 1977 and life with the gang at Windy City Skates roller rink. Diana & Ace are powerhouse vocalists and they're charming people who will knock the Pop/Rock vocals out of the park and deliver on the comic, whimsical demands that are at the heart of HIT HER WITH THE SKATES. We can't wait to "shimmy left and cha-cha right" and invite everyone to join the "Skating Nation"! " Christine Rea (Creator & Lead Producer)
Diana DeGarmo has been blowing away audiences with her powerful voice and irresistible charm over a decade. Fans first grew to love Diana on the cultural phenomenon, "American Idol," where she placed second at the mere age of 16. Shortly after, Diana released her first single "Dreams" that reached #1 on the Billboard Hot 100 Singles Chart. She made her Broadway debut at only 18 in the role of Penny Pingleton in HAIRSPRAY, solidifying her spot amongst the Broadway Divas. Her comedy chops and big voice brought down the house again in the Off-Broadway cult hit, THE TOXIC AVENGER as Sarah the blonde, blind, librarian. Splitting her time between her beloved home in Nashville and the rest of the world, Diana made a name for herself on the #1 Daytime TV Drama, "The Young and The Restless", creating the vivacious and wild character, Angelina. While in Los Angeles, Diana revised her beloved role as Penny Pingleton in HAIRSPRAY at the Hollywood Bowl starring Drew Carey and Corbin Bleu. All the while releasing two of her own EPs, "Unplugged in Nashville" and "Live to Love" that included the hit song "Good Goodbye" that was showcased during her reign on "The Young and The Restless". In 2010, she joined the Broadway revival of HAIR where she met now husband, Ace Young. Soon the two became a dynamic duo writing and singing songs for TV Shows and Films and touring together in JOSEPH AND THE AMAZING TECHNICOLOR DREAMCOAT and multiple times with the USO. Diana has also taken her talents on the road with the First National Broadway Tours of BKYLN: THE MUSICAL and 9 TO 5, where she was handpicked to play Doralee by the one and only Dolly Parton herself! She recently returned home to Nashville from touring South Korea while starring as Lucy in JEKYLL & HYDE alongside Kyle Dean Massey. Diana was an active actor as a child growing up in Georgia, but her most recent films include Alto, After The Sun Fell and The First Ride Of Wyatt Earp. Diana is a one-of-a-kind entertainer who has always wanted her career to not be just a shooting star but an entire galaxy. She is represented by Headline Talent.
Ace Young is a creative chameleon. He has made it his life's purpose to wear every hat in the entertainment industry he can from acting, singing, writing songs for artists and brands, composing for films, touring his own music, directing and more. This Grammy Nominated songwriter has written Number 1 hits in both the US and Overseas. He says, "A true artist will do whatever the next project needs and never stop learning." Long before he was introduced to the world on the biggest season of American Idol history, Ace had already performed, created and produced music for a major motion picture and toured the country with R&B royalty. His career has taken him to stages around the world from Afghanistan and Bahrain with the USO, New York City with Broadway hits GREASE and HAIR, and Los Angeles TV sets from "Bones" to "Born Again Virgin." He and wife, Diana DeGarmo, toured the country together in the show JOSEPH AND THE AMAZING TECHNICOLOR DREAMCOAT with Ace in the title role. Proudly wearing his producer hat, Ace is currently leading the creation of Diana's new album, GEMINI. His first film, Clinton Road, starring alongside Ice T, will be released in 2018. Growing up in Colorado as the youngest of five boys, Ace has never once backed down from a challenge and doesn't plan on starting any time soon. He is honored to be represented by Headline Talent and active member of AEA and SAG-AFTRA.
CREATIVE TEAM:
CHRISTINE REA (Book, Lyrics) began her journey of playwriting, producing and performing as a kid on her parent's backyard patio in suburban Chicago. Upon earning a Bachelor of Arts from the University of Illinois: Champaign/Urbana and attending DePaul University's Theater School (formerly the Goodman School of Drama); Christine toured the US, Canada and Europe performing. Favorite roles include: Mary Magdalene in the National Tour(s) of JESUS CHRIST SUPERSTARw/Ted Neeley & Carl Anderson and more recently reprised with Ted Neeley & Corey Glover of the ground-breaking Rock band, Living Colour; Emma Goldman in the Off-Broadway Revival of TINTYPES; Magenta in the European Tour of THE ROCKY HORROR SHOW; Sheila in HAIR (Actors Theatre of Louisville); Janis Joplin in BEEHIVE & Sonia in GODSPELL (Alabama Shakespeare Festival). Favorite creative collaborations include working with: Dale Wasserman (MAN OF LA MANCHA/ONE FLEW OVER THE CUCKOO'S NEST) and Tom O'Horgan (JESUS CHRIST SUPERSTAR/HAIR) on the Duke Ellington revival ofA BEGGAR'S HOLIDAY and the first Staged Reading of the original musical POPE JOAN, respectively. Christine is a proud member of Actors Equity Association, The Dramatists Guild and a graduate of The Commercial Theater Institute's 14-Week and O'Neill Theater Center's producing program.
Rick Briskin (Music and Lyrics) attended the acclaimed Berklee College of Music as a drummer and discovered his true love of songwriting. At that point, he picked up the guitar and began his journey as a singer/ songwriter. Born in NYC, his parents instilled a love and appreciation for musical theatre. When approached to collaborate on HIT HER WITH THE SKATES, Rick's extensive knowledge of musical genre and style, coupled with his enthusiasm for musical theatre made him a natural. As a mainstay of the NYC music community, he has produced and worked with such diverse artists as: Irene Cara (of "Fame"), Ann Curliss (of Expose) and Jamie Lamm (Fearless Music). As a sideman, Rick has played shows with many artists including: Diana Ross, Frankie Valli, Cindy Lauper, Sheryl Crow and Anita Baker. Additionally, he can be heard on national jingles including spots for: Coca Cola, Mercedes Benz, Tanqueray, Huggies and Equitable Life. Rick is a proud member of AFM Local 802.
Michael Schiralli (Director) Former Artistic Director of Half Moon Theatre at the Marriott Pavilion at The Culinary Institute of America, where he directed: John Cariani's premiere of CUL DE SAC, YOURS ANNE, VANYA AND SASHA AND SONIA AND SPIKE, A CHRISTMAS CAROL, I LOVE, I LOST, I MADE SPAGHETTI, THE FANTASTICKS, IT'S A WONDERFUL LIFE, THE WORLD GOES ROUND, 2 Ten Minute Play Festivals and SIDE BY SIDE by Sondheim. Some recent Off-Broadway credits include: Jeff Ward's, TAKE ONE (Fringe) NICO UNDERGROUND (NY Times critic's pick), The critically acclaimed A CHANUKUH CHAROL (New World Stages) and David Simpatico's PROM QUEEN (Playwrights Horizon). Other notable productions: SLEEPLESS VARIATIONS with Mary Testa & Michael Starobin (Barrington Stage), Jackie Hoffman's solo shows including THE KVETCHING CONTINUES (Time Out Award) and THE TRAGIC AND HORRIBLE LIFE OF THE SINGING NUN (NYMF, 3 awards). Recently directed the critically acclaimed world premiere production of HIT HER WITH THE SKATES, Hamilton Stage, May 2017 setting box office records.