BWW Review: THE ORIGINALIST at 59E59 Theaters Must Be Seen and Appreciated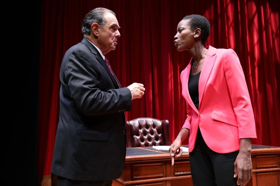 "Everything you do in law will be second guessed, criticized and attacked."
By Antonin Scalia in The Originalist
The NYC premiere of The Originalist, written by John Strand and directed by Molly Smith, is now on stage at 59E59 Theaters. This is a vital story for our times. It contrasts political and social perspectives while still proving that people can maintain a sense of civility. This enthralling theatrical piece features the finest staging and stellar acting. See it while you can on the Upper East Side stage.
Cat is a young, liberal black woman who has recently graduated from Harvard Law School. When she applies to be one of Antonin Scalia's law clerks and is hired, she learns more than she ever expected. Scalia, now in his 70's, is a lover of opera, a devout Catholic, a proud family man, an arch-conservative, and a polarizing figure on the Supreme Court. He maintains that his doctrinaire opinions are based on the original writings of the founding fathers and shouldn't deviate from their intent. But, Cat is primed and ready to challenge him on his views, rulings, and judicial legacy. Anton Scalia and Cat's conversations about abortion, gun control, and gay rights are intelligent, captivating and often heated. There are also personal, very human moments in this story that demonstrate how people can get along in spite of their differences.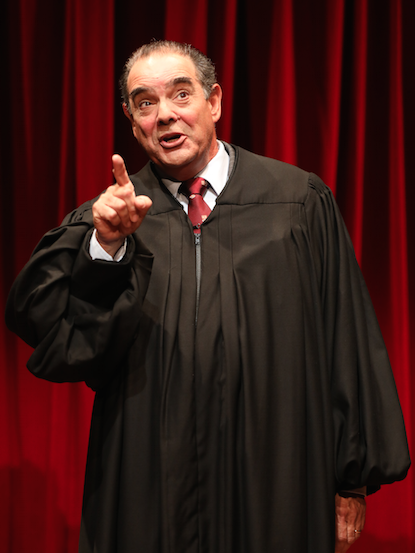 Edward Gero as Antonin Scalia masters the demanding role of the controversial judge and Tracy Ifeachor as Cat captures the part of his tenacious law clerk. Rounding out the cast is Brad, who plays a conservative law assistant. The cast's excellent character portrayals and the well-crafted dialogue makes you feel as though you have entered Scalia's Supreme Court Chambers.

The design team has done a top job of bringing the The Originalist to the stage with set design by Misha Kachman; costume design by Joseph P. Salasovich; lighting design by Colin K. Bills; and sound design by Eric Shimelonis. The Production Stage Manager is Susan R. White.
It doesn't matter what your political or social views are when you come to see The Originalist. It is a thought provoking, insider's view of our American judicial system and makes you realize the importance of respectful discourse.
The Originalist is produced by Middle Finger Production, LLC (Beth Newburger, Executive Producer) and Arena Stage. Performances are for a limited engagement through Sunday, August 19. The performance schedule is Tuesday - Friday at 7 PM; Saturday & Sunday at 2 PM & 7 PM. Performances are at 59E59 Theaters (59 East 59th Street, between Park and Madison). Single tickets are $25 - $70 ($25 - $49 for 59E59 Members). Tickets are available by calling Ticket Central at 212.279.4200 or online at http://www.59e59.org/.
Photo Credit: Joan Marcus