Review: Exquisite Seduction Takes the Stage at CRUEL INTENTIONS: THE MUSICAL
Just let your senses roam free for a moment and imagine what this feels like: the comfort of a dark room filled with friends and strangers alike, the euphoria of a few drinks clouding the mind, the electricity of trouble brewing in the air as the band takes the stage. Gear your thoughts towards your favorite nighttime pleasure, enhanced by the talents of theatrical superstars.
When you walk through the doors of (le) Poisson Rouge, the sexy and cruelly delicious sights and sounds of Cruel Intentions: The Musical seduce you the moment you enter. Everything you've ever wanted in a show is here: it is a tantalizing night out mixed with incredible voices and charm, as much a tribute to the 90's as it is a beautiful new take on an iconic classic. Cruel Intentions returns in all its glory to the West Village for a much-anticipated encore - and oh, are you going to love it even more this time around.
Created by Jordan Ross, Lindsey Rosin and Roger Kumble, based on the much loved film by Roger Kumble and now directed by Lindsey Rosin, Cruel Intentions: The Musical takes Choderlos de Lacios' eighteenth century novel Les Liaisons dangereuses and brings themes of incest, manipulation and vengeance to new heights. Substituting ex-lovers with rivaling siblings and married women with virgin ingénues, Kumble gave turn of the century audiences the story of Kathryn Merteuil and Sebastian Valmont, teen step-siblings and lovers who make sport of ruining people's lives.
Transformed into a movie so full of drama and mischief, Cruel Intentions originally starred Sarah Michelle Gellar, Ryan Phillippe and Reese Witherspoon, and continues to be a sort of guilty pleasure we love watching again and again. Now, presented to an audience on stage with a 90's compilation of music (many taken right off the movie's soundtrack) beyond fitting to tell this scandalous story, Cruel Intentions: The Musical perfectly captures the "bittersweet" nature of love that isn't quite love yet, but depending on how great the will for or against it, can potentially be. This show, with its dark vibe and evil intent, has a palpable charge all its own, and audiences will feel this electrifying spark - will feel this show truly come alive - when Sebastian dons his black coat and sunglasses, Annette appears in all her innocence and Kathryn waltzes on that stage, in true form, prepared to ruin it all.
For those of you unfamiliar with the 1999 movie, Cruel Intentions follows Kathryn Merteuil and Sebastian Valmont, half siblings who behave as anything but, and make it their business to ruin a reputation where they find the chance. When Annette Hargrove, the virgin daughter of the new school headmaster, becomes the duo's new conquest, Sebastian discovers that plotting someone's demise is a bit more difficult when you develop feelings for her. In this musical adaptation, the characters are not only ready to follow their "cruel intentions," but also sing about them at their new off-Broadway home. I can only say, after seeing this show for a second time and watching the movie more times than that, this production is something fierce and exciting that only gets better each time. It is truly something special and eclectic in the sense that it has a little something for everyone.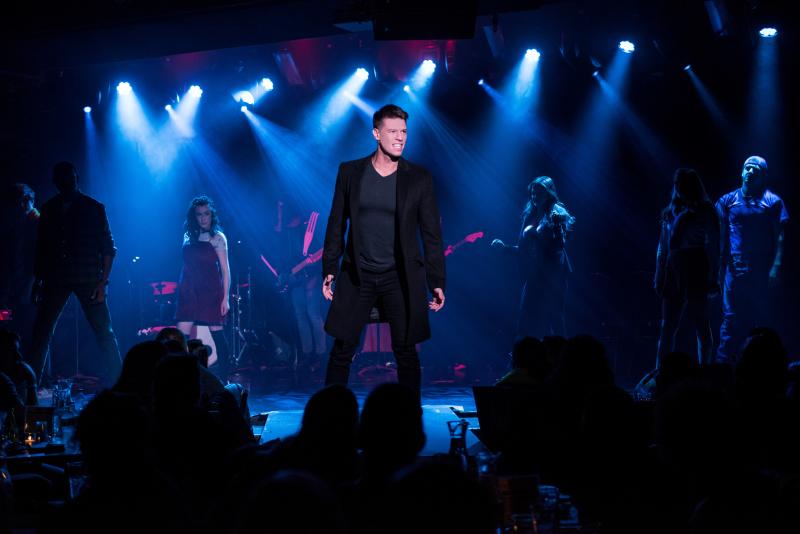 From its 2015 debut in Los Angeles, thirty-eight sold out performances, an LA reprise and now its second time in New York, Cruel Intentions: The Musical is worthy of all the accolades it has without doubt already received. It is a wonderful hybrid of a musical and concert, keeping the edge and risqué found in the movie with the emotion that translates so well to the stage. We know the characters and what havoc they are about to wreak, but when presented in all its glory on stage, it is simply captivating - like, with each song sung, you can't help but anticipate how this is all going to unfold.
Sebastian is even more enticing on stage while Kathryn, despite her intentions, is an absolute rock star when expressing her character through song - expressing her character period, I should say. Everything with this musical just works: those of you who love the movie will undoubtedly love this production, and those of you who haven't yet caught on to how much joy being in the audience will bring you...just give it a shot, and I don't believe you will be disappointed.
This cast is stellar, to say the least: Alex Boniello, Matthew Griffin, Brian Muller, Patricia Richardson, Constantine Rousouli, Jessie Shelton, Carrie St. Louis and Lauren Zakrin are beyond amazing - something I'm sure they hear all the time. This show showcases such major talent, actors who were perfectly cast for the roles they play. Kudos as well to all those behind the scenes: Jennifer Weber as Choreographer, Tilly Grimes as Costumer Designer, Carolyn Mraz on props, James Kolditz as Lighting Designer, Robert Bradley as Sound Designer, Music Arrangements and Orchestrations by Zach Spound (and kudos to those in the band!) and Clarissa Marie Ligon as Production Stage Manager.
Cruel Intentions: The Musical officially opened at (le) Poisson Rouge (located at 158 Bleeker Street) on Monday, December 11th, and will be in performances for a limited ten-week run. Tickets range from $49-$109, and may be purchased either by visiting the box office or by visiting www.cruelmusical.com. Please also visit the website for performances scheduled (as they vary each week) and also to learn a bit about the venue, the show and what to expect when you arrive.
Enjoy the show!
Photo Credit: Jenny Anderson