BWW Review: A LETTER TO HARVEY MILK, THE MUSICAL is Both Touching and Schmaltzy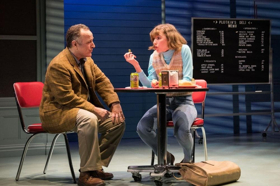 Since I hadn't read the short story by Lesléa Newman, upon which A LETTER TO Harvey Milk, THE MUSICAL is based, I didn't realize what a minor character Harvey Milk would play in the show. Appearing only in flashbacks, Harvey is just the catalyst for a different story altogether about Harry Weinberg, a retired, Jewish European immigrant who used to be friends with Harvey.
The musical is set in San Francisco in 1986, when Harry reluctantly takes a writing class taught by a young lesbian named Barbara, who encourages him to write a letter to someone who has passed away. He chooses to write to Harvey, even though Harry's deceased wife is a major character in the show, talking (and singing) to him frequently - in his mind, of course - and providing the show's requisite comic relief.
Harry's letter touches Barbara, whose parents have not been accepting of her sexuality, and a sweet relationship develops between the teacher and her older student.
There's a lot to like about this show, but it isn't wholly successful for a variety of reasons. First of all, in my opinion, 90-minute musicals rarely work. It's a tall order to develop characters, as well as relationships, in 90 minutes when you also have to fit in musical numbers. That makes it much more difficult for the songs to be earned emotionally, and as a result, there are songs here that pop up without the necessary emotional development.
While partially due to the short duration of the show, part of that is also due to the writers' decision to include some of the dialogue within the songs like recitative. I think it would have worked better if the dialogue had been spoken to build up the emotion before the characters break into song.
That said, the actors hold the musical together nicely, especially Adam Heller (IT SHOULDA BEEN YOU) as Harry, Julia Knitel (BEAUTIFUL: THE Carole King MUSICAL) as Barbara, Michael Bartoli (Forbidden Broadway) as Harvey Milk, and Cheryl Stern (LA CAGE AUX FOLLES) as Harry's wife, Frannie. Knitel in particular has a gorgeous voice, yet she doesn't get the most memorable songs in the score, which go to Stern, who sings "What a Shanda" (rhyming it with Rwanda), and Heller and Stern together in "Weren't We?"
Lyricist Ellen M. Schwartz, with additional lyrics by Stern, includes some other fun lines like "Gay and a Jew, oy vey, that's strike two," as well as rhyming "Anita Bryants" with "defiance." The music is by Laura I. Kramer, and the book is by Ellen M. Schwartz, Cheryl Stern, Laura I. Kramer, and Jerry James, with direction by Evan Pappas.
A LETTER TO Harvey Milk, THE MUSICAL is currently running at The Acorn Theatre on Theatre Row.
Photo Credit: Russ Rowland
Melanie Votaw is a dancer/singer/actress who studied ballet, tap, jazz, modern, and character dance for nearly 20 years. Her teacher was one of the fastest (read more...)