Angelina Fiordellisi Steps Down As Artistic Director of Cherry Lane Theatre; New Co-Artistic Directors Announced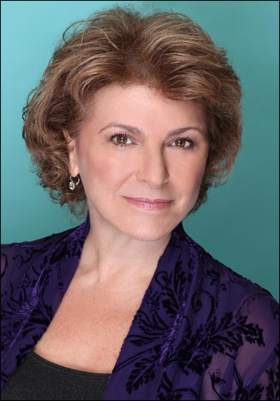 Cherry Lane Theatre's Founding Artistic Director Angelina Fiordellisi will step down as Artistic Director of Cherry Lane, where she has been developing, producing and creating new programs for playwrights, and has been a driving force since she acquired the legendary Off-Broadway Theatre 21 years ago. The Board of Directors of Cherry Lane Theatre have officially tapped Ms. Fiordellisi's longtime associates, Seri Lawrence and Janio Marrero, as Co-Artistic Directors of Cherry Lane Theatre starting with the 2017-18 season.
Ms. Fiordellisi, will now hold the title of Founder, and will continue to hold a seat on the Board of Directors and will continue to produce the company's annual Founder's Project production, which most recently commissioned, developed and produced Israel Horovitz's hit comedy OUT OF THE MOUTHS OF BABES and this summer's revival of Horton Foote's THE TRAVELING LADY. An actress as well as producer, she will continue to perform and develop projects outside of Cherry Lane Theatre including Matty Selman's new musical, La Dotteressa, about Maria Montessori, and Gretchen Cryer's new musical, Still Getting My Act Together, along with the 2018 Founder's Project play (TBA).
Ms. Fiordellisi states:
"It has been an honor to serve as artistic director for 20 seasons and I've decided to step aside and allow the next generation of leadership to inspire our resident company. On behalf of the Cherry Lane Board of Directors, it is with great joy and complete confidence that I welcome Serafina Lawrence and Janio Marrero as the new Co-Artistic Directors of Cherry Lane Alternative."
In a joint statement, Ms. Lawrence and Mr. Marrero state:
"For more than a decade, we have been privileged to call Cherry Lane Theatre our home. It is an honor to serve this special community, and we are thrilled to embrace this great opportunity to lead our company forward. Cherry Lane's groundbreaking history inspires our future, and as we stand on the shoulders of a century of unforgettable innovators, we are grateful for the work ahead and the challenge of continuing this theater's long tradition of forever emboldening the voice of Off Broadway. Heartfelt thanks to our inimitable Founding Artistic Director, Angelina Fiordellisi, and Board of Directors."
For the past year, Ms. Lawrence and Mr. Marrero have been serving as interim Co-Artistic Directors as Ms. Fiordellisi prepared for this transition.
Angelina Fiordellisi, (Founder: Proprietor of Cherry Lane Theatre since 1996) has served over 3,500 artists and countless non-profit theater companies. Fiordellisi co-founded and established Cherry Lane Alternative as the company in residence in 1997, creating a number of new play development programs including Obie Award-Winning Mentor Project, entering its 20th season. Garnering numerous awards and nominations, she has produced over 100 plays, including first plays by Katori Hall and Rajiv Joseph. As Co-Producer on Broadway, she won the Tony, Drama Desk, Outer Critics Circle and Drama League Awards for Edward Albee's Who's Afraid of Virginia Woolf? and a Drama Desk Award for The Realistic Joneses by Will Eno. Fiordellisi has commissioned new plays by Charles Fuller, Israel Horowitz, Daisy Foote, Renita Martin, Eduardo Machado and Anton Dudley. Additional new play development: 8 seasons with the New Harmony Project, 4 seasons with Carnegie-Mellon Showcase of New Plays and New York Stage and Film, Labyrinth Theatre Co's summer intensive at Bard and the Eugene O'Neill Theater Center. As an actress, Angelina has played on Broadway, Off-Broadway, national tours, regional theaters and holds a BFA in Acting from The University of Detroit, and received an MFA scholarship to the Asolo Conservatory of Theater. Professional Teachers/Mentors include Jose Quintero, Joseph Chaikin, Edward Albee, Sanford Meisner, Stella Adler, Charles Nelson Reilly, Gretchen Cryer and Billie Allen. She is married 30 years to Matt Williams and has two children, Matisse Mulliez and Fred Emerson Williams.
SERI LAWRENCE has served as Literary Manager, Associate Producer, and Executive Assistant to Angelina Fiordellisi, Founder for Cherry Lane Theatre. She is very proud of her work on The Surgeon and Her Daughters, Esai's Table, Cherry Lane School, and 11 seasons of Mentor Project. Seri graduated Phi Beta Kappa from New York University and is a candidate for a PhD in Comparative Literature at CUNY's Graduate Center.
Janio Marrero has held Facilities Director, Technical Director, and Production Manager positions at Cherry Lane Theatre since 2004. He is especially proud of his work on Dutchman, Hoodoo Love, Huck and Holden, Peerless, King Lear, and The Ragged Claws as Production Manager. Janio is an Interview Panelist for the Administrative Fellowship Program at Harlem Stage. He holds a Bachelor of Arts degree in Theatre from Fordham University.
Diane Alianiello is Cherry Lane Theatre's General Manager and Hillary Cohen is Director of Individual and Institutional Giving.
One of the most renowned theatres in the country, Cherry Lane Theatre has produced a large succession of plays by leading writers from F. Scott Fitzgerald to Gertrude Stein, Samuel Beckett, Edward Albee and Harold Pinter. Under the artistic leadership of Angelina Fiordellisi since 1996, Cherry Lane remains devoted to developing and producing new works for the stage through its various programs including the award-winning Mentor Project, which each year pairs established playwrights with emerging writers for a season of dramaturgy, rehearsal, casting and production. Mentor Project recently concluded its 19th season with mentors Lucy Thurber, Stephen Adly Guirgis and Branden Jacobs-Jenkins.