Review: SPELET OM TRONA, SESONG 3 by Overspillteatret - Even More Deliciously Dumb!
Even more deliciously dumb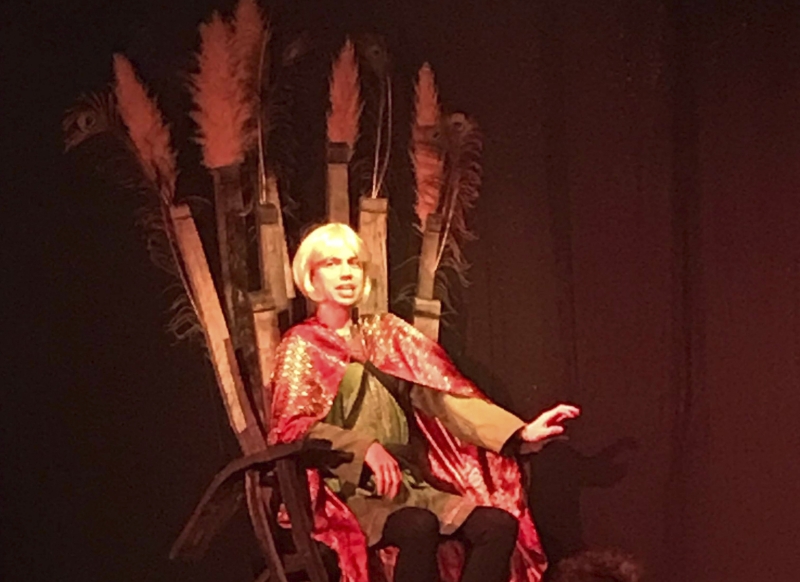 Season two of "Spelet om trona" came and went last year, so fast that BroadwayWorld never got to see it. But here we are in the same venue almost two years after we saw the first season which we deemed " Deliciously Dumb". Well, this is just as dumb and just as delicious. As the pandemic is hopefully drawing to its close, winter is coming to the Seven Kingdoms of Westeros (More specifically to SALTS Arctic Main Stage). The Overacting Company (Overspillteatret) have followed the same formula as before twice before. Taken the bare bones of season three of Game of Thrones and ironicized it to the limit. This show has been hurriedly put together on a shoestring budget, which again works in its advantage. The inexpensive costumes, props and especially the bad wigs just makes the material funnier. There are some spoilers ahead so skip the next paragraph if you want to stay spoiler free.

Highlights include: The Hound and Arya Stark on a road trip on suspended horses hanging from the ceiling, Prince Joffrey teaching Sansa (and the audience) to be more ill-behaved, a hilarious torture song to the tune of Plutti Putti Pott (Per Aspelin would NOT approve. ha-ha), a and a horizontal wall climbing scene with John Snow, Ygritte and a red bearded Kristoffer Hivju look-alike. Other gems include such touchy subjects as rape and incest, accompanied to "This is Me" from "The Greatest Showman" (Genius!), and even a severed hand and the penis from the torture scene gets a love song duet during the evening (Love it!). In addition there was, as always, plenty og self-references and deliciously filthy humor.
If you are easily offended by humor that is not especially politically correct then maybe this show is not for you, and you have probably not seen Game of Thrones anyway. But that is really not a necessity. My date had never seen a single episode and she laughed for sixty minutes (until she got her throat cut during the Red Wedding scene).
"Spelet om trona sesong 3" is written and performed by Patrik stenseth, Cathrine Frost, Aslak Maurstad and Benedicte Søreng. All four do a magnificent job in playing all characters in the show. The comedic timing is great and the jokes landed well, for the most part. But the funniest I must say was Aslak Maurstad. He chewed the little scenery there was every time he was on stage, without stealing the spotlight from the other three, which is a good quality in an actor. Benedicte Søreng also deserves special mention. During the her incest-ballad she got to show both her comedic skills and her wonderful singing voice.
They sure got to cram a lot of exposition, sketches and songs into the hour long show. Some of the scenes halted a bit in the transitions to the next scene, but I'm sure these little technical glitches will be smoothed out over the course of more performances. Looking forward to season four already.