BWW Review: ONE MAN TWO GUVNORS at Off Broadway Papakura Auckland
Commedia dell'arte meets British slapstick comedy in Papakura Theatre Company's One Man, Two Guvnors.
Writer Richard Bean gives Carlo Goldoni's 18th-century comedy "The Servant of Two Masters" the Fawlty Towers/Frank Spencer treatment with his own twist in this popular play that premiered on the West End in 2011 and Broadway in 2012.
James Corben was in the lead role and received rave reviews. He then reprised the role on Broadway in 2012 winning a Tony Award for Best Actor in a play.
One Man, Two Guvnors follows the exploits of bumbling buffoon Francis Henshall who finds himself a servant to two Guvnors who are entangled in a feud.
Guvnor number one is Roscoe Crabbe. Roscoe, however, is really Rachel, posing as her own dead brother who's been killed by her boyfriend Stanley Stubbers. Stubbers becomes Henshall's second guvnor. To prevent discovery Henshall must keep his two guvnors apart. It's a very tricky situation for one who is not too bright and makes his decisions solely influenced by something to eat.
The play is high energy and action-packed and the large cast certainly looks the part. Their costuming, makeup and hair transporting us back into 1963 with ease. Bravo to the wardrobe team.
Papakura Theatre Company has a reputation for excellent sets and props and this play is no exception. Alan Wyatt and his set building team have come up with a clever set that ensures authenticity and slick scene changes. Susan Andisen's props are once again par excellence.
The humour is comfortably familiar with characters calling out a cliche before succumbing to it. "Calling a woman 'gorgeous' is patronising and chauvinist," Marie Parker's hilarious Dolly tells us, "but I fancy him rotten. "
Martin Strange in the role of buffoon Francis Henshall executes a memorable fight with himself.
Daniel Robinson (Stanley Stubbers) bears a remarkable resemblance in physicality and voice to a young John Cleese.
Deon Visagie as Alan Dangle nailed the stereotypical wannbe actor/potentially jilted lover playing off against his not-to-bright love interest Pauline played by Louise Parker.
Tim Biggs' is no stranger to this form of comedy, meeting the physical demands of his role as Alfie admirably.
There are many characters to keep the audience busy; the beautiful Gloria (Sam Czepanski, the 'twins' (Lou Van Jaarsveld), Charlie Clench (Rob McAulay) to name but a few.
Opening night nerves may have influenced a lag in pace and diversity of pitch at times but it did not appear to affect the enjoyment of audience members.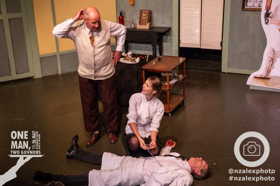 For a trip down memory lane and a laugh or two get along to...
One Man Two Guvnors
Off-Broadway Theatre
41 Elliot Street
Papakura
Bookings: https://www.iticket.co.nz/events/2018/may/one-man-two-guvnors
Related Articles View More New Zealand

Stories

Shows