BWW Review: MOONLIGHT AND MAGNOLIAS at Dolphin Theatre, Onehunga, Auckland

Yes it's winter and it's cold. Yes there is a lot on at the moment. Yes you should see as much theatre as you can and yes you MUST see this. It's a great laugh that will warm you up with top entertainment.
Playwright Ron Hutchinson's 'Moonlight and Magnolias' is based on the true story of the process of turning Margaret Mitchell's much loved novel 'Gone with the Wind' into a movie script. There's plenty of poetic licence adding to the flavour of what really happened in 'that office' over five days.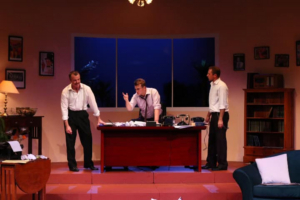 The play's title was the working title of David O. Selznick's 1939 film of
Gone with the Wind.
The story begins with the film production broken down and Selznick (James Claverley) has hired writer Ben Hecht (David Steadman), one of the few Americans who haven't read the book, to rewrite the screenplay in five days.

He's also called director Victor Fleming (Charlie Gautier ) away from the final days of directing 'The Wizard of Oz' to help. Both men are victims of Selznick's conning, bribing and threats as they are not remotely enthusiastic about this new film.
To add insult to injury Selznick shuts himself and the two men in his office for five days to get the script completed. Selznick's secretary (Jacquelyn Moran) is expected to meet their needs and her first job is to get rid of the bagels and fruit replacing them with peanuts and bananas which Selznick claims to be the best brain food.

Amongst the mounting squalor, the madness and fights, the accelerated incubation of the script writing gives way to periods of introspection and sober examination of the entertainment business.

Director Christina Christopher's creative and thorough direction brings out excellent characterisation. Her attention to detail is obvious throughout the whole play and particularly when things get physical.
I connected Chandler from 'Friends' with James Calverley's portrayal of David O. Selznick; that's if Chandler had been in the situation of having to fix up the mess that this film production had become and had huge money at stake. Calverley is the full deal and does not miss a beat. He has some challenging tasks and handles them like a pro. I'm not going into detail - come see for yourself.
Jacquelyn Moran plays a frazzled and confused Miss Poppenghaul, Selznick's secretary, to the comedic full.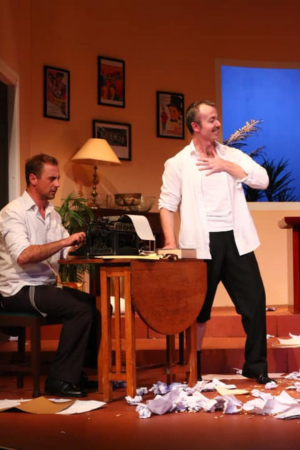 Torn between the money and a job that he has no faith in is Ben Hecht. He fiercely protects his Jewish heritage while battling exhaustion, moral outrage and the conviction that he's working on a flop.
David Steadman
plays him an engaging mix of frustration and fury.
Charlie Gautier absolutely shines and his style is unique and very much X-factor. (Think 'James Corden meets Daniel Craig.' ) Gautier gives the audience the unexpected at every change in the pace of the story.
The manic physical shtick is perfectly delivered and both director and cast have hit the mark. This is not easy to achieve particularly within a static set but it is so well delivered that we were mesmerised and fully into all the goings-on. The laughs were hearty and came in the right places and the more I noticed each character's actions the more I laughed.
The set is great to look at and works very well for this piece. It's cleverly designed to invite the audience in, the colour scheme is perfect (love a painted floor) and the illusion of being on a second floor of a building of the era is perfectly created.
Is it a coincidence that the three males cast in this play look very like the real life people that they are playing? Or was this fate?
Go see this show. It's a great laugh and beautifully recreates a much loved bygone era in Hollywood. Book your tickets!

Moonlight and Magnolias
Dolphin Theatre
12 Spring Street
Onehunga
Auckland
Bookings: https://securepayments.dolphintheatre.org.nz/?fbclid=IwAR3WHcU-0Z46TcOWyEWZYaK4Y4GlAFd487iO-AYso2ufmys0DoLUrdwxmXY
Related Articles View More New Zealand

Stories

Shows