BWW Feature: AUCKLAND FRINGE at Auckland Fringe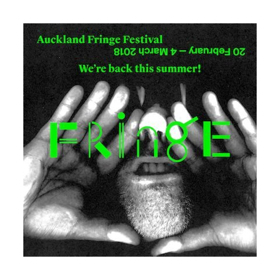 We didn't think it was possible, but the Auckland Fringe festival has just gotten Fringier. The second half of the Fringe programme has just been released, adding another 32 shows and 17 venues to the line-up, which takes place from February 20th to March 4th. The programme extends from a Summer Zinefest in the city to virtuoso violin concerts, interactive jury trial performances and interactive digital dance works to boat trips up the river Whau. Auckland Fringe 2018 is a celebration of the new, of the independent, and of the ability of the arts to build connections between us all.

The 2018 Auckland Fringe is the first annual iteration of the festival - an organic result of the momentum created from the success of the 2017 Fringe. The Auckland Fringe has existed in various guises since 2009, but it wasn't until the current Festival Director Lydia Zanetti took over during make-or-break times, and carried off an explosive Auckland Fringe in 2017 that we've seen it start to show its teeth. Acknowledgement of this success by the sector saw the Auckland Fringe win a new award for Community Spirit at the Auckland Theatre Awards early this December. And with the newly packaged two week festival now released Director Lydia Zanetti couldn't be more pleased by the direction in which the Auckland Fringe is heading -
"Because of the open access nature of the festival (if you want to be involved, you can!), artists really determine what this festival is. Therefore it's very reflective of where the community is at, where Auckland is at, and what we are struggling with and moved by. I'm continually awed and invigorated by the incredible people that connect with Auckland Fringe - this year's programme is sprawling and full of unexpected joys! People are pushing the boat out (in one show quite literally) and connecting with new audiences and finding new spaces to try out new forms. It's exciting, invigorating, and moves with its own momentum and energy. We're very excited to share it with Aucklanders across the whole region."
Lydia Zanetti, Director of Auckland Fringe
Read on for more detail on the 2018 Auckland Fringe programme.
Auckland Fringe takes place -
20th Feb - 4th March 2018 at many wonderful venues around Auckland.
For more information visit www.aucklandfringe.co.nz

For all media enquiries and high resolution images please contact:
Saraid at Elephant Publicity // saraid@elephantpublicity.co.nz // 09 368 4180 or 027 491 1646

For all direct festival enquiries please contact:
Helen Sheehan // helen@aucklandfringe.co.nz // 022 343 1892


Highlights & themes of the 2018 Auckland Fringe:

BOSS COMEDIANS
As well as featuring some comedy big names - "American country music legend" Wilson Dixon, snapchat impersonation genius Thomas Sainsbury and Laura Daniel - the latest line-up release has included a strong line-up of women comedians. Mackenzie's Daughters features some of New Zealand's best improvisers and telly talent: Alice Snedden, Kura Forrester and Donna Brookbanks to name a few. Charmian Hughes is back after a successful 2017 Auckland Fringe with Bra Trek; after a sold-out season at the NZ International Comedy FestivalLouise Bevnik is bringing back Ladylike: A Guide to Modern Etiquette; and Maria Williamsand Angela Fouhy will be sharing girl guide stories in Smore Sisters. The Bright Lights of Taihape, The Polar Bear Chronicles and The Egg & Sperm Race are also representing women in the comedy realm. Lastly, after potentially pulling the plug Summer Shakespeare are back! And they've uprooted themselves to the Aotea Square for an all-female cast presentation of Willy's first comedy: Two Gentlemen In Verona.

ART EVERYWHERE (AS WELL AS OVER THERE)
A truly city-wide event, the Auckland Fringe lets you discover the arts in nooks and crannies you didn't know existed (or just thought you did normal stuff, like eating Reuben Sandwiches and Key Lime Pie). You can leave your car in the garage and jump on a ferry to Waiheke for Red Room Cabaret at Artworks Theatre or head to Devonport and catch La Luna & the Gadjos at The Vic Devonport for some French song & gypsy swing. You can catch acclaimed Pretty Asian Theatre's latest presentation Roots, performed in English & Mandarin at Uxbridge Arts Centrein Howick as well as Q Theatre. Westies won't have to venture far - New Lynn's Te Pou Theatre will play host to Kr?dati and MANIAC (on the dance floor). The most iconic (Christian) family dinner is being served up at Auckland's most loved (Jewish) diner Federal Delicatessen in The Last Supper. Other venues include Auckland's very own Roman Temple discovered in Grafton of all places (who knew!) with Caesar's Rome, second-hand store Junk & Disorderly with Still Life, the Whau River with Boat Trip & the Nathan Homestead in Manurewa which will feature wind trio Trio Eclat and Brenda Hollinshead's Wire Figurines.

FRINGE SUPERSTARS
The 2018 Auckland Fringe has a fistful of local and International Artists that are well-established on the worldwide Fringe circuit. We're welcoming international Fringe star Zuleika Khan for her New Zealand debut in Triage! A Nursing Cabaret, which was named Number 1 in the Top 10 Picks of Perth's Fringeworld 2017. Local fringers who have recently come out of successful Edinburgh Festival Fringe seasons include Julia Croft (shortlisted 2017 Total Theatre Award for Emerging Artist) who is behind The Plastic Orgasm, and Binge Culture (shortlisted 2017 Total Theatre Award Innovation, Experimentation & Playing with Form), with their Barbarian Productions co-production It's A Trial, and comedy genius David Correos with his newest work The Correos Effect.

ARTISTS TACKLE THE STUFF THAT MATTERS
If you're looking for something Fringey with meat on its bones you can choose from a selection of works investigating the stuff that matters. Drowning in Milk, sees Saraid Cameron erect a bar in the foyer of Q Theatre, and serve some real talk alongside your drink. The Race byHobson Street Theatre Company is investigating the effects of racism on homelessness, direct from those who experience it themselves. If you missed it the first time, you can catch Rob Mokoraka's Shot Bro: Confessions of a Depressed Bullet, a personal story of his battle with depression and a bullet. Also tackling mental illness head on is new theatre show Lockdown. The aforementioned It's A Trial takes a panel of expert witnesses and places an issue on trial which is so current we don't know what it is yet. Fuck Rant by Nisha Madhan is also serving "a loose as fuck subconscious rant" to those that can stomach it, and ex-Green MP Catherine Delahunty is revealing the truly bizarre underbelly of politics via poetry and gossip in Question Time Blues.

HOME OF THE STRANGE
If you want to expect anything with Auckland Fringe, expect the unexpected, the unique and the unclassifiable. Watching Paint Dry tests our ability to do nothing for a sustained period of time (leave your phone on for this one), while a multimedia celebration of women's bodies, deconstructing shame and silence is revealed in Please Explain Sacred. Liminal: Motion asmanifest is a short interactive film at the Bruce Mason Centre which captures the live, sculptural movements of a dancer alongside those of the audience. Queer Dating Sitesinvestigates relationships between bodies and places in "invisibilised spaces" across the central city (don't worry, we're not sure what this means yet either!). Basement Theatre is hosting an entire programme on performances to be experienced by audience members one at a time.

MUSIC TO OUR EARS
The music programme is catering for all tastes and palettes across a whirlwind of genres. Virtuoso violinist Amalia Hall brings her spellbinding programme of Eugene Ysaye's six solo sonatas to White Studios while the singers behind Opera Bites have created a chocolate box of short scenes from the world's greatest operas. Rattle Records is presenting two nights of showcasing their artists, Rubber Souls - New Zealand's "most daring" choir - will be performing at Pocket Bar and Bostonian jazz vocalist Simona Minns with the Alan Brown Trio can be caught at Backbeat Bar. A treat for those fond of musical theatre comes from Theatre of Loveas they present a new dark fantasy musical Pan is Dead in a dramatic collision of myth and dystopia.

The 2018 Auckland Fringe is pulling together a unique gang of venues including:
Aotea Square, Art House, Artworks Theatre, Audio Foundation, Backbeat Bar, BaristaCats Cafe, Basement Theatre, Bruce Mason Centre, Central City Library, Fed Deli, Galatos, Garnet Station, Herald Theatre, Auckland Live, invisibilized urban spaces, Junk and Disorderly, LOT23, Nathan Homestead, Pocket Bar and Kitchen, Q Theatre, Raye Freedman Arts Centre, Samoa House TAP Studio, Selwyn Village, Theatre, Studio One Toi Tu, TAPAC, Te Pou Theatre, The Classic Comedy & Bar, The Dog's Bollix, The Pumphouse Theatre, The Roman Temple, The University of Auckland Drama Studio, The Vic Devonport, The Wine Cellar, Whau River, White Studios, Uxbridge Arts Centre

Auckland Fringe Facts:

86 unique events, performances and installations (decrease of only 6.5% despite shortening the festival by one third from 2017)
58% Premieres/new works
359 Showings
50 Venues (increase of 11% on 2017)
20 Free or Pay What You Like events - keeping it super accessible!