ZORRO Features Gipsy Kings Music At MCCC's Kelsey Theatre Jan. 25 To Feb. 3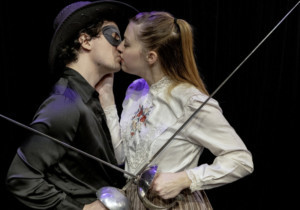 The legendary tale of Zorro, a good man's fight against evil, has been a source of lasting fascination. The award-winning PinnWorth Productions presents "Zorro," a production that combines high drama with the red-hot music of The Gipsy Kings, at Mercer County Community College's (MCCC's) Kelsey Theatre. Dates and show times are Fridays, Jan. 25 and Feb. 1 at 8 p.m.; Saturdays, Jan. 26 and Feb. 2 at 8 p.m.; and Sundays, Jan. 27 and Feb. 3 at 2 p.m.
Kelsey Theatre is located on MCCC's West Windsor Campus, 1200 Old Trenton Road. The community is invited to an opening night reception with the cast and crew on Jan. 25.
Audiences will be mesmerized by the show's compelling narrative, dazzling sword-fights and flamenco dance set to The Gipsy Kings' unique blend of traditional flamenco music, Western pop and Latin rhythms. It's a vivid retelling of the 19th century tale of Diego de la Vega, the mysterious man behind the mask who is fighting to restore order in Spanish colonial California. Latin and Spanish influences infuse the thrilling plot, reminding us of the significant contributions of these cultures to our American landscape. It all adds up to an unforgettable theater experience.
Director and Co-producer LouJ Stalsworth said PinnWorth Productions chose to do the show because he has been a fan of The Gipsy Kings for years. "When I was looking for something with panache and excitement, I discovered this gem," he recalled. "Plus, it's a regional premiere. How good is that?"
Stalsworth notes that the music lends itself to a style of dance not seen before on the Kelsey stage - flamenco. "And that in turn leads to the inclusion of a strolling troubadour, so we have added the talents of flamenco guitarist Ivan Max, of Montclair, who serves as a sort of musical story teller strolling and playing throughout the show," he said.

The cast stars Kevin Albanese of Woodbridge as Diego/Zorro; Haley Schmalbach of Palmyra as Luisa; Shawn Simmons of Hamilton as Ramon; Kate Bilenko of Philadelphia, Pa., as Inez; Michael Wemer of Westampton as Sergeant Garcia; and Jim Morris of Plainsboro as Alejandro. Camryn Burniston of Parlin is featured as Young Ramon; Isabella Panfilli of Hamilton plays Young Luisa; and Nicholas Benedetti of Ewing is Young Diego.
Also featured are Janette Bhaskar of Titusville, Sharron Bolen of Princeton, Cathy Carr of Perth Amboy, Nick DeMille of Bordentown, Krystan Ellis of Hamilton, Francisco Estrada of Hamilton, Jacquelyn Gesumaria of Highland Park, Shelly Lightman of East Windsor, Jaden Lopez of Columbus, Ruth Markoe of Lawrenceville, Ivan Max of Montclair, Graciela Monagas of Bordentown, Diego Montealegre of Lawrenceville, Jenna Moschella of Ewing, Benjamin Porter of Fort Dix, Paul Rahter of Philadelphia, Pa., Sari Ruskin of Princeton, TJ Sandor of Columbus, Reva Sangal of West Windsor, Christopher Schmalbach of Palmyra, Darrell Watts of Ewing, Zoey Woody of New Brunswick, and Rene Ybarbo of Red Bank.
The production team includes Producer/Director LouJ Stalsworth; Co-producer Kate Pinner, who is also the costume designer and set designer; Choreographer Lisa Botalico; Music Director Eileen Fields; Fight Director Katie Downey; Co-set Designer Haley Schmalbach; Lighting Designer Chris Ghaffoor; and Sound Designer Evan Paine. The stage manager is Reilly Bowe and properties are by Susan Galli.

Tickets are $20 for all. They may be purchased online at www.KelseyTheatre.net or by calling the Kelsey Box Office at 609-570-3333. Kelsey Theatre is wheelchair accessible, with free parking next to the theater.
For a complete listing of adult and children's events, visit the Kelsey website or call the box office for a brochure.
Photo by Robert Terrano.
Related Articles View More New Jersey

Stories

Shows
More Hot Stories For You