Review: PARADE by American Theater Group is a Stellar Production
PARADE by American Theater Group
American Theater Group (ATG) is now presenting Parade. The Tony Award winning musical is currently on Broadway but you can skip trip to NYC and plan to see ATG's extraordinary production. We attended the Friday night show that was held at the Sieminski Theater in Basking Ridge. Performances will continue on Thursday, March 9th to Saturday, March 11th at the JCC MetroWest in West Orange.
Parade is written by playwright Alfred Uhry and features a score by Jason Robert Brown. ATG's show is splendidly directed by Broadway veteran, Hunter Foster with musical direction by Keith Levenson, and choreography by Caitlin Belcik. The Music Director is Hosum Moon.
ATG's Producing Artistic Director, Jim Vagias stated the current significance of Parade. "The themes of bigotry and political injustice remain ever so relevant today, and its magnificent score and masterful script allow for a moving examination of the darkest corners of American history."
Set in the early 1900's, Parade is based on the true story of Brooklyn born Leo Frank, a young married Jewish man living and working in Atlanta. He was wrongfully indicted for the brutal murder of a 13-year-old female employee, Mary Phagan. Religious intolerance and prejudice among the townspeople surface throughout Frank's arduous trial. It also portrays the active role that Leo Frank's wife, Lucille takes to uncover the truth in the hope of having her husband released from prison.
The entire cast turns in strong performances with their acting and vocal talents. Leading the company is David R. Gordon as Leo Frank and Megan McGinnis as Lucile Frank. They are joined by RJ Christian as Jim Conley; Peter Green as Hugh Dorsey; Joseph Dellger as Governor Slaton/Judge Roan; Liam Searcy as Tom Watson; Samantha Soybel as Mary Phagan; Jack Dossett as Frankie/young Soldier; Kaleb Jenkins as Britt Craig; Abby Middleton as Mrs. Phagan/Sally Slaton; Amaya White as Minnie/Angela; James Schultz as Ivey/Roser/Old Soldier; and C. Mingo Long as New Lee. The Factory Girls are played by Reilly Wilmit and Kirsten Bleu Kaiser; and the Cover/Ensemble cast members are Alex Carr and Rachel Sabo Hedges. While some of the troupe assumes multiple roles, the transitions are seamless.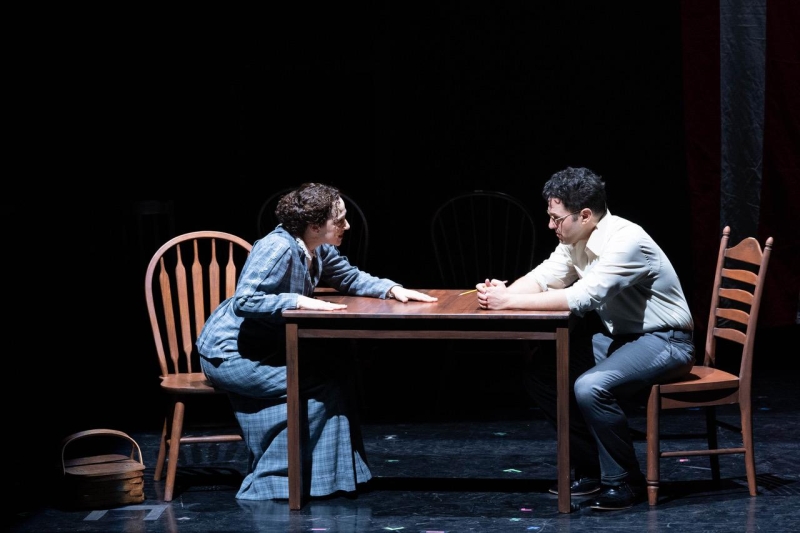 Musical numbers are ideal to bring the affecting story to life. Some of the many memorable ones include "The Dream of Atlanta" by the Ensemble; "Leo at Work/What Am I Waiting For" by Leo and Lucille Frank; "Real Big News" by Brit Craig and Ensemble; "Twenty Miles from Marietta" by Hugh Dorsey; "My Child Will Forgive Me" by Mrs. Phagan; "Closing Statement & Verdict" by the Ensemble; "Pretty Music" by Governor Slaton; "Where Will You Stand When the Flood Comes?" by Tom, Hugh, Frankie and Ensemble; and "All the Wasted Time" by Leo and Lucille Frank.
ATG has assembled a fine Creative Team. They include scenic design by David Arsenault; lighting design by Christopher Wong; costume design by Saawan Tiwari; sound design by Nate Brown; wardrobe by Cole Wilkowski; technical direction by Ben Merrick; and props by Dani Pietrowski assisted by Alexis Krayniak. The Production Stage Manager is Jackie Mariani assisted by Catherine Murphy; Assistant Stage Manager, Kyle Binkley; Assistant Director, Rachel Sabo-Hedges; Theater Manager, Scott Hart; Production Consultant, Christopher Smith; Master Electrician, Dallas Bradford; Intern, Rose Fender; and Casting by Michael Cassara, CSA.
Don't miss the opportunity to see ATG's Parade. It is a show that captivates while providing a stirring perspective of a historical event that will provoke essential conversations with your friends and family.
Parade will be performed at JCC MetroWest, 760 Northfield Avenue, West Orange, New Jersey from March 9th to March 11th. For ticketing, please visit the American Theater Group web site at www.americantheatergroup.org.
Photo Credit: Lianne Schoenwiesner, Spotlights Photography