Premiere Stages to Present 2017 Play Festival Winner FOSTER MOM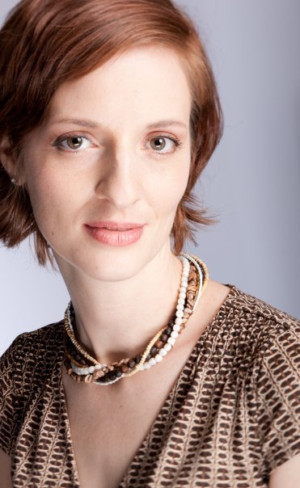 Premiere Stages at Kean University will present Foster Mom by Chris Cragin-Day, the winner of the 2017 Premiere Stages Play Festival, September 7-24 in Kean University's Zella Fry Theatre (Vaughn Eames Hall, 1000 Morris Avenue, Union, N.J.).
A funny, surprising, and optimistic coming-of-age tale for adults, Foster Mom tells the story of Leslie, a woman whose decision to foster a child is complicated by two factors: a skeptical mother and an unexpected romance.
The play was selected from over 400 submissions to the Play Festival, an annual competition for unproduced scripts by area playwrights. Foster Mom will be directed by longtime collaborator Kel Haney, and feature actors Stori Ayers, Kate Kearney-Patch, Kurt Uy, and Ariel Woodiwiss.
Playwright Chris Cragin-Day is a founding member of Firebone Theatre and an alumna of The Public Theater's Emerging Writers Group and the O'Neill Center's National Music Theater Conference. Her receNT Productions include A Woman at 59E59 (directed by Ms. Haney), The Unusual Tale of Mary & Joseph's Baby with Don Chaffer at River & Rail, and the National Tour of Martin Luther on Trial with Max McLean, which also ran Off-Broadway and in Washington, D.C. A resident of Weehawken, Ms. Cragin-Day is an assistant professor of English and theatre at The King's College in New York.
Kel Haney previously directed My Lord, What a Night, Water by the Spoonful, and At Liberty Hall at Premiere Stages. Other recent directing credits include the world premiere of What Happens in Vegas at 59E59, the regional premiere of The Way We Get By at American Theater Group, and The Elephant in Every Room I Enter at La MaMa. Ms. Haney is an active member of Ensemble Studio Theatre, and a former Manhattan Theatre Club Directing Fellow and Lincoln Center Directors Lab participant.
The accomplished cast includes Newark resident Stori Ayers, who most recently appeared in Chautauqua Theater Company's acclaimed production of Detroit '67; Kate Kearney-Patch, previously seen on television's "How to Get Away with Murder" and "Person of Interest"; Princeton alumni Kurt Uy, who recent credits include Vietgone at Manhattan Theatre Club and The Oldest Boy at Lincoln Center Theater; and Ariel Woodiwiss, whose distinguished regional credits include Williamstown Theatre Festival, Steppenwolf, and Long Wharf Theatre.
Audience members are invited to further engage with the issues raised by Ms. Cragin-Day's heartwarming play through Premiere Stages' 2017 Talk-Back Series, which offers free post-show discussions with community leaders and local experts after select matinee performances (September 9, 10, 17 and 23 at 3:00 pm). Featured speakers include Meghan M. Walbert, author of Phase Three of Life (Saturday, September 9); Ms. Cragin-Day (Sunday, September 10); Celines Garcia and Lynn Patmalnee of Foster and Adoptive Family Services (Sunday, September 17); and ElizaBeth Williams-Riley and Gloria McDonald of the American Conference on Diversity (Saturday, September 23). Premiere will also offer a series of informal pre-show talks every Saturday evening 30 minutes prior to performance in the lobby of the theatre.
"We are proud to share Chris's compelling and highly topical story," stated John J. Wooten, producing artistic director of Premiere Stages. "And the community partners we have engaged will provide additional perspectives on the challenges and rewards fostering affords."
Foster Mom runs September 7-24 in the Zella Fry Theatre on the Kean University main campus in Union, N.J. Performances take place Thursdays and Fridays at 8:00 pm, Saturdays at 3:00 pm and 8:00 pm, and Sundays at 3:00 pm. Tickets are $30 standard, $20 for senior citizens and Kean alumni, and $15 for students and patrons with disabilities. Significant discounts for groups of 8 or more apply. To make reservations or to order a season brochure, please call the box office at 908-737-7469 or visit Premiere Stages online at www.premierestagesatkean.com.
Tickets are also available for Premiere Stages' exclusive Foster Mom Opening Night Party on Friday, September 8. This event features a pre-show party with wine, hors d'oeuvres, live music, and breathtaking views of The New York City skyline in Kean's North Avenue Academic Building event space, reserved seating for the performance, and a post-show champagne toast and dessert reception with the cast. Tickets for this exclusive event are $65.00, and may be purchased by calling 908-737-7469 or emailing ticket@kean.edu.
Premiere Stages offers affordable prices, air-conditioned facilities and free parking close to the theatre. Premiere Stages also provides free or discounted tickets to patrons with disabilities. All Premiere Stages facilities are fully accessible spaces, and companion seating is available for patrons with disabilities. Assistive listening devices and large print programs are available at all times; publications in alternate formats are available with advance notice. Call 908-737-4077 for a list of sign-interpreted, audio-described or open-captioned performances. For more information, visit Premiere Stages online at www.premierestagesatkean.com.
Created in 2004, Premiere Stages is the professional Equity theatre in residence at Kean University. Through its unique partnership with Kean, Premiere's play development programs, educational initiatives, and professional development opportunities actively embrace the university's academic curriculum while expanding the scope, accessibility, and prestige of the professional programming on campus. For more information, please visit Premiere Stages online at www.premierestagesatkean.com.
Founded in 1855, Kean University has become one of the largest metropolitan institutions of higher education in the region, with a richly diverse student, faculty and staff population. Kean continues to play a key role in the training of teachers and is a hub of educational, technological and cultural enrichment serving nearly 15,000 students. The University's five undergraduate colleges offer more than 50 undergraduate degrees over a full range of academic subjects. The Nathan Weiss Graduate College offers four doctoral degree programs and more than 60 options for graduate study leading to master's degrees, professional diplomas or certifications. With campuses in Union and Toms River, New Jersey, and Wenzhou, China, Kean University furthers its mission by providing an affordable and accessible world-class education. Visit www.kean.edu.
Pictured: Premiere Stages has named Chris Cragin-Day (pictured) as the winner of the 2017 Play Festival. Photo courtesy of Chris Cragin-Day.