Photo Flash: Into the Woods at St. Catherine of Bologna Performing Arts Guild
St. Catherine of Bologna Performing Arts Guild (STCPAG) presents Into the Woods.
Music, and Lyrics by Stephen Sondheim; Book byJames Lapine.
A very talented and diverse group comprises the cast of Into the Woods. John Cioletti, John Burke, Fran Leonardis, and Marie Cannici of Ringwood.Louis Yorey, Nicole Boscarino, James Russo of Wayne. Cassandra Lindeblad of Parsippany,
Michael Smith-Gallo from Montclair, Denise McLean of Midland Park and Laura O'Meara of New Milford, Kate Kennedy of Budd Lake, Kristen Rotello of Wyckoff, Jessica Albano of Bridgewater, Mark Hermann of Mahwah, Kelly Wenz from PomptonLakes and Laura Santo of Hillsdale.
Into the Woods is an exploration about wishes, child-parent relationships and the choices we make as told through several familiar fairy tale characters by the inimitable Brothers Grimm.James Lapine and Stephen Sondheim take everyone's favorite storybook characters and bring them together for a timeless yet relevant piece and rare modern classic. The Tony Award-winning book and score are both enchanting and touching.
The story follows a Baker and his wife who wish to have a child,
Cinderella who wishes to attend the King's Festival, and Jack who wishes to save his cow. When the Baker and the Baker's Wife learn that they cannot have a child because of a witch's curse, the two set off on a journey to break the curse. Everyone's wish is granted, but the consequences of their actions return to haunt them later with disastrous results
SHOW DATES ARE: July 29, 30, 31, August 5, 6, 7. Fridays and Saturdays at 8:00PM/Sunday matinee at 2:00PM.
Ticket prices are Adults $23 Seniors $20 Children 12/under $12
To purchase tickets visit www.stcpag.org, email tickets@stcpag.org or call 973-475-7028.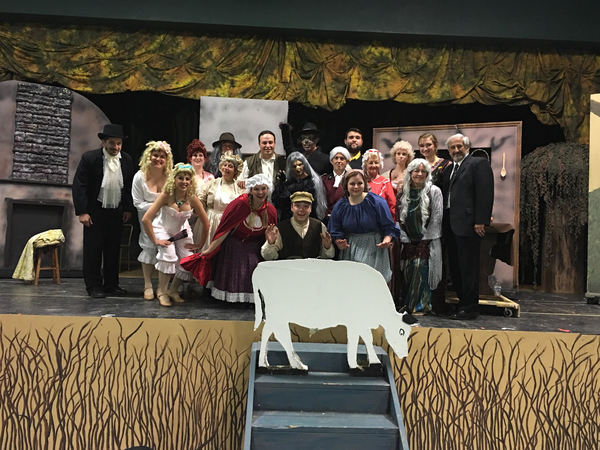 Cast of Into the Woods

Kelly Wenz & Jessica Albano

Cast of Into the Woods

Louis Yorey & John Cioletti

Fran Leonardis & James Russo

Michael Gallo & John Burke