Photos: In Rehearsal with HT Musical Theatre's SPRING AWAKENING, Beg. Tonight
All students from all Hudson County, NJ towns will be participating in Spring Awakening. The 2008 Tony Award Winning Rock Musical will be presented by the Musical Theatre Majors, tonight, March 27-29, 2014. BroadwayWorld has a sneak peek at rehearsals below!
Winner of 8 Tony Awards, including Best Musical, SPRING AWAKENING is a rock musical adaptation of Frank Wedekind's 1891 expressionist play about the trials and tribulations, and the exhilaration of the teen years.
It''s Germany, 1891. The beautiful young Wendla explores her body and asks her mother where babies come from. Elsewhere, the brilliant and fearless young Melchior defends his buddy Moritz -- a boy so traumatized by puberty he can''t concentrate on anything. One afternoon in the woods, Wendla and Melchior discover a desire unlike anything they''ve ever felt. SPRING AWAKENING explores the confusion and desperation that ensue when the onrushing tide of hormones meets the ignorance of children. SPRING AWAKENING celebrates the unforgettable journey from youth to adulthood with a power, poignancy, and passion that you will never forget.
"We are blessed to explore a one of a kind piece of material that empowers our students, challenges their work and can continue to ask questions in the safe environment of a classroom while presenting a final outcome to our community and audiences from all over", explains Alex Perez, Director.
This marks the 14th year of the program, which is currently a part of Papermill Playhouse''s ''Adopt-A-School'' Program, bringing artists and workshops from the professional world of theatre to the classroom and allowing the students to develop their craft. Students have been attending all their season shows, visits behind the scenes, talks with professionals in the industry and written critique work with extensive collaboration in writing programs.
"The subject matter in Spring Awakening is mature and not recommended for anyone under 13, but hopefully with a powerful piece of theatre, we can enlighten, teach and appreciate the power and beauty of storytelling", says Noah Dunton, Junior from Jersey City. The musical is presented by the Junior and Senior Majors of High Tech''s Musical Theatre Department, who have also just been invited to represent the USA as one of 22 high schools across the country to perform at the Edinburgh Fringe Festival, Summer of 2015.
What excites us most about this production is the amount of multi-talented students on stage. Students will be not only acting, singing and dancing- but also playing their own instruments and foraying into aerial work and tight choreography. It is something new to our audiences and we are very excited to share it all.
The cast and band consist of HUDSON COUNTY students in the Music Program: Sarah Battaglia (Hoboken), Julia Small (Hoboken), Kennedy Hargrove (Jersey City), Kyra Baker (Weehawken), Cristina Diaz (West New York), Luis Garrido (Jersey City), Ana Beliakova (Hoboken), Kyra Lee (Jersey City), Max Tamarkin (Hoboken), Georgia Sebesky (Jersey City), Frankie Alicandri (Weehawken), Ivan Romero (North Bergen), Jack Haefner (Kearny), Isabella Rodriguez (North Bergen), Abigail Loughlin (Jersey City), Adriana Artola (Jersey City), Noah Dunton (Jersey City), Matthew Dynes (Bayonne), Nevada Koenig (Weehawken), Joe Ong (Bayonne), Isabelle Baker (Jersey City), Katherine Davila (North Bergen), Dean Scarlett (Secaucus), Lisa Yin (Harrison), Evan Dibbs (Hoboken), Jacob Berle (Hoboken), Jessica Prussack (Hoboken), Ashley Cookson (Union City), Allison St. Rock, and Eric Parkin.
SPRING AWAKENING features Book and Lyrics by Steven Sater and Music by Duncan Sheik. This production will be directed and choreographed by Alex Perez with musical direction by Rod Shepard. The show runs for four performances: THURSDAY MARCH 27 at 7PM; FRIDAY MARCH 28 at 7PM; and SATURDAY MARCH 29 at 3PM and 7PM at HT Musical Theatre, 8511 Tonnelle Ave (Rt. 1/9), North Bergen NJ 07047. Tickets are $15 at www.SHOWTIX4U.com. Tickets are only available online. Not recommended for anyone under 13.

Cast of SPRING AWAKENING

Cast of SPRING AWAKENING

Cast of SPRING AWAKENING

Cast of SPRING AWAKENING

Cast of SPRING AWAKENING

Cast of SPRING AWAKENING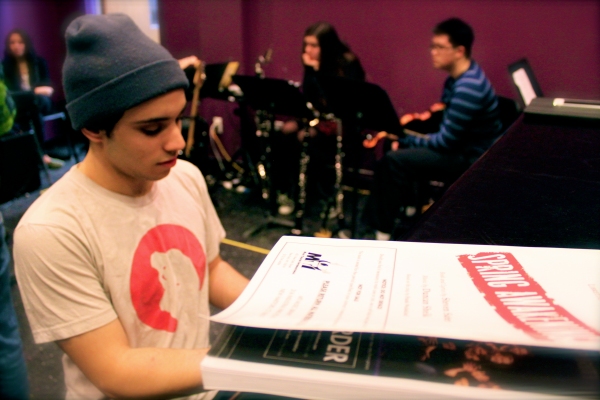 Cast of SPRING AWAKENING