Pasek & Paul's DOGFIGHT Musical to Play MCCC's Kelsey Theatre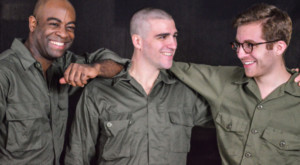 Eddie Birdlace is returning home from Vietnam in 1967 burdened with the emotional scars of war. Pierrot Productions presents the touching rock musical "Dogfight" at Mercer County Community College's (MCCC's) Kelsey Theatre. Dates and show times are Fridays, Nov. 3 and 10 at 8 p.m.; Saturdays, Nov. 4 and 11 at 8 p.m.; and Sundays, Nov. 5 and 12 at 2 p.m.
Kelsey Theatre is located on the college's West Windsor Campus, 1200 Old Trenton Road. A reception with the cast and crew follows the opening night performance on Nov. 3. (This show is not recommended for children.)
Much of "Dogfight" unfolds in flashback. It's November 21, 1963. On the eve of their deployment to a small but growing conflict in Southeast Asia, six young Marines set out for one last night of carousing and mischief making. But, when Corporal Eddie Birdlace meets Rose, an awkward and idealistic waitress whom he enlists to win a cruel bet with his fellow recruits, she rewrites the rules of the game and teaches him the power of love and compassion. Now it's four years later and Eddie is the one in need of solace and compassion. Will he get it from the woman he toyed with - one who has done some growing and changing of her own?
"Dogfight" is based on the Warner Bros. film and screenplay by Bob Comfort, starring Lili Taylor and River Phoenix. It is set to a stunning musical score by Benj Pasek and Justin Paul, composers of La La Land, Dear Evan Hansen, and A Christmas Story. The show premiered at the Second Stage Theatre in 2012 and garnered the Lortel Award for Best New Musical. (Other stage works by Pasek and Paul include James and the Giant Peach and Edges.)
The cast stars Alexandra Rush, of Philadelphia, Pa., as Rose Fenny; Andy Boettcher of Lumberton as Eddie Birdlace; Kyrus Keenan Westcott of Levittown, Pa., as Boland; Matt Staley of Hamilton as Bernstein; Pat Rounds of Princeton as Stevens; Andre Williams of Franklin Park as Fector; Evan Brody of Marlton as Gibbs; Kim Cupo of Fairless Hills, Pa., as Marcy; and Bonnie Kapenstein of Philadelphia, Pa., as Mama.
Featured in the ensemble are Steven Ciapanna of Malaga, Elizabeth Deal of Marlton, Jordan Virgil of East Windsor, and Alexandra Haas of Willingboro.
The production staff includes Producer Pete LaBriola, Director Kat Ross Kline, Music Director Peter de Mets, Stage Manager Jaci D'Ulisse, and Production Assistant Beverly Kuo-Hamilton. The sound designer is Evan Paine and the lighting designer is M. Kitty Getlik.
Tickets are $20 for adults, $18 for seniors, and $16 for students and teens. Tickets may be purchased by calling the Kelsey Box Office at 609-570-3333 or online at www.kelseytheatre.net. Kelsey Theatre is wheelchair accessible, with free parking next to the theater. For a complete listing of adult and children's events, visit the Kelsey website or call the box office for a brochure.
Pictured: Kyrus Keenan Westcott as Boland, Andy Boettcher as Birdlace, and Matt Staley as Bernstein. Photo by Kyrus Keenan Photography.
Related Articles View More New Jersey

Stories

Shows
More Hot Stories For You