Blue Curtain Presents Two Free Nights Of World Class Musicians From Around The Globe At Princeton's Pettoranello Gardens Amphitheater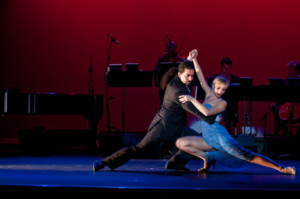 After 14 years of bringing world-class musicians from around the globe, Blue Curtain returns to Pettoranello Gardens Amphitheater (Route 206 and Mountain Ave.) on Saturdays, July 14 and July 21. Each concert starts at 7PM. This live entertainment is free and open to all to attend.
"We are looking forward to another exciting series of unique and culturally diverse music and dance," says Stephen Allen, co-founder of Blue Curtain with Curtis Webster. "If the weather is cooperative we will have two evenings of summer magic."
Saturday, July 14 - 7PM
Pradhanica & Leonardo Suarez Paz's Cuartetango
Pradhanica Dance and Music explores the sonic and narrative possibilities of rhythm through dance and music. Dizzying spins, fast-paced footwork, immersive emotions, and dynamic drumming come together in this contemporary presentation of the Indian classical dance form of Kathak.
Leonardo Suarez Paz leads the two-time Latin GRAMMY-Award nominated Cuartetango string quartet with bandoneon and tango dance to the forefront of 21st century Nuevo Tango, following in the footsteps of his mentor and friend, Astor Piazzolla. A singer, tango dancer and "virtuoso extraordinaire on the violin" (Wynton Marsalis), Suarez Paz brings forth a new vision of Argentina's rich culture with an "ingenious musical concept," (The Day, CT).
Saturday, July 21 - 7PM
Iberi & Lakou Mizik
The Iberi Choir is from the Republic of Georgia, home to one of the world's most distinctive choral traditions with male singers providing gorgeously rich, shifting blocks of improvised harmony, crowing falsetto over the growling basses and soaring tenors.
Lakou Mizik is a multi-generational Haitian roots band with a mission to bring Haitian culture to the world. "The sound of Vodou drummers, Rara horns and an accordionist blend into a soulful and party-oriented rasin experience, an Afro-Soca Carnival vibe of the highest order." (NPR)
Concert-goers are encouraged to come early and enjoy the beautiful outdoor setting of Pettoranello Gardens at Community Park North (Route 206 and Mountain Ave).
For more information: info@bluecurtain.org.
In cooperation with Princeton Recreation Department.