BWW Review: Ritz Theater Brings BEAUTY & THE BEAST to South Jersey
Turning out award winning theater on Broadway is expected. Producing exceptional shows in Philly or any major city is always a great experience. When a small town theater puts their best foot forward and offers a passionate production of a world famous musical, well that's something to get excited about and Ritz Theatre Company has a lot to be proud of.
Let's start off with the enormous task of set designs; a Provincial Town turns into a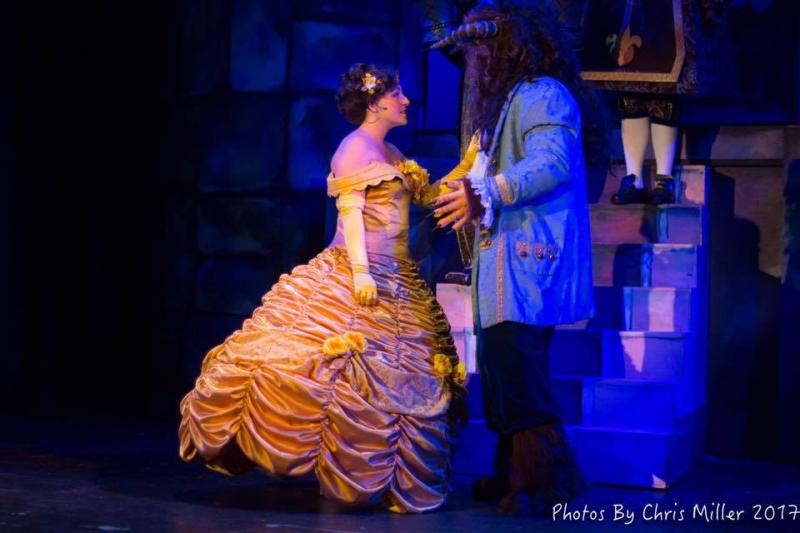 looming Forrest, turns into a King's Castle all mounted upon a modest sized stage. Popular set and lighting designer Chris Miller has done it again by clever use of colorful backdrops that create the town that allows the entire company leg room for performing; a massive combination of movable towers, wall and stairs that hide and move smoothly from scene to scene. Choreographer Jessica Quindlen keeps the action and dancing tight and exciting and costume designer Tina Heinz creates stunning gowns along with dressing a very impressive Cogsworth, Lumiere and Madame de Grande Bouche and the 'enchanted' castle household.
On to the cast; Our Belle is Anabelle Garcia, a Ritz favorite last seen as Nellie in South Pacific, and Collingswood resident. Garcia presents a spunky yet vulnerable presence with a wonderful voice. Perry Award winner Bryan M. Pitt makes his Ritz debut as the Beast after playing Javert in Les Miserables and Coalhouse in Ragtime. Pitt proves to be a commanding Beast with a heart buried inside that hairy chest! More newcomers to the Ritz are Nicholas French (Gaston) who's larger- than- life ego is admittedly very impressive as is Matt Flocco (Lefou) who tickles the crowd with his antics. Both are well matched and in their characters and play off one another effortlessly. Nick Intreri, a budding star from Haddon Heights, performs as the lovable teacup, Chip! Joining them are an ensemble of Ritz veteran and local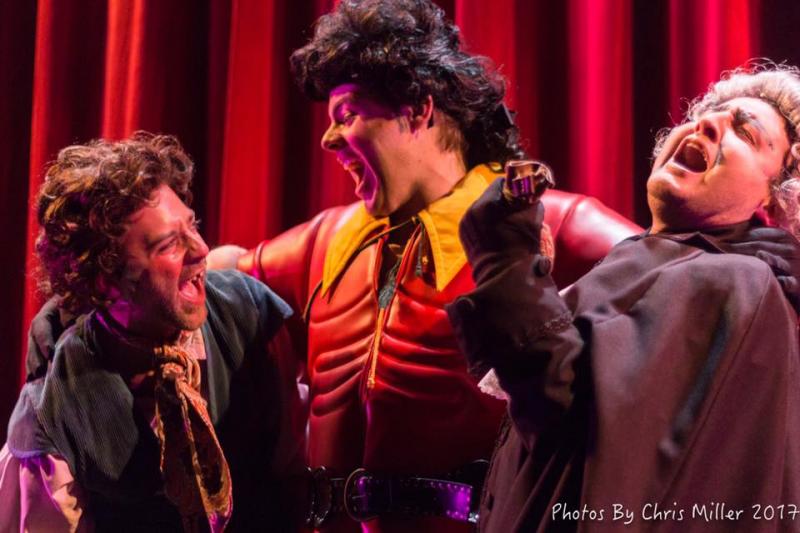 performers including Achilles Inverso (Lumiere), David M. Mooney (Cogsworth), and Tami Gordon Brody (Mrs. Potts). Inverso and Mooney are outstanding as they take over the goings on of the castle much to the delight of everyone. Truly a highlight of the show! An added bonus to this production finds Ritz Founder and Producing Artistic Director Bruce Curless taking the stage as the lovable, zany Maurice father of Belle. Curless proves his long-time acting skills are still intact even if his character is a bit 'odd'.
Every piece of the action and its delivery is the pivotal role of the director. Ritz Associate Artistic Director Craig Hutchings is at the helm this time and does a wonderful job of keeping the magic and action in place quite nicely. Each character clearly shows his/her engagement to each part. While the castle fight scene and Gaston's battle with the Beast leave a little to be desired, the Beast's transformation is very well done and effective and Hutchings is proven his worth as director with a very complex show to master.
I would and did recommend this show as a wonderful summer family event as several of my friends joined me for this adventure and had a wonderful time!
Disney's Beauty and the Beast will be performed July 13 - August 6, with the Breakfast with Belle event taking place on July 29th. For information and reservations, call the box office Tuesday through Friday, from 1:00 PM to 6:00 PM at 856-858-5230 or visit the Ritz website at www.ritztheatreco.org.
Photos: #1 Anabelle Garcia (Belle) and Bryan M. Pitt (Beast)- # 2 Bruce Curless ( Maurice), Anabelle Garcia (Belle) - # 3 Matt Flocco (Lefou), Nicholas French (Gaston) and Taylor Brody ( Monsieur D'Arque)- #4 Achilles Inverso (Lumiere) and Ensamble Production Photos by Chris Miller
Photo # 5 - Theater friends! with Anabelle Garcia (Belle) and Bryan M. Pitt (Beast)
Photo # 6 Nicky Intieri (Chip) and Kendal (theater friend) Photo Credits: Kim Maddox