Review: PIRATES OF PENZANCE at the Sketch Club Players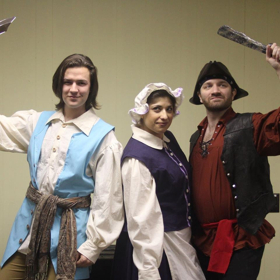 It's all splendidly silly, a rambunctious romp on the high seas, the beach and the not-so-scary grave yard /chapel entrance of the Major General's home. As one might expect, there are pirates; wonderfully loopy pirates as well as the daughters of a major general of whom the bunch of sea-faring hooligans plan to woo and marry. Then there's the squadron of scaredy-cat dancing British Bobbies who would rather dance than fight.
W.S. Gilbert (book) and Arthur Sullivan (music) are responsible for this delightfully complex creation that has captured audiences' funny bones for so long. The score is pure light entertainment with lyrics to challenge the most seasoned performers and about 30 songs in this high seas adventure. The first being the theme song for this swashbuckler, "The Overture", "Oh, Better Far To Live And Die", (better known as "I Am The Pirate King") to the treacherously hysterical tongue twister "I Am the Very Model of a Modern Major General". The Pirates of Penzance is directed by SCP associate director Jeanette Carden, musically directed by Helen Stanley.
The cast of this faced paced operetta is heartfelt and energetic. First to the men;
from the suave, robust baritone of Antonino Baldasari as the Pirate King. The young handsome Frederic played by Marcus Huber with a tender tenor voice that melts maidens' hearts. "Oh, Is There Not One Maiden Breast" and the duet "Stay Fred'ric, Stay!" are among this G&S
The Major General Ed Doyle is enjoyable and spot on in his animated delivery. The talented Jesse V. Panico plays the sergeant of the bumbling British Bobbies in a well synchronized set of the silliest antics. The ladies are equally equipped to take on the task. The able Gina Petti plays Ruth. The merry maidens of the Major General sing and dance and create enough nonsense to effectively attract the pirate crew. Our Mabel, Gretchen Enterline has a stunning sweet operatic voice.
THE PIRATES OF PENZANCE- played at the Sketch Club Players, 433 Glover St. Woodbury,NJ 08096 from Jan. 18 to Jan. 26 For Tickets and Information call 856.537.8996 or visit www.sketchclubplayers.org Next Up VAUDEVILLE VILLAINS 3/29- 4/7.
Photos: Courtesy Sketch Club Players