Click Here for More Articles on ANASTASIA
Review Roundup: Critics Weigh In On ANASTASIA on Tour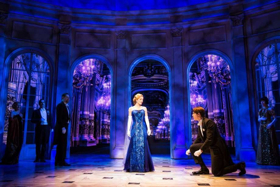 The National Tour of Anastasia is hitting the road! The production stars Lila Coogan as Anya, Stephen Brower as Dmitry, Jason Michael Evans as Gleb, Joy Franz as Dowager Empress, Tari Kelly as Countess Lily, Edward Staudenmayer as Vlad and Victoria Amelia Bingham as Little Anastasia. The ensemble includes Brianna Abruzzo, Ronnie S. Bowman Jr., Alison Ewing, Peter Garza, Jeremiah Ginn, Brett-Marco Glauser, Lucy Horton, Mary Illes, Fred Inkley, Kourtney Keitt, Beth Stafford Laird, Mark Mackillop, Kenneth Michael Murray, Taylor Quick, Claire Rathbun, Michael McCorry Rose, Matt Rosell, Sareen Tchekmedyian, and Addison Mackynzie Valentino.
From the Tony Award-winning creators of the Broadway classic Ragtime and inspired by the beloved films, Anastasia is the new Broadway musical that's "one of the most gorgeous shows in years!" (New York Observer). This dazzling show transports us from the twilight of the Russian Empire to the euphoria of Paris in the 1920s, as a brave young woman sets out to discover the mystery of her past. Pursued by a ruthless Soviet officer determined to silence her, Anya enlists the aid of a dashing conman and a lovable ex-aristocrat. Together, they embark on an epic adventure to help her find home, love, and family.
The creative team includes Peggy Hickey (Choreography), Alexander Dodge (Set Design), Linda Cho (Costume Design), Donald Holder (Lighting Design), Peter Hylenski (Sound Design), Aaron Rhyne (Projection Design), Charles G. LaPointe (Hair/Wig Design), Joe Dulude II (Makeup Design), Tom Murray (Music Supervision), Lawrence Goldberg (Music Direction), Doug Besterman (Orchestrations), David Chase (Dance Arranger), casting by Telsey + Company/Craig Burns, CSA.
ANASTASIA, currently celebrating an open-ended run on Broadway, began performances on March 23, 2017 at the Broadhurst Theatre (235 West 44th Street) with critics exclaiming "Ahrens and Flaherty have chosen the right moments to musicalize, and their score here sounds complete and full - one of the season's strongest! (NBC)" and "Smartly adapted by Terrence McNally, Anastasia is a sweeping adventure, romance and historical epic whose fine craftsmanship will satisfy musical-theater fans (Time Out)". The new musical has played to sold out crowds on Broadway since officially opening in April 2017, in addition to garnering multiple Tony, Drama Desk and Outer Critics Circle awards and nominations.
ANASTASIA on Broadway is produced by Stage Entertainment, Bill Taylor (Sister Act, Rocky), Tom Kirdahy (It's Only A Play, The Visit), Hunter Arnold (Kinky Boots, Spring Awakening), Dan Hinde, 50 Church Street Productions, The Shubert Organization, Elizabeth Dewberry & Ali Ahmet Kocabiyik, Carl Daikeler, Van Dean/Stephanie Rosenberg, Warner/Chappell Music, 42nd Club/Phil Kenny, Judith Ann Abrams Productions, Broadway Asia/Umeda Arts Theater, Mark Lee & Ed Filipowski, Harriet Newman Leve, Peter May, David Mirvish, Sandi Moran, Seoul Broadcasting System, Sara Beth Zivitz, Michael Stotts, LD Entertainment/SallyCade Holmes, Jay Alix & Una Jackman/BlumeGreenspan, Carolyn and Marc Seriff/Bruno Wang, and Silva Theatrical Group/Adam Zell in association with Hartford Stage.
What did the critics have to say?
2019 West Coast Reviews
E. H. Reiter, BroadwayWorld: In respect to the actual history there is no evil sorcerer Rasputin, or his trusty, comedic, bat sidekick Bartok. Coogan as Anya is feisty, noble, and has a lovely voice as she tries to clear up the hazy memories she has to figure out her past to find her future. Coogan as Dimitry is a streetwise man with a heart of gold, and their romance is sweet if not fairytale predictable. Evans as the conflicted Gleb has a rich voice, but not much to work with as the heavy of the piece. Staudenmayer brings the comedy relief as the conman courtier, and is especially good in his number with the fun loving Countess Lily by Alison Ewing.
James Hebert, San Diego Tribune: The production's entrancing look helps raise it to the level of something more like fable, which makes it easier to forgive both the poetic license the show takes with history and the fact it has only a passing acquaintance with plausibility. Tresnjak also has fielded a capable cast, led by the sweetly appealing, soulful-voiced Lila Coogan as Anya, the young woman whose amnesia has left her with only fragments of a personal history. You know by the way she and Dmitry (a likable and disarmingly funny Stephen Brower) start sparring from the start that there's bound to be a romantic spark between them.
Don Grigware, BroadwayWorld LA: Technically, projection design by Aaron Rhyne is over the moon. St. Petersburg at night converting in Anya's mind into the 1917 ball preceding her family's execution is astounding as is the ride on the train from Russia to France. With the movement of the railroad tracks behind, you could swear you were onboard. Add bravo to scenic designer Alexander Dodge, to gorgeous costumes by Linda Cho, to the magnificent lighting design of Donald Holder and to the vibrant sound design of Peter Hylenski. McNally's book moves along at a good pace providing tears and laughter, and Lynn Ahrens' and Stephen Flaherty's score is memorable, especially during the "Traveling Sequence". The train station reminds one almost to the letter of the immigrants in Ragtime, which the pair also co-wrote.
Margaret Gray, LA Times: We don't need proof that Anya is Anastasia. We're ready for her to reclaim her birthright. We'll accept subplots along the way - within reason. Sure, let's meet two sidekicks, louche middle-aged Vlad (Edward Staudenmayer) and handsome young Dmitry (Jake Levy). These lovable shysters are looking for a girl they can pass off as the princess for the reward money. They choose Anya - oblivious to the irony - and put her through a crash course in her own life story, expressing mild surprise whenever she comes out with a detail they haven't taught her.
2018 Reviews
Chris Jones, Chicago Tribune: In New York, it felt like things sagged every time Anya (played here by Lila Coogan) hit the wings. This cast (Stephen Brower plays the regular-dude love interest for the princess) feels far more balanced as an ensemble and, if you forgive the excessive early gesticulation, more truthful. And the second act scenes, when Anya hits Paris and past and present come together, are much more satisfying.
Chuck Leonard, DC Metro Theatre Arts: Of the pair of conmen who bring Anya to Paris, Dmitry (Stephen Brower) shifts from his criminally-jaded attitude to distinctly different feelings for Anya during the lovely duet, "My Petersburg." Dmitry's partner, Vlad (Edward Staudenmayer) provides the musical's laughs along with his reunited love interest, Countess Lily (delightfully portrayed by Tari Kelly). Their "Countess and the Common Man" is very funny and follows up on her leading the ensemble in "Land of Yesterday," a fun dance romp, exploring the vodka-driven escapism of Russian emigres and former aristocrats in 1920s Paris. The beauty of the music and spectacle and the talent of the cast make Anastasia a musical that shouldn't be missed.
John Harding, DC Metro Theatre Arts: Getting from one setting to the other is more than half the fun here, thanks to the wizardry of Scenic Designer Alexander Dodge and Projection Designer Aaron Rhyne, who won two top awards in New York for this achievement. Gorgeous inside and out views of Leningrad palaces pelted by snowflakes and then cannonballs culminate with a stop inside a massive train station compete with vaulted skylights and track platforms and one ancient locomotive engine with smoke rising from its stack.
Cheryl Callon, Theatre Jones: As a whole, the production makes for a delightful evening, but certain key elements make it less enjoyable than it could have been. One facet that's always on point, however, is its visuals. Alexander Dodge's lovely scenic design pops with stunning projections by Aaron Rhyne, and Linda Cho's aristocratic and royal costumes dazzle with stunning brilliance. The contrast between Communist Russia's severe drabness and the opulence of the aristocrats and royals heightens the experience and sometimes even upstages the performances.
D.L. Groover, Houston Press: The one good decision this team made in turning the animation into 3D was to drop the character of Rasputin, the psychotic charlatan who mesmerizes the czarina and wheedles his way into the Romanov court to disastrous effect. In the cartoon, he comes back to life to haunt the principals, a comic zombie with sidekick albino bat, whose hoary shtick is very stale Catskills. In the musical, Rasputin's replaced by Gleb, an avenging zealot of the Bolsheviks. Think of him like Javert from Les Miserables, always prowling after Anastasia. With his healthy baritone, Jason Michael Evans is a wily adversary. Unfortunately, both he and the male ingenue lead Dmitri, sung by tenor Stephen Brower, look so similar, that in the shadowy lighting, you might think it was the same person. This discrepancy causes momentary confusion throughout, which this show doesn't need.
Kat Boogaard, Post Crescent: But while the show is an undeniable feast for the eyes, the talented cast and orchestra are not to be overshadowed. From the moving and chill-inducing vocal talent showcased during "Stay, I Pray You" to the dance skills displayed in the ballet performance of "Swan Lake," it's clear that the entire ensemble is polished and professional.
Channing Gray, Providence Journal: It would be nice if somewhere along the line, McNally said something about the human condition or even took a stab at the meaning of life. But you knew that wasn't going to happen when it turned out the best thing about the production was the sets, colorful projections of St. Petersburg and Paris festooned with cherry blossoms.
Diego Cagara, Spotlight News: But the props, set changes and overall production were majestic in nature. The interactive train sequence was a highlight as an actual train compartment outline was used to simulate the vehicle, which sometimes maneuvered to show different angles. There was also a splendid sequence where "The Swan Lake" was performed to Anya, the Dowager and Dmitry within the musical. The cast's vocals were also triumphant, the best examples including Staudenmayer who channeled Vlad's deep hyper-masculine voice with comic relief, and Coogan as Anya who ended the first act with a powerful "Journey to the Past" rendition.
Steve Barnes, Times Union: More problematically, "Anastasia" seems to have been put together by a committee with more command of the tropes of the Grand Broadway Musical than of a distinctive story for that musical to tell. The costumes (by Linda Cho) are sumptuous, the dancing (choreographed by Peggy Hickey) is dazzling, and all the business of wowing an audience gets ticked off one by one - there's even a ballet! - while a not-very-mysterious mystery gets solved, as does a will-they-or-won't-they love story. A musical without a soul might as well be a fireworks display, flashing across the sky only to disappear from view and memory.
Check back for more reviews as they come in!
Featured This Week on Stage Door
Shoutouts, Classes, and More from Your Favorite Broadway Stars
Related Articles
More Hot Stories For You