Photo Coverage: Midwinter's First Night 2017, THE SEQUEL
Studio Tenn and Tennessee Performing Arts Center's joint venture to produce Andrew Lloyd Webber's Evita in Nashville resulted in the production claiming the top prize as "Outstanding Musical of The Year" at Sunday's Midwinter's First Night event at The Larry Keeton Theatre. Nashville Repertory Theatre's production of Nate Eppler's original play Good Monsters took the title of "Outstanding Play of The Year" in the annual ceremony that dates back to its origins in 1989.
Midwinter's First Night also featured the presentation of the Broadway World Nashville Awards for 2016, which were dominated this year by Crossville's iconic Cumberland County Playhouse, which took home 20 of the 25 awards in the voting by theater audiences across the region.
The stars of the two top shows - Broadway veteran Eden Espinosa, who played Eva Peron in the Studio Tenn/TPAC show, and Nashville's own Nat McIntyre, who took on the challenging role of Frank Wayne in Eppler's riveting new play - claimed top acting honors revealed Sunday night, along with Rachel Agee (for her role in Eppler's The Ice Treatment for Actors Bridge Ensemble) and Shawn Knight (as Amos Hart in Nashville Rep's Chicago).
A capacity crowd filled The Keeton to witness the no-holds-barred evening, hosted by Julia Marie Nettles, Jenna Pryor, Austin Jeffrey Smith and Taylor Tracey. Arron Holman worked the crowd during the evening to provide insight for the coming theatrical season in Nashville.
The cast of Expression City's Hairspray (which opens for a three-performance run this weekend at Holy Trinity Community Church) opened the festivities with a raucous rendition of "Welcome to the '60s," featuring Brian Best, Spencer Marie Hughes, Kate Adams and Howard Snyder among its huge ensemble. Other productions represented were The Larry Keeton Theatre's upcoming My Fair Lady, featuring J. RoBert Lindsey as Freddy Eynsford-Hill, who sang "On The Street Where You Live"; Center for the Arts' 9 to 5: The Musical, starring Memory Strong-Smith, Mary Ellen Smith, Katie Hahn and Matt Smith, singing "Shine Like The Sun" from the Dolly Parton score; and the cast of The Theater Bug's 7 Ways to Sunday, performing a song from the award-winning score by Eric Fritsch.
Gracie McGraw, Molly Balsam and Jenna Pryor opened Act Two of the awards show with a medley of Hamilton-inspired songs.
Winners of the 2017 First Night Award winners are selected by longtime Nashville/Tennessee theater critic Jeffrey Ellis, who is senior contributing editor to BroadwayWorld Nashville, who has been presenting First Night Awards in some fashion since 1988, along with the more august First Night Honors gala in September.
photos by Lori Hoyt and Tiffany Bessire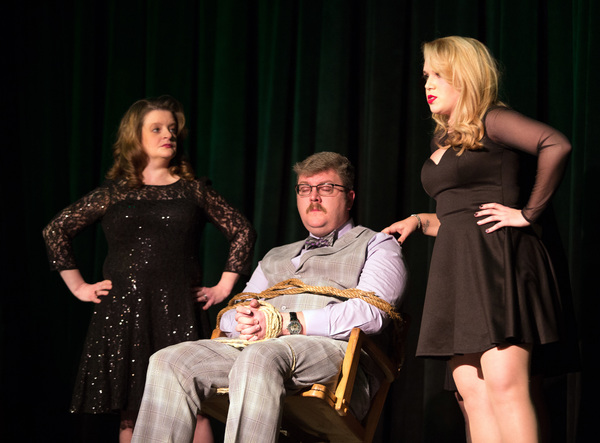 Mary Ellen Smith, Matt Smith and Katie Hahn

Mary Ellen Smith, Matt Smith, Katie Hahn and Memory Strong-Smith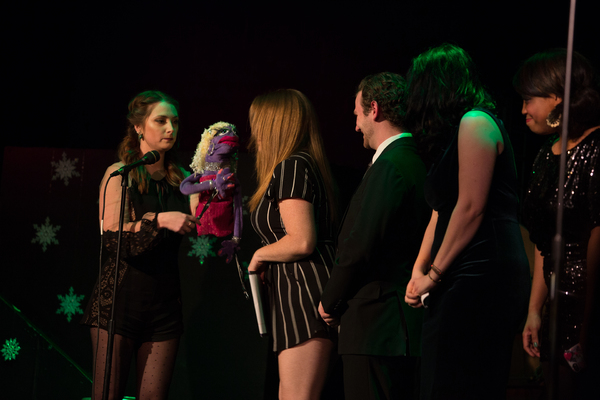 Britt Byrd, Taylor Tracey, Austin Jeffrey Smith, Jenna Pryor and Julia Marie Nettles

Gracie McGraw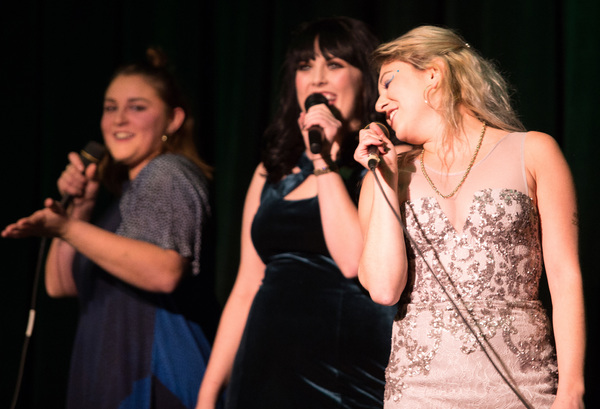 Gracie McGraw, Jenna Pryor and Molly Balsam

Jenna Pryor, Gracie McGraw and Molly Balsam

Gracie McGraw, Jenna Pryor and Molly Balsam

The cast of The Theater Bug's 7 WAYS TO SUNDAY

Lilla Golgoczy-Toler

Jennifer Whitcomb-Oliva