Laura Osnes and Susan Egan on the Magical and Miraculous Powers of THE BROADWAY PRINCESS PARTY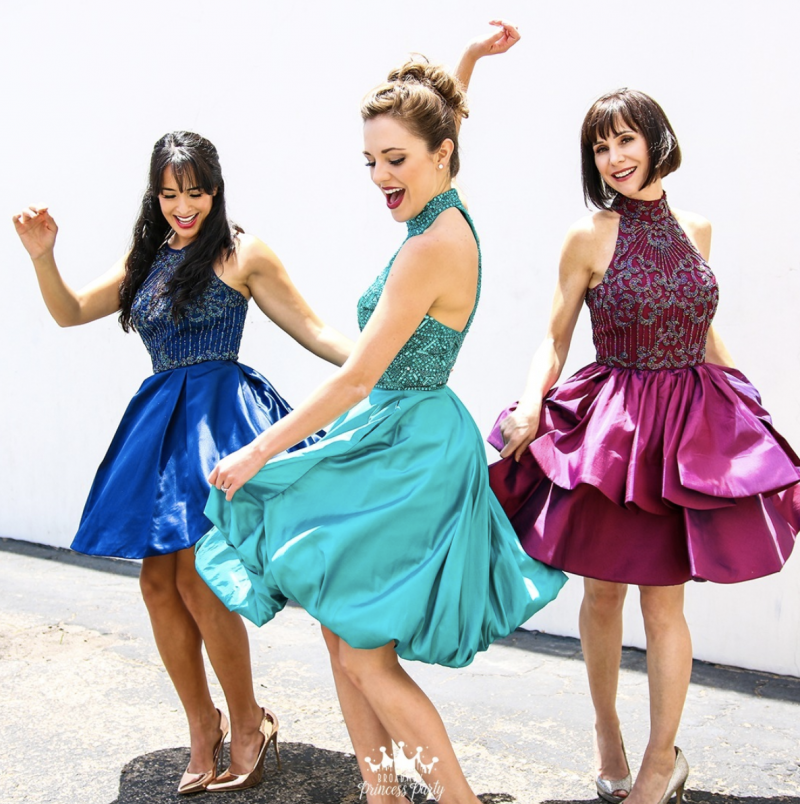 What might you expect if you find yourself caught up in the spectacle of the Broadway Princess Party's festivities at Tennessee Performing Arts Center's James K. Polk Theatre on Friday, November 16? A theatrical concert like none other, predicts Laura Osnes, one of the three aforementioned princesses of the Great White Way who will bring their magical blend of entertainment, theatrical revelry, onstage magic - and pure, unadulterated pleasure (and boatloads of fun, we suspect) - to Music City for a one-night stand that promises to leave audiences feeling "transported, enchanted, empowered and inspired."
The Broadway Princess Party, which is good for whatever ails you and might even provide the perfect palate cleanser after a particularly rancorous election season, began as the brainchild of Osnes, who added her own princess bona fides to her resume as the star of Rodgers and Hammerstein's Cinderella on Broadway, and her friend and musical director - and fairy godfairy - Benjamin Rauhala, who decided to stage a "one-off" night of Princess patter and showtunes at New York City's 54 Below. When that initial foray into the kingdom of make-believe and wondrous marvels (and after seeing the tremendous response to their efforts), Osnes and Rauhala decided to venture out for another performance of the show which now, three years later, has proven to be a delightful, if completely unexpected, hit.
"For that first show, we decided to ask some of our girlfriends to join us to sing a princess song," Osnes remembers. "We booked another date, six months later, and once again we sold out."
Then, after some six sold-out performances at 54 Below, Osnes and Rauhala decided the time was right to take their show on the road for a performance in California - where they were joined by Broadway's original Belle from Disney's Beauty and the Beast, the inimitable Susan Egan, who coincidentally lives in Orange County (but hints of an anticipated move to Nashville for herself and her family next summer).
"If you had told me that at 48, I would be slipping into my princess persona again, I would have laughed at you," Egan concedes. "But they pulled me in for their first concert outside of New York City and it was so much fun, I couldn't believe it."
As a result of the special brand of Broadway Princess synergy, which proved to be even more special (as if that's even possible) than initially expected, Egan joined the creative team.
"The year prior to that first concert, I'd been pulled into all these ComicCon events. At first, I thought, 'I don't want to do that - I don't want to sit behind a table and charge people for an autograph or to take a picture with me,'" Egan explains. "But I went anyway and found it to be completely different from everything I had expected. There was so much goodwill, such a 'feel-good' experience that I knew performing with Laura and Ben in their Broadway Princess Party would be fun!"
And that's how the dream of the Broadway Princess Party - which now plays as many as six or more dates each month - came true. Subsequently, the final member of the triumvirate of Broadway Princesses was completed when Courtney Reed, Broadway's first Jasmine - from Disney's Aladdin, naturally - joined the sisterhood. What's followed is a series of dates across the country, where the Princesses, their fairy godfairy Rauhala and their very own Prince Charming, the "charming and dashing" (if Laura Osnes says he is, you know in your heart of hearts it just has to be true) Adam Levy, perform their favorite songs, share stories about themselves and their families and interact with all the would-be princesses, princes, queens, kings and assorted other royals who clamor for tickets to each performance, whether it's on the Gulf Coast, the West Coast or right smack dab in the middle of the country in Nashville.
"It's so much fun bringing the magic of this concert to people all across the country," Osnes says. "The joy and wonder of it all really is kind of overwhelming. It's such a magic event and we perform it in all kinds of different venues, some big, some small."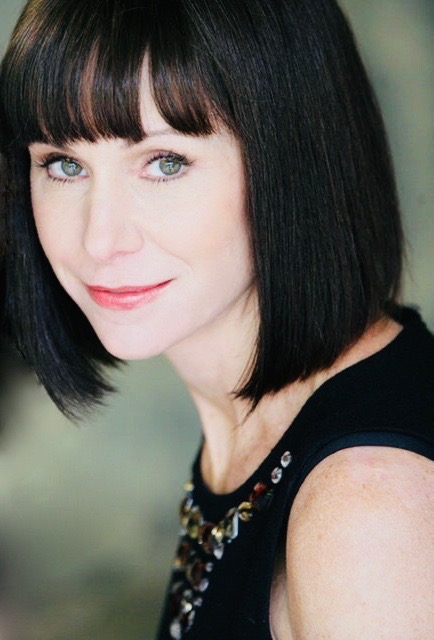 Egan describes Broadway Princess Party as "a hybrid between a Broadway-caliber concert and a gathering of cos-players" that focuses on the ideals of the Princess archetype, providing a way of doing so "post-animation" as various fictional princesses are brought to life via "live action" presentations on the stage or on film.
"We said, 'let's give these girls and guys a place to go to,' to celebrate with them from the stage," she suggests. "Let's promote goodwill, because that what real-life princesses do. Meghan Markle, Princess Kate - and other women like them - promote goodwill and encourage people to be their best selves."
Osnes agrees: "It's not just for our Broadway fan base, because this music speaks to all kinds of people. It's so timeless - it's for kids who grew up watching Moana and for those who grew up loving Ariel, Belle and Jasmine."
Acccording to Egan, she, Osnes and Reed think of themselves as princesses when they're onstage performing for their cadre of fans: "We are princesses and so are you, right? No matter if you are a trucker covered in tatoos who loves to listen to these songs and watch these movies and shows, or if you are a little boy accompanied by your mother who's waving her own magic wand, if you come to the Broadway Princess Party, you're a princess."
And, Osnes points out, there's a chance to leave James K. Polk Theatre with some pretty swell Broadway Princess Party swag as part of the festivities.
The Broadway Princess Party, she contends, was created to reach out to "all our audiences" - all the people who allow themselves to be transported to another time and another place by music and imagination. "We're reaching our audience who have grown up loving these characters," Osnes says, thoughtfully considering the show's impact on fans and neophytes alike. "We're reaching our gay audiences who love their Disney Divas, we're reaching moms who want to share this with their kids. We are opening up the whole Broadway Princess world for people all over the country and we encourage people to celebrate their inner princess and to have fun with us."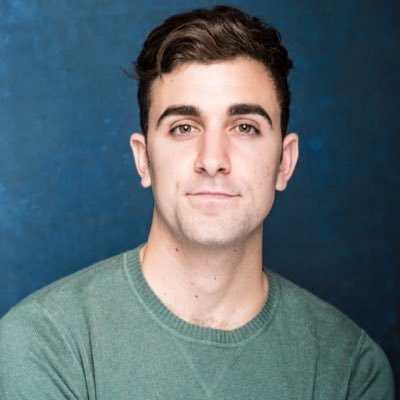 That "inner princess," says Egan, "is what makes us good people."
While some might expect a competitive atmosphere - let's face it, if our consideration of fictional tiara-wearers has taught us anything, it's that when two princesses enter the same room, the possibility of conflict might simmer just below the surface - with three legendary Broadway Divas sharing the stage, the reality of a Broadway Princess Party promises something very different and more profound.
"The camaraderie of these amazing women onstage has proven to be such an empowering experience," Osnes says. "Witnessing these amazing women supporting one another - knowing we don't have to compete with one another...there is absolutely none of that."
Instead, she recalls, that from the very beginning, all of the women performing in a Broadway Princess Party event respond as one might expect friends and loved ones to do: "Instead we are moved by the performances and the stories shared about our lives. We leave being inspired, ignited by one another to be better people."
"As women who are usually competing against each other - and let's face it, that's what most people expect, they all want to hear something negative, to hear the gossip about rivalries - it's empowering to be supportive of one another," Egan maintains. "This is a way to show our solidarity. One critic wrote that 'these are women taking control of their own brand.' And that's very true."
"We are celebrating our fans, but at the same time we are celebrating each other," she continues. "We tell behind-the-scenes stories, we're very self-deprecating. The three of us - Laura, Courtney and I - got to live our dreams, now it seems like we're passing the torch to the princesses who come after us."
"When we're not not singing," Egan says. "Courtney and I are onstage watching Laura and watching our audience watch her, and I'll see a group of girls who are just bawling because they are in a room with Laura Osnes, or I'll mention Hercules and it gets applause and screams, with everyone's cel phones raised in the air. We're not there to tell people to put their phones away - instead we say 'share this experience with as many people as you want,' if you care enough to be there to watch us perform, we want to celebrate you in every way possible."
"Courtney talks about playing Jasmine has changed the outlook for so many girls and how all these new princesses we're seeing today are redefining what a 'princess' truly is - just like the Girl Scouts is evolving to transform what girls can be," Egan muses. "That's what we want to do with the 'princess brand,' to show that girls have courage, intelligence, kindness and that it takes strength of character to be who you want to be."
Coming to a Broadway Princess Party, Osnes says provides audiences with an escape from the real world that "is magical and strengthening...it's empowering and shows you that dreams do come true. We're trying to tap into all the feelings people have when they hear this music and to bring those things into our show, so we can send our audience home with a message of empowerment, as well as entertaining them. You'll get to know Courtney, Susan and me better - it's just us onstage with a piano - and it's all so grand and wonderful."
Why should you become a part of the Broadway Princess Party? "I would encourage everyone to come," Osnes says. "Because I promise you will be touched by the experience and you'll be impressed by the talent onstage. I don't mean this to sound at all conceited - but you will at least be impressed by watching a talented person performing your favorite song. We encourage you to dress up - you'll be transported, enchanted, inspired and empowered. The show is also funny, and we try to reach not only the kids, but also the grown-ups in the audience. It's an entertaining and magical night!"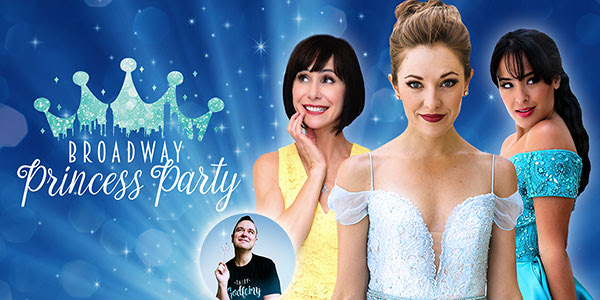 About Broadway Princess Party
Brush off your tiara and unleash your inner princess with Broadway's original Cinderella, Belle and Jasmine at the Broadway Princess Party on Friday, November 16, in TPAC's James K. Polk Theater.
Hosted by two-time, Tony-nominated Broadway star Laura Osnes (Rodgers and Hammerstein's Cinderella) and her own Fairy Godfairy, Benjamin Rauhala (musical director extraordinaire), the evening also stars the multi-talented Susan Egan (Tony nominated for Disney's Beauty and the Beast and the voice of Meg in Hercules), and Courtney Reed (the original Jasmine in Disney's Aladdin on Broadway).
Your every dream will come true as four knockout voices sing the petticoats off every princess song in the book and share hilarious backstage stories of their royal antics. Direct from its sold-out shows at Feinstein's/54 Below in New York, San Francisco and Los Angeles, this is the princess party you WISH you'd had as a kid, only better, because these are the iconic, original stars.
Adding to the merriment, princes and princesses ages 8 to 98 are encouraged to dress up in their best royal attire (or cosplay); who knows - you may win a special princess prize. Come see what hundreds of thousands of fans are raving about on YouTube. For VIP ticket holders, the princesses will be available for a meet and greet and autographs following the performance.
In addition, the princesses are having an "Unleash Your Inner Princess" contest; a talent search for a local princess to be featured in the concert alongside these Broadway stars. Young women ages 15-22 are invited to submit a video of themselves singing (one of three requested songs) for the chance to be chosen. Winners also will receive a pair of tickets to the show and Broadway Princess Party swag. For complete rules and submission requirements, go to www.broadwayprincessparty.com/unleash-contest/.
If you go: Broadway Princess Party will play TPAC's Polk Theater on Friday, November 16, with a 7 p.m. curtain. Tickets are available at www.tpac.org or by calling (615) 782-4040.
About the Broadway Princesses and their Fairy Godfairy
Laura Osnes created the role of Julia Trojan in the new musical Bandstand, which recently completed its Tony Award-winning run on Broadway. Her other Broadway credits include the title role in Rodgers & Hammerstein's Cinderella (Drama Desk Award; Tony, Outer Critics Circle, Drama League, and Astaire Award nominations), Bonnie in Bonnie and Clyde (Tony Award nomination), Hope Harcourt in the Tony Award-winning revival of Anything Goes (Drama Desk, Outer Critics Circle and Astaire Award nominations), Nellie Forbush in Lincoln Center Theater's production of South Pacific, and Sandy in the most recent revival of Grease. Other New York/regional credits include The Blueprint Specials, The Threepenny Opera (Drama Desk Award nomination) at the Atlantic Theater Company; City Center Encores! productions of The Band Wagon, Randy Newman's Faust and Pipe Dream; The Sound of Music in concert at Carnegie Hall; Carousel opposite Steven Pasquale at the Lyric Opera of Chicago and Broadway: Three Generations at the Kennedy Center. On television, she has been seen on the CBS series Elementary, in the HBO pilot The Miraculous Year, Sondheim: The Birthday Concert at Avery Fisher Hall, HBO's documentary Six By Sondheim and the Kennedy Center Honors salutes to Barbara Cook (2011) and Dustin Hoffman (2012). Her many concerts and cabarets include performing with Michael Feinstein, the New York Philharmonic, The New York Pops, The Mormon Tabernacle Choir, The Boston Pops, The San Francisco Symphony, and The National Symphony Orchestra, as well as appearing in such venues as Carnegie Hall, The Café Carlyle, Feinstein's/54 Below, Lincoln Center, The Smith Center in Las Vegas, and Minnestoa Orchestra Hall. In addition to being heard on several cast recordings, Laura has two solo albums, Dream A Little Dream: Live at The Café Carlyle and If I Tell You: The Songs of Maury Yeston.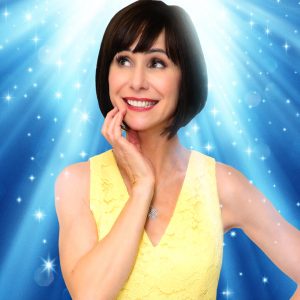 Susan Egan has made powerful impressions in theatre, film, television, and music. She headlined on Broadway as Thoroughly Modern Millie, won critical acclaim as Sally Bowles in Cabaret, starred in Triumph of Love and State Fair, and received Tony Award and Drama Desk nominations for "Best Actress" as the original Belle in Disney's Beauty and the Beast. Regionally, Egan starred alongside Carol Burnett in Putting It Together and Tommy Tune in the national tour of Bye, Bye, Birdie, and developed works at Yale Repertory, Baltimore Center Stage, South Coast Repertory, and the Mark Taper Forum. Her film credits include 13 Going on 30, Gotta Kick It Up for the Disney Channel, and many award-winning indies seen at Seattle Film Festival, Sarasota Film Festival, Slamdance, the HBO Comedy Festival, and beyond. Susan has voiced leading characters in the animated features Hercules (Meg), Spirited Away (Lin), Porco Rosso (Gina), Lady and the Tramp II (Angel), Achmed Saves America (Ginny), and is currently on Cartoon Network's Steven Universe (Rose Quartz/Pink Diamond). On television, she spent two seasons on the WB's Nikki, and guest-starred on Modern Family, House, Numb3rs, NYPD Blue, Arli$$, Drew Carey, Great Performances and countless others. She has headlined with more than 50 symphony orchestras worldwide, including concerts at Lincoln Center, Carnegie Hall, the Kennedy Center and the Hollywood Bowl, and has over 40 recording credits including her solo CDs: All That and More, So Far, Winter Tracks, Coffee House (Best Vocalist 2004), Susan Egan LIVE, The Secret of Happiness and 2015's Softly. She is an accomplished master teacher in music performance, obsessive gardener, happy wife and leader to her daughters' two Girl Scout troops.
Courtney Reed originated the role of Princess Jasmine in Disney's smash Broadway hit Aladdin, directed by Casey Nicholaw. She also had the honor of being a part of the closing cast of the Tony Award-winning musical In The Heights, in which she played Carla, u/s Nina and Vanessa. She made her Broadway debut in Mamma Mia! Favorite Regional: Andrea in Once On This Island at Papermill Playhouse directed by Thomas Kail. Television: The Affair, Law & Order: SVU, White Collar, NYC 22 and CSI: NY. She is a proud graduate of the Theatre Conservatory of CCPA at Roosevelt University. She debuted her first solo concert Confessions of a Broadway Princess this past summer at Feinstein's/54 Below.
Benjamin Rauhala worked on the team for both Bartlett Sher's Broadway revival of Fiddler on the Roof and the Broadway production of Duncan Sheik's American Psycho during the 2016 season. His Off-Broadway credits include David Byrne's Joan of Arc: Into The Fire at The Public Theater and the current revival of The Marvelous Wonderettes at Theater Row. He is best known for his work touring the country as the music director for Jeremy Jordan, the Tony nominated star of Broadway's Newsies and The CW's Supergirl. He also tours with Nashville star Kyle Dean Massey, Trial and Error star Krysta Rodriguez and with Next to Normal Tony nominee Jennifer Damiano. He previously served as music director for Hit List, the meta-musical from the NBC television show SMASH and is an Original Programming Producer at Feinstein's/54 Below, where he has created dozens of sold-out concerts, including the Broadway Princess Party series with Tony nominee Laura Osnes, and the Broadway Loves Series, that has famously honored Britney Spears, Demi Lovato, Celine Dion, and many more beloved pop icons.
Related Articles View More Nashville

Stories

Shows