Critic's Choice: Get Your Halloween Fix at the Theater This Weekend

Have you decided on your Halloween costume yet? You better get to work since it's only four days until the big night is upon us and you won't want to caught with your pants down, so to speak. May we respectfully suggest a trip to your local, neighborhood theater? Not only will you be entertained, transformed and transported - we're willing to be on this happening - but you'll also probably get some great costume ideas in the process! And there is the added bonus that the theater company might be in the business of renting out costumes which would make your efforts even easier than you first thought...
Here are our suggestions - our choices, as it were - for the shows to catch, the people to see, before Monday rolls around (note to self: stop eating the Halloween candy you bought for the legions of youngsters sure to knock on the door Monday evening!). Again. When work beckons on Tuesday, we promise you'll have so much more interesting water cooler chatter to share and you'll become the envy of everyone at the workplace...my dog, Jessie, can vouch for that...and she'll be happy to know you caught one of the productions on our list of this weekend's Critic's Choices: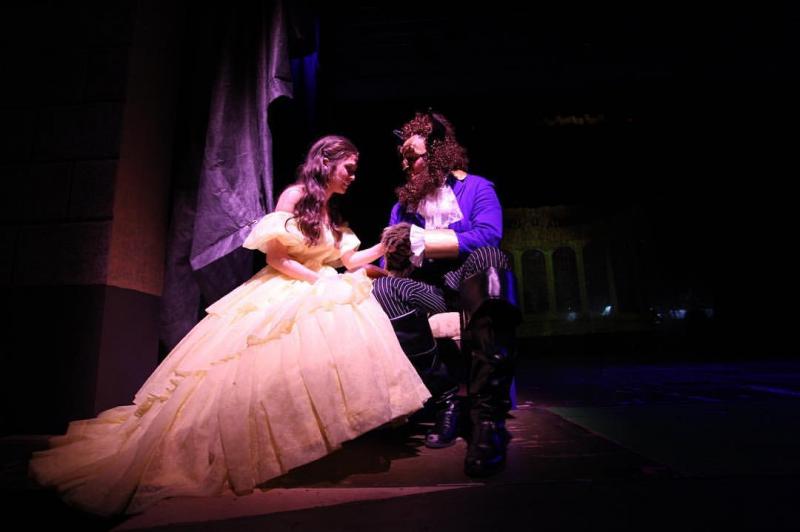 Perhaps dressing up as Disney's Belle, her Beast, the dastardly yet dashing Gaston or the illuminating Lumiere would pique your interest: Lipscomb University's Department of Theatre and School of Music teams up for the presentation of Disney's Beauty and The Beast, opening tonight at Collins Alumni Auditorium in Green Hills.
Directed by Mike Fernandez, the cast includes 2015 First Night Most Promising Actors Bekah Purifoy and the towering Scott Patrick Wilson (he's 6'5", at least) as Belle and the Beast, with 2014 MPA Nick Fair making his LDoT debut as Gaston.
Curtain is at 7:30 p.m. for performances October 27-29 and November 4 and 5; with 2:30 p.m. matinees set for October 30 and November 6. Tickets are $17 (for faculty/staff/alumni they're just $12 and $5 for current students). Call (615) 966-7075 for tickets; for further details, go to www.theatre.lipscomb.edu.
Fernandez's production team includes musical director David Weinstein, choreographer Leigh Anne Ervin, stage manager Taylor Wood, assistant stage manager Brielyn McLendon, set designer and technical director Andy Bleiler, lighting designer Anne Willingham, costume and makeup designer June Kingsbury; animation designer Tom Bancroft, assistant director Natalie Risk and projections by Scott Coffey. Beki Baker produces.
Among cast members are: Hunter Martin as LeFou; Elijah Wallace as Maurice; Connor Weaver as Lumiere; 2016 First Night Most Promising Actor Nelson Tilley as Cogsworth; Allison Kalfas as Mrs. Potts; Robyn Smith as Chip; Kaylea Frezza as Wardrobe; Haley Sue Pearson as Babette; and Noah Jones as Monsieur D'arque.
Thinking about flappers and four-flushers and just couldn't find enough inspiration while binge-watching Broadwalk Empire for the fourth time (do not judge me!), then may we suggest seeing the latest challenging work from Actors Bridge Ensemble: the Jessika Malone-directed production of Philip Dawkins' Failure: A Love Story.
Malone, a 2015 First Night Star Award winner, has assembled a completely notable cast, which includes: Tom Mason, Brooke Gronemeyer, Cassie Hamilton Amanda Grace Creech, Diego Gomez, Kara McLeland, Sejal Mehta, Mallory Kimbrell, Christen Heilman, Hilary Morris, Allie Huff, Jonah M. Jackson, Madeleine Hicks, Margaret Horne and Nyazia B Martin.
Thanks to Actors Bridge's Vali Forrister, who's a 2016 First Night Honoree, here's a synopsis of the play: "Nelly was the first of the Fail girls to die, followed soon after by her sisters, Jenny June, and Gerty. It's 1928 - the last year of each of the Fail Sisters' lives and with so many things in life (i.e. blunt objects, disappearances, and consumption) they, and the one man that fell in love with each of them, just never saw The End coming so soon. Fantastically macabre and sweetly philosophical, this uniquely whimsical fable traces the sisters' remarkable triumphs and tribulations and celebrates the courage to love bravely in spite of loss, revealing 'just because something ends doesn't mean it wasn't a success!'"
Pre-show events begin in ABE's Darkhorse Chapel home at 7 p.m., with the performance at 7:30 p.m. in Darkhorse Theater proper (4 p.m. and 4:30 p.m. on Sunday, October 30). The show run October 28-30 and November 3-5.
Malone's production team includes stage manager and assistant director Kate Prosser, scenic designer Mitch Massaro, puppetry direction by Mallory Kimbrell, music direction by Kara McLeland, character design by Britt Byrd and lighting design by Kelly Landry.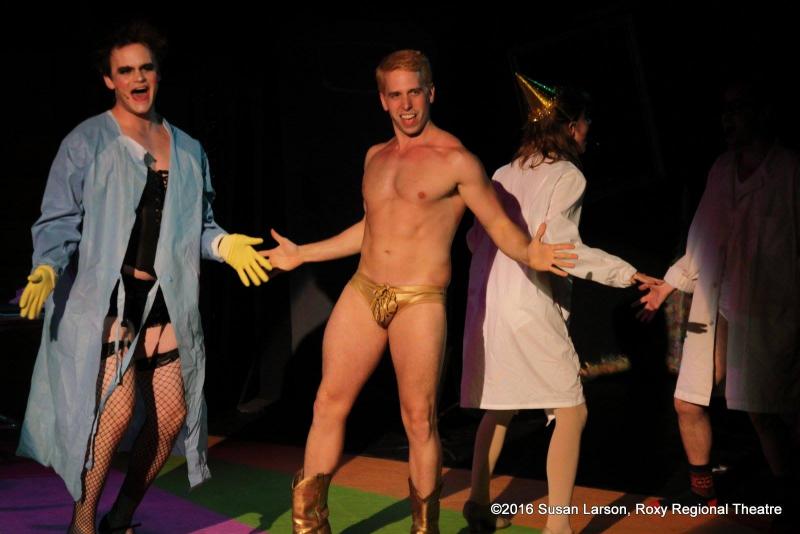 What do you get when you mix a thunderstorm, a flat tire, a creepy castle, a mad scientist, a muscle hunk, an old professor and a couple of other questionable characters? A night out that is destined to be one you will never forget: Richard O'Brien's cult classic The Rocky Horror Show finishes up its fifth annual production at Clarksville's Roxy Regional Theatre. So, dig out your fishnets and sharpen those stilettos ...that sweet transvestite and his motley crew are back for the fifth year in a re-imagined remount of this annual Roxy production.
Ryan Alvarado (last seen as Will in Green Day's American Idiot) and Lacey Connell (Blues in the Night and The Cat in the Hat) star as Brad Majors and his fiancee Janet Weiss, two clean-cut young people on the way to visit an old college professor. When they run into trouble and seek help at the freaky Frankenstein mansion, little do they know that Dr. Frank N. Furter - played by a stiletto and fishnet stocking-clad Stephen Shore (who recently appeared as Johnny Cash in Million Dollar Quartet) -- is in the midst of one of his maniacal experiments!
Ryan Bowie once again returns to the role of Riff Raff, alongside Leigh Martha Klinger as Magenta, Emily Rourke as Columbia, Derrick Karg as Eddie, Austin Olive as Rocky and local favorite Art Conn as Dr. Scott. Prepare to dance the "Time Warp" like never before to live music provided by Matthew McNeill on piano, Thad Wallus on guitar, Derrick Karg on bass and Bernard Lott on drums.
This production is recommended for mature audiences only. Audience participation is encouraged, and patrons are invited to dress up in their favorite The Rocky Horror Show attire. Bags of props will also be for sale in the lobby one hour prior to every performance. The following items, however, will not be permitted: rice, confetti, glitter, squirt guns, lighters, matches, candles, silly spray string, or any other objects which may damage the theatre or injure actors and/or audience members.
The Rocky Horror Show runs October 21 through October 29, playing Thursdays at 7 p.m. and Fridays and Saturdays at 8 p.m., with a special midnight showing this Saturday, October 29. Tickets are $25 and may be reserved online at www.roxyregionaltheatre.org, by phone at (931) 645-7699, or at the theatre during regular box office hours (9 a.m. to 2 p.m., Monday through Friday, and one hour prior to curtain).
Hungry for some dinner theater fun - or maybe just some really good roast beef and hilarious hijinks? A trip to Nashville's iconic Chaffin's Barn Dinner Theatre for Playing Doctor should probably be on your social schedule this weekend! Let's face it, Halloween candy only goes so far in providing sustenance and it's not all that nutritious - and maybe being costumed in some of director Joy Tilley Perryman's 1980s-inspired finery is just the thing to make the International Gay Holiday something you can truly embrace in your own life!
The Barn's traditional groaning board of Southern delicacies starts serving at 6 p.m. before every performance at 8 p.m. (Thursday, Friday and Saturday nights) and there's a Sunday matinee where you can strap on the feedbag at noon, prior to a 2 p.m. curtain. Call (615) 646-9977 for reservations (which are required, naturally)!
Director/designer Perryman's cast includes a bunch of charming actors including Brett Cantrell, Jenna Pryor, Sydney Caroline Hopper, Kurt Jarvis, Charlie Winton and Daniel Bissell fills in for an ailing Bradley Moore (who was injured during the show's opening weekend Sunday matinee - send him some good thoughts while he recuperates, why don't you?).
How does dressing up like a frumpy British housekeeper sound? No, we're not talking about Downton Abbey's Elsie Hughes Carson, but rather Noises Off's Dotty Otley: Thankfully, you have two more weekends to catch the funny business in TPAC's AnDrew Johnson Theatre, as Nashville Repertory Theatre continues its second show of the 2016-17 season, Michael Frayn's Noises Off, featuring a veritable who's who of some of Nashville's favorite actors. Noises Off runs through November 5 in Johnson Theatre.
"Noises Off is a laugh-out-loud, non-stop stampede of craziness," says actor Martha Wilkinson, who leads the cast as British comedy TV doyenne Dotty Otley. "The challenge of landing all the jokes and getting physical gags just right is tough, but that's part of the fun, and when it's done well, it's hilarious. (And of course, for this play, coming together "correctly" means deftly making the entire thing fall apart.) Having played this same role of "Dotty" in Nashville Rep's 2005 production, I'm looking forward to once again battling with slamming doors, those damn sardines, and that blasted newspaper!"
Director Rene D. Copeland's cast includes, in addition to nine-time First Night Award winner Wilkinson, Steven Kraski, Cori Anne Laemmel, Jenny Littleton (from The Doyle and Debbie Show), Eric D. Pasto-Crosby, Brian Webb Russell and Jacob York, as well as Nashville Rep newcomers Morgan Davis and Chase Miller.
Here's what we had to say about the 2016 edition of Noises Off: "There comes a moment in Act Two (or maybe it's Act One - on second thought, maybe it's the second Act One, although it could be the third...) of Michael Frayn's Noises Off, now onstage at TPAC's AnDrew Johnson Theatre, in which Martha Wilkinson comes onstage, hits her mark, cuts her eyes at another actor and with perfect timing reaches out to touch his arm, her expressive face showing every word the audience needs to hear, eliciting guffaws and applause as her reward.
"In less than sixty seconds, Wilkinson delivers a master class in comedy that very few people are capable of and, once again, she proves why she's Nashville's gold standard of comedic actors. It's a brief moment, to be sure, but thanks to Wilkinson's impeccable timing and Rene Copeland's focused and razor-sharp direction, it's a highlight of the latest Nashville Repertory Theatre show now onstage at TPAC's AnDrew Johnson Theatre through November 5.
"While Wilkinson assays the play's starring role of British TV doyenne Dottie Otley, who's leading the British tour of a new comedy ("Nothing On," by the fictional Robin Housemonger) that's ridiculously plotted and portentously implausible, director Copeland surrounds her with a bevy of Nashville actors bent on delivering the goods in this latest local revival of Frayn's insane farce, which is fresh off its own Broadway revival.
"Frayn's superbly written script, which affords audiences a glimpse at the offstage and backstage goings-on that accompany the mounting of a new play - and take it from me, it has parallels to the openings of shows from Broadway to Bismarck to Bristol to the West End...and back again - and the hilarious hijinks and hyperbolic happenings that are just a part of a life in the theater."
Grab the green greasepaint and affix some bolts to your neck! That may the result when Young Frankenstein - the Mel Brooks musical based upon what the comic mastermind calls his own favorite movie - picks back up for its final weekend of performances, with Patrick Kramer and Alexius Frost leading the cast, under the direction of Renee Robinson, at Murfreesboro's Center for The Arts.
The award winning film and the musical are affectionate parodies of the classic horror film genre, in particular the various film adaptations of Mary Shelley's novel Frankenstein produced by Universal in the 1930s. The story is about a young neurosurgeon - Fredrick Frankenstein (he pronounces it "Fronkenstein") who inherits the castle of his grandfather, the famous Dr. Victor von Frankenstein. In the castle he finds a funny hunchback called Igor, a pretty lab assistant named Inga and the old housekeeper, Frau Blucher. Young Frankenstein does not believe in the work of his grandfather, but when he discovers the book where the mad doctor described his reanimation experiment, he suddenly changes his mind and creates a monster...who can sing and dance. The show is full of comic sequences and lively production numbers including, "The Transylvania Mania" and the iconic "Putting On the Ritz."
Tickets can be purchased on the Center's website at www.boroarts.org, or by calling (615) 904-2787; or at the Center's box office at 110 W. College Street in downtown Murfreesboro. Prices are $15 for adults; $13 for seniors, students and military; and $11 for children. Group rates are available. Performances are at 7:30 p.m. on Friday and Saturday evenings and 2 p.m. on Sunday afternoons.
Here's a snippet from our rave review of the show: "But what may frighten and alarm in other treatments of Shelley's tale only serves to delight and entertain in Brooks' fanciful, madcap version of the story in which the 1930s era Frederick, the scion of the Frankenstein family, leaves his job at New York's best teaching hospital to journey back to eastern Europe to claim his inheritance after the not-so-untimely demise (let's face it, the old guy had to be at least 172-and-a-half years old) of his grandfather, the widely vilified and pretty much universally scorned Victor Frankenstein, whose medical experiments and patently evil machinations have left the whole neighborhood in a stew of innuendo and wild-eyed speculation.
"As expected, particularly if you are a fan of the now-42-year-old film (pardon me, gentle readers, as I take a nap after that realization), the resulting musical is filled with all manner of bad puns, double entendres and sexual situations fraught with such outlandish behavior that you'll be guffawing like nobody's business (which, interestingly, really is nobody's business at your workplace, the Kroger down the street, or at your hometown church, as you're advised during the pre-curtain speech delivered by Frau Blucher herself)!
"Brooks' tunes for Young Frankenstein are largely unmemorable, truth be told, but they manage to advance the story in their own, offbeat (cynical, sardonic and downright funny) way, and are diverting enough to set your feet a-tapping and your funny bone a-tingling (you'd best learn the difference between that and the warning signs of a heart attack...the more you know and all that) and, if you give yourself over to a complete suspension of disbelief and just wallow in the wild and woolly journey through the unlikely vista created by this horror/science fictional/romantic comedy that Robinson, Kramer and company take you on you'll leave 110 College Street feeling ever-so-gleefully buoyant.
And there are all sorts of costume/character ideas to be found at the Music Valley Event Center (home of Miss Jeanne's Theatre), which presents a double feature for the stage: Devil Boys from Beyond by Buddy Thomas and Kenneth Elliott and Vampire Lesbians of Sodom by Charles Busch, now in its second weekend.
Devil Boys from Beyond, a spoof of science fiction films, was a 2009 Winner in Overall Excellence for Outstanding Play at The New York International Fringe Festival, and is being directed by Asa Ambrister. Cast members include: Kathleen Jaffe, Don Breedwell, James Bealor, Kathryn Sutton, Ron Lee, Johann Sorensen, Evan Grabenstein, and SuzAnne Booth.
Zach Parker helms the long-running off-Broadway camp hit Vampire Lesbians of Sodom, starring local favorites Veronika Electronika, Evan Grabenstein, SuzAnne Booth, Tristan Penn, Michael Rex and Caressa Alan. It is described by The New York Times as featuring "costumes flashier than pinball machines, outrageous lines, awful puns, sinister innocence, harmless depravity."
Tickets are $15 for entry into both shows, and $12 for Seniors, Military and Students (with ID). Parking is free. Walk-ins and reservations are accepted. Music Valley Event Center is located at 2416 Music Valley Drive, Suite 150, across from Gaylord Opryland Resort & Convention Center in Nashville. Call (615) 902-9566, or visit the theatre's website at missjeannes.com for more information.
Jeffrey Ellis is a Nashville-based writer, editor and critic, who's been covering the performing arts in Tennessee for more than 35 years. In 1989, Ellis (read more...)