Broadway Choreographer Rusty Mowery Will Be Honored at Clarence Brown Theatre Gala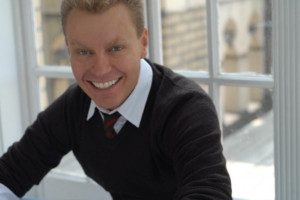 University of Tennessee alumnus, Rusty Mowery, will be awarded the CBT Artistic Achievement Award at the Clarence Brown Theatre's annual Gala to be held Friday, May 18, 2018 at The Mill & Mine, 227 W. Depot Avenue in Knoxville, TN.
Mowery is the associate choreographer of the TONY Award-winning musical "Kinky Boots." He has set "Kinky Boots" all over the world with productions in London (Olivier Award winner for Best Musical and Best Choreography), Toronto (DORA Award winner for Best Musical), South Korea, US 1st National Tour, US Bus and Truck Tour, Australia (Sydney, Melbourne and Brisbane - Helpmann Award winner for Best Choreography), Tokyo, and Germany. His other Broadway credits include: "CATS," "Ragtime," "Seussical," "Fiddler on the Roof," "Hairspray," and "Legally Blonde." His next Broadway project with Jerry Mitchell is "Pretty Woman the Musical," with music and lyrics by Bryan Adams. It will open on Broadway in August 2018.
The CBT Gala benefits the Clarence Brown Theatre Artists Endowment, which helps bring professional guest artists from across the United States to the CBT to engage and teach undergraduate and graduate students, all while creating the world-class, professional theatre experiences Greater Knoxville audiences have come to expect.
With the iconic red boots in mind, the 2018 CBT Gala is sure to be a showstopper. Attendees are in for a fun-filled evening with a cocktail hour, full-course dinner, and a few other surprises up our sleeves. Let's just say you don't want to miss this event.
"As an undergraduate at UTK, Rusty developed and demonstrated an exceptional talent for the musical theatre genre. In 1992, he carried this talent and a whole lot of good ole' fashion grit and determination to New York City and found his place, his home away from home, actually, on Broadway. We couldn't be more proud to commemorate and celebrate his success right here where it all began, the Clarence Brown Theatre. Thank you, Rusty, congratulations, and welcome home!" said CBT Managing Director Tom Cervone.
Want to attend a private party with Rusty Mowery? Become a sponsor of the CBT Gala today. Corporate and individual sponsorship packages are available now. Levels and benefits can be found at clarencebrowntheatre.com/gala.
Individual tickets go on sale April 2018. For more information, please contact Amanda Middleton at amiddle5@utk.edu or (865) 974-5654. Visit us online at clarencebrowntheatre.com/gala.
Members of the 2018 CBT Gala committee include: Margie Nichols, Chair; Lyle Irish, Bob Lederer, Maureen Dunn McBride, Whitney Ray-Dawson, Todd Richesin, Sandi Swilley, and Wendy Wortham.
With a dual mission to train the next generation of theatre artists and to provide top quality professional theatre, like that of a teaching hospital, the Clarence Brown Theatre at the University of Tennessee Knoxville is one of only 12 academic LORT (League of Resident Theatre) institutions in the nation. Under the leadership of Producing Artistic Director Calvin MacLean and Managing Director Thomas Cervone, the CBT season runs from August through May and features eight productions ranging from musicals to drama.
Stay Connected to the Clarence Brown Theatre on Facebook (Clarence Brown Theatre), follow us on Twitter (@ClarenceBrown), Instagram (@clarencebrowntheatre), and view Clarence Brown videos on YouTube (Clarence Bro).