BWW Review: Verge Theater Company Inaugurates The Barbershop Theatre With Wondrous KIMBERLY AKIMBO
Verge Theater Company continues its trajectory as one of Nashville's leading and most adventurous theater companies with its wondrous production of David Lindsay-Abaire's Kimberly Akimbo, featuring an astonishing and electrifying five-person cast under the superb direction of Laramie Hearn. Kimberly and her eccentric family help the company inaugurate its own performance space, aka The Barbershop Theatre, located at 4003 Indiana Avenue, just a short jaunt from Charlotte Avenue and not too far from the iconic Darkhorse Theater.
The Barbershop Theater, small and intimate in a way that underscores the immediacy of live performance while engaging audiences in an entirely different way than if they were in a larger proscenium space, is the realization of a dream by Verge founder Nettie Kraft and her husband/partner in theater and life Graham Mote. On behalf of a grateful and anticipatory theater community, we express our heartfelt thanks to the pair for their foresight and congratulate them for realizing their dream which can only further the cause of live theater in Music City USA.
Kraft and Mote have given Nashville theater audiences something they may not have realized they needed by opening a new performance space and we can't wait to see what happens in the coming months and years. Clearly, if the riotously funny, even heartwarming (and a little heartbreaking, truth be told) Kimberly Akimbo is a harbinger of what's to come, you can be certain The Barbershop is going to generate a lot of theatrical buzz.
Hearn's deft direction of her quintet of actors - Tricia Cast, Lucas Beckett, Rachel Agee, David Wilkerson and Becky Wahlstrom - ensures the Lindsay-Abaire script is given its due. The action of the quirky comedy plays out right in front of you with a self-assurance that is palpable, bringing the story of its unique heroine to life with engaging ease.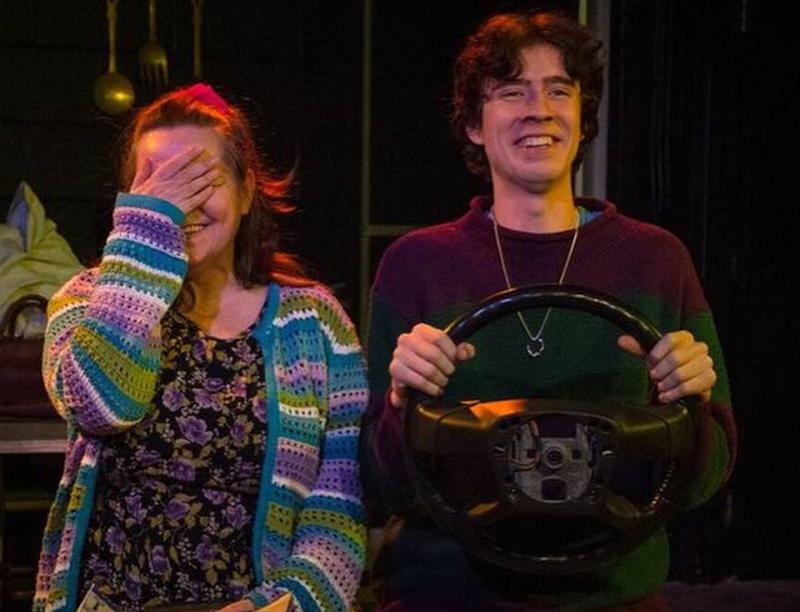 The story, as convoluted as only the best fiction can be, is wildly funny and winningly satirical - sure, real life can be just as off-kilter, but nowhere near so entertaining - and Lindsay-Abaire crafts his dialogue so expertly that the outlandish plot points seem like so much local gossip. Thus, the secret to the play's success is in the storytelling and, thanks to Hearn's clear understanding of the characters and their predicament (as well as her actors' ability to find something genuine in each of their roles in order to make them wholly believable and accessible), audiences cannot help but be drawn into their lower middle class economic struggles, the weight of which is lightened by so many wacky hijinks.
Cast (an actress who has made her presence known onstage, on film and in television for her entire life) makes a welcome return to the local stage to portray the play's heroine with a blend of warmth and grit that makes her seem as real as the person sitting next to you while you watch her story unfold. Cast's Kimberly is hardly the typical 16-year-old girl - rather, due to a disease that renders her different (she was born with a progeria-like malady that causes her body to age four-and-a-half times the normal chronological rate, meaning that at 16, Kimberly appears far older) from her classmates and sets her apart from them, Kimberly is an original, and as her birthday approaches (persons with her disease have an average life expectancy of 16) she flails about, dealing with parents who forget to throw a celebration and she hopes to live beyond the expiration date stamped on her at birth.
When an intelligent and inquisitive boy in her biology class asks her to answer questions about her disease for a class project - Lucas Beckett's turn as Jeff McCracken, who first we meet working the drive-through window at Zippy Burger, is nothing less than revelatory so perfectly crafted is his performance - Kimberly is given the opportunity to open up to the world around her as every teenager longs to do. The scenes between Cast and Beckett fairly crackle with an intensity that is almost startling in its effect, allowing audience members to get to know their characters better and, perhaps, to identify more closely with them.
Kimberly's dad, who works the pay booth at the Chevron station over on Palisades, is suspicious of the boy's intentions toward his daughter and subjects the two teenagers to some groan-inducing moments in the family car on the way to school. Played by David Wilkerson, the alcoholic Buddy means well, wanting only the best for his daughter, but seems ill-equipped to give her the kind of life she deserves. Wilkerson is pitch-perfect in the role and he skillfully manages to be ingratiating even while off-putting.
As Kimberly's self-centered mother Pattie, Becky Wahlstrom is outrageous and outspoken - in other words, perfect for the role. Wahlstrom delivers her lines with a convincing undercurrent of selfishness and lack of concern for the feelings of anyone around her, trying however unsuccessfully to convince herself (and those around her) that she's a good mother as she draws ever closer to giving birth (while recovering from carpal tunnel surgery, a broken leg and any number of imagined illnesses). Despite all the rather stereotypical attributes with which Pattie is saddled by the playwright, Wahlstrom plays her beautifully.
If she were surrounded by lesser talents, Rachel Agee as Kimberly's Aunt Deb - a homeless lesbian fresh off a brief prison sentence, who is always on the lookout for a way to game the system - could very easily walk off with the show (like so many postal boxes), lock, stock and barrel. Agee's confidence imbues every role she plays with a unique sensibility, while her commanding stage presence makes Deb all-the-more compelling and - dare we say it? - likable and engaging. Agee adds yet another starmaking turn to her already impressive resume and Nashville audiences are just lucky to grab a ticket.
Kimberly Akimbo. By David Lindsay-Abaire. Directed by Laramie Hearn. Presented by Verge Theater Company at The Barbershop Theater, 4003 Indiana Avenue, Nashville. Through June 16. Running time: 2 hours (with one 15-minute intermission). For tickets, go to www.eventbrite.com.
photos by Eric Ventress