Click Here for More Articles on THE LITTLE FOXES
BWW Review: THE LITTLE FOXES Captivatingly Shines Spotlight on Power and Greed at Darkhorse Theatre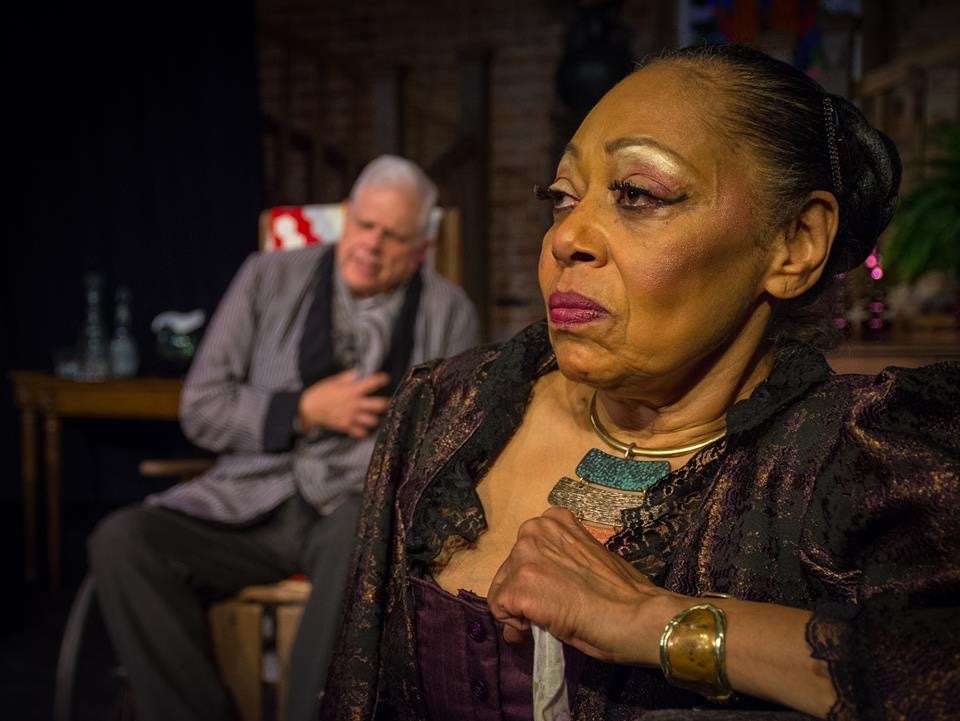 There's something striking about the way that THE LITTLE FOXES manages to leave an impact on its viewers, not with flash and spectacle, but with its piercing dialogue and moral complexity.
Jeffrey Ellis' expertly directed production of the timeless story created by Lillian Hellman, playing at the Darkhorse Theatre through May 19, brings out the best not only in Hellman's exquisite writing, but Nashvile's theatre actors. Themes of greed and selfishness are thrust into the spotlight in this compelling piece that tells the story of the Hubbard and Giddens family, a brother and sister trio all so desperate to earn a fortune off a cotton mill deal in Chicago, they're willing to betray their own blood to get it. Ellis brings together a superb cast to tell the tragic story who's dark subject matter remains relevant today, as if holding up a mirror up to society's current ills. Its flawed characters and their immorality are painted in such an intriguing way it kept the audience fully engrossed from start to finish, as evidenced by the audible gasps or dismayed murmurs that moved throughout the theatre in response to particularly dishonorable actions.
The sharp, but snake-like Regina Giddens is masterfully portrayed by Helen Olaketi Mariah Shute-Pettaway, who brings an irresistibly confident flair to the role in a way that makes you aghast at her selfish ways, but equally admire her strong sincere self-assurance. Caroline Davis is effervescent as the timid, yet loving Birdie, honoring the character's sweet nature with her debonair presence, making you feel a true sense of compassion for her while watching her sad story unfold of how the Giddens family greed affects her life. The same can be said for Rachel Woods, who manages to deliver a captivating performance as the Giddens' only voice of reason, daughter Alexandra, who truly shines in the play's final scene where she stoically abandons her mother's vindictive ways for a life of true freedom.
Rob Wilds offers one of the production's most convincing performances as the cunning and strong-willed Horace Giddens, making you feel as though you're in pain with him as he spends his final days on earth trying to wrangle his selfish wife who's only interested in acquiring his fortune. Meanwhile, Gregory Williams Welsch, Craig Hartline and Austin Jeffrey Smith are phenomenal as Ben, Oscar and Leo Hubbard respectively, who are as convincingly conniving as the others while also adding a dynamic that provides a doses of humor to a mostly melancholy story.
This cast of talented actors powerfully capture Hellman's words and show how much weight they carry in relevance to modern time. While Regina's unethical behavior is nothing to be admired, the way Hellman establishes her as both intelligent and self confident is refreshing in an era where women were considered less than, while characters like Birdie and Alexandra balance such arrogance with their humble personalities and moral compass, a juxtaposition that will always exist at our society's core and is brilliantly portrayed in THE LITTLE FOXES.
Related Articles
Originally from Cape Cod, Massachusetts, Cillea is a freelance writer currently based in Nashville, Tennessee. Being in the country music capital of the world, she (read more...)