Click Here for More Articles on ANASTASIA
BWW Review: Opulent, Regal and Sumptuous ANASTASIA Captivates Nashville Audiences at Tennessee Performing Arts Center
Russia's enduring and tumultuous history has long fascinated writers and historians, composers and scholars who have sought to divine meaning from the country's past in order to elucidate contemporary audiences to what has transpired over the centuries. And perhaps no single event in Russian history has provided so much fodder for creative types than the events of the night of July 16-17, 1918, when the Russian Imperial Romanov family was brutally assassinated by Bolsheviks in Yekaterinburg, the shocking and cataclysmic finale to the Russian revolution that usurped three centuries of Romanov rule and replaced it with a Communist-led regime.
Since that time, a recurrent theme has focused on the supposed survival of the youngest of the Tsar's five daughters - Anastasia Nikolaevna - who some have claimed crawled out from under the bodies of her family members and their most loyal servants, to emerge an amnesiac ultimately trying to reclaim her birthright. There's the 1956 movie version of her story (written by Arthur Laurents, of Gypsy fame), which starred Ingrid Bergman as young Anna (for which she won the Oscar), Yul Brenner as the manipulative General Bounine, and Helen Hayes as the Dowager Empress Marie Feodorovna. In 1997 came the animated musical fantasy drama Anastasia, which has engendered even more interest in the legend of the ill-fated Grand Duchess - in fact, the two film treatments of her story represent a generational divide among cinephiles, each firmly dedicated, if not inspired, by the version they most love.
In 2017, the Broadway musical version of Anastasia (which opened at Hartford Stage nice months earlier), based on the 1997 film, featuring music by Stephen Flaherty, lyrics by Lynn Ahrens and a book by Terrence McNally debuted to much fanfare, and now Nashville audiences are in the thrall of the cast and crew of the national touring company, onstage at Tennessee Performing Arts Center's Andrew Jackson Hall through Sunday, March 24.
One of the most eagerly anticipated offerings of the 2018-19 Broadway at TPAC series, the advance word about Anastasia is proven to be true by the superb production now onstage, which features stellar performances from its laudable ensemble of actors and the sumptuous design aesthetic which sets the touring production apart from what's come before it. It may well be the most beautiful show ever to be performed on the expansive Jackson Hall stage (although, truth be told, Nashville Ballet's annual Nashville Nutcracker is a clear rival for that distinction and which is, of course, set to a glorious score by the Russian-born Pytor Ilyich Tchaikovsky).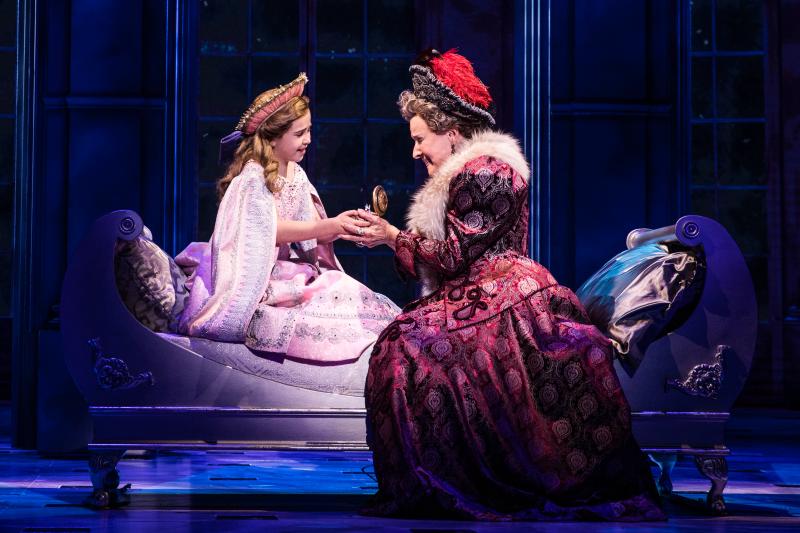 Russian history continues to reverberate through our popular culture (to wit, the recent Amazon Prime series The Romanoffs from Mad Men creator Matthew Weiner; a 2018 fantasy film that transports the young grand duchess to 1988 America; countless novels and academic treatments - even Emily Gilmore envisioned a Russian winter wedding theme for Lorelai and Christopher on Amy Sherman-Palladino's Gilmore Girls in the not-so-distant past) and so Anastasia the Broadway musical seems a foregone conclusion. Wonder why it took so long to make it to the Great White Way?
Clearly, judging from the response from the opening night audience at TPAC, Anastasia is a hit and one that ultimately will fare better on the road than it has on Broadway (where it continues to run until March 31, more than two years after its main stem premiere and despite mixed reviews). McNally's book provides a mesmerizing and engaging tale of a young woman from the streets of St. Petersburg who survived the Russian Revolution to follow her heart, thanks to the manipulations of two Russian grifters intent on getting their hands on the inheritance promised the Grand Duchess Anastasia if she does, indeed, prove to be alive and well, as various and sundry legends and rumors would have it.
McNally, Ahrens and Flaherty play rather fast and loose with reality, conflating a tale that is more fantasy than facts would allow, but despite that their creation is eminently watchable and thoroughly transportive. The story woven through the almost two-and-one-half hours of musical theater keeps the audience's collective attention riveted to what happens onstage and no matter how convoluted the tale becomes - and trust me, it is definitely that - one cannot help but remain completely captivated.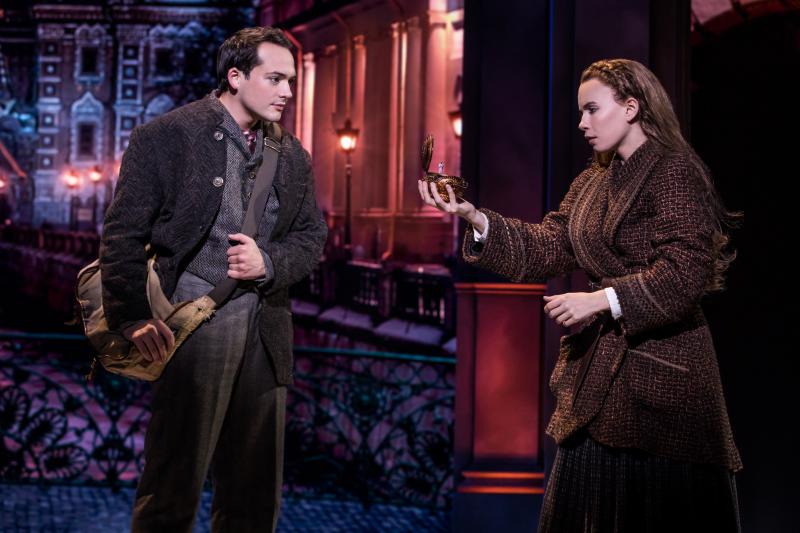 Thanks to McNally's storytelling techniques, the often lush and lyrical score provided by the superbly talented Ahrens and Flaherty (you actually can leave the theater with a melody in your head, testimony to the score's impact and beauty) and the gorgeous production design (which includes Alexander Dodge's breathtaking scenic design, Linda Cho's exquisitely detailed costumes, Donald Holder's eye-popping lighting, Peter Hylenski's sound design and Aaron Rhyne's extraordinary projections that whisk you from St. Petersburg to Paris and from 1906 to 1917 to 1927 - and back again - with stunning alacrity), Anastasia (what with its plot holes and total fabrications combined) is a masterpiece of contemporary theatrical wizardry and artistry, even if it's unlikely to ever be considered among the genre's most original achievements.
When you can hear a pin drop in Jackson Hall, due to the held breath of every audience member during a particularly dramatic moment, or you become enveloped by the deafening roar of a standing ovation (whether it's deserved or not remains an individual assessment, to be honest) during the curtain call, you can rest assured that producers have a bona fide hit on their hands (and, like a lot of modern-day musicals, the list of Anastasia producers is rather lengthy).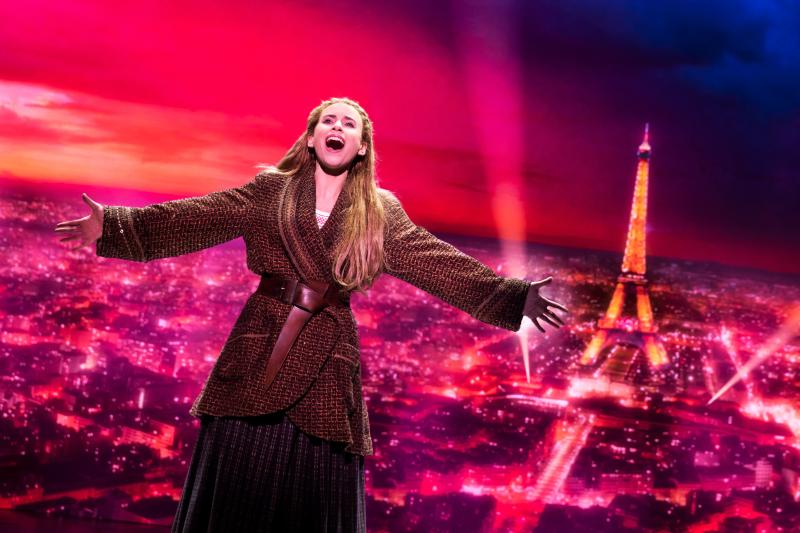 Chief among the human attributes of this particular Anastasia is its leading lady: Lila Coogan's tremendous stage presence and lovely voice make her the ideal choice for the show's leading player and her onstage chemistry with Stephen Brower, Jason Michael Evans, Joy Franz and Edward Staudenmayer (as various members of her onstage entourage, about whom more will be written momentarily) is a palpable reminder of the intricacies of casting to achieve a particular theatrical goal. From the moment she steps onstage, looking ever so much as a Russian-bred ragamuffin struggling to eke out a meager existence as a street sweeper, Coogan exudes confidence. By the top of Act Two, set in 1927 Paris, she is barely recognizable at first, so amazing is her physical transformation - at that moment, Coogan becomes a fashion plate, decked out in a white daytime ensemble that is chic and the epitome of glamorous sophistication.
Her performance as Anya, the would-be pretender to the Romanov throne, is emotional and quite moving. Tempestuous and fiery, Coogan commands the stage with enormous spirit, her energetic performance helping to propel the play's action ever-forward. When you watch Anya falling for Dmitry (Brower), she makes you feel it in your own heart just as her character does in hers. Throughout the show, her vocal fireworks are certain to pin your ears back, while the Act One-closing "Journey to the Past" is nothing short of extraordinary and sends the audience out during intermission with breathtaking artistry.
Brower's charming take on Dmitry (the young conman determined to find his own fame and fortune by finding a young woman to pretend to be the Grand Duchess Anastasia) helps to create a beautiful onstage symbiosis with Coogan and their scenes together fairly crackle with intensity, underscored by a very sweet and heartfelt romanticism that's difficult to achieve. Like Coogan, Brower radiates confidence throughout his performance and his heartbreaking final scenes are emotional and impactful.
Act Two's opening number - at once wonderfully theatrical and full of showbiz tropes to effectively set the scene - is "Paris Holds the Key (To Your Heart)" and is performed by Brower, Coogan and Staudenmayer and company with enough electricity and verve to make it the equal of every huge musical theater production number ever conceived. Brower looks every inch to be the fashionable boulevardier and he and Coogan make for an absolutely stunning couple. In contrast, their duet in Act One, "My Petersburg" exudes just as much warmth and romance even if they are dressed as poverty-ridden street people.
Jason Michael Evans strikes a particularly commanding tone as Gleb, the official of the new Russian order, whose brief meeting with Anya in Leningrad (as St. Petersburg is known in the aftermath of the revolution) renders him completely smitten with the winsome young woman. Evans cuts an attractive figure, even in his somewhat drab Red Army uniform, and the sense of efficiency and officiousness he displays may seem rather off-putting, but thanks to his appealing charm he quickly becomes an audience favorite. Gleb's resolute deference to country and to duty is genuine, perhaps even authentic, and his final scene with Anya is believably dramatic.
Staudenmayer, whom we remember fondly from past tours meandering their way across country and making a stop in Music City, delivers an impressive performance as Vlad, the final member of the triumvirate who've made their way to Paris in order to gain the Dowager Empress' endorsement. Staudenmayer's performance is imaginative and fun, giving him the opportunity to show off his estimable stage skills with consummate professionalism. His second act scenes with the delightful Tari Kelly as his long-lost love Countess Lily (the lady-in-waiting to the Dowager) inject the sometimes dour proceedings in Anastasia with a sense of levity, thus making the pair's "The Countess and the Common Man" among the production's most memorable moments.
But, without doubt, "Quartet at the Ballet" - which features Coogan, Brower, Evans and Joy Franz as the Dowager Empress - is easily the most impressive offering in the show, creating a sense of romance and intrigue, mystery and fantasy all in one highly theatrical and musically rich scene set against the backdrop of a performance of Swan Lake at the iconic Paris Opera House. Franz, particularly, is expressively regal and emotional throughout her scenes, capturing the imperious tone of her character with a graceful aplomb that cannot helped but be compared to the 1956 film performance of Helen Hayes. When she strides into Anya's hotel room to confront the young woman she is certain to be an imposter, the moment takes on a gravitas that is, perhaps, unexpected.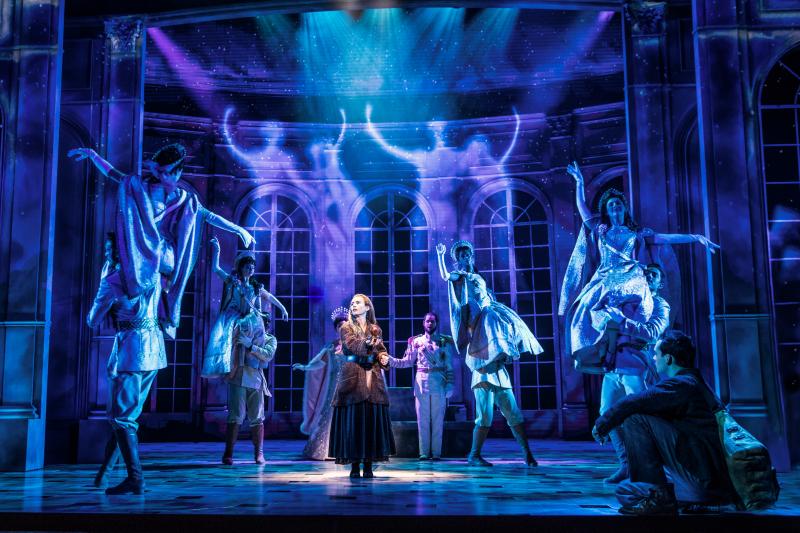 Darko Tresnjak's direction keeps the action moving (with a thankful assist from choreographer Peggy Hickey) at a near cinematic pace and he makes great use of his talented ensemble to create a sense that Anastasia is bigger and grander than it really is (in much the way all Russian theater is reflective of itself). The technical wizardry and craftsmanship of the production is startling and certain to inspire and entertain.
Lawrence Goldberg conducts his 16-member orchestra with passion and Flaherty's score, with its moments of brilliance, is brought to life by both traveling members of the orchestra and a coterie of some of Nashville's most valuable players.
Anastasia. Book by Terrence McNally. Music by Stephen Flaherty. Lyrics by Lynn Ahrens. Inspired by the Twentieth Century Fox motion pictures. Directed by Darko Tresjnak. Choreographed by Peggy Hickey. Musical direction by Lawrence Goldberg. At Andrew Jackson Hall, Tennessee Performing Arts Center, Nashville. Through Sunday, March 24. For tickets and more information, go to www.tpac.org or call (615) 742-4040. Running time: 2 hours, 25 minutes (with one intermission).