BWW Review: Nashville Children's Theatre's World Premiere of GHOST Bolts Out of the Blocks
During the very first scenes of Ghost - the world premiere of the play by Idris Goodwin, based upon the 2016 book of the same name by Jason Reynolds, now onstage in a world premiere production at Nashville Children's Theatre through February 3 - the audience becomes caught up in the emotional turmoil experienced by young Castle Cranshaw and his mom, Terri. As their world is upended by events taking place onstage, the story of Ghost is set in motion, hurtling toward a moment in which lives are changed and the future opens up in ways both unexpected and completely authentic.
Provocative and forthright, Ghost doesn't gloss over the pain experienced by Castle, whose nickname of "Ghost" provides the play with its title, nor does it shy away from addressing the issues faced by the seventh grader and his hard-working mom determined to give him the best life possible, who tells of the fateful night when he and his mother fled their home, dodging bullets fired at them by his father (who is now serving a ten-year sentence for the act). According to Ghost, that was when he first realized that he could run - and he's been running ever since.
When he finds himself watching an elite track team practice, he tells himself he is just as good and just as swift as The Defenders' best runner, Lu (in fact, Ghost contends he's better than Lu). When he joins Lu on the track to race against him, Ghost finds purpose and his dramatic journey of self-discovery bolts out of the blocks to deliver a contemporary tale that is effecting and intriguing.
Ghost - both the play and its leading character - offers audiences a memorable and insightful experience and brings to the stage of Nashville Children's Theatre an awesome new work certain to give audiences something to talk about long after the final curtain has rung down. Thanks to Jon Royal's confident and focused direction (his vision for the work is readily apparent from its opening moments) and the efforts of his ensemble of talented actors (a veritable embarrassment of riches if you're comparing the casts of shows currently onstage in the Nashville area), Ghost is a world premiere.
Part of NCT's new works initiative - The NCT Hatchery - A New Works Incubator - the new play was co-commissioned by NCT and the St. Louis-based Metro Theater Company and, clearly, has a rich and vibrant future ahead. As NCT continues its role in nurturing new works for theater for young audience, further establishing its leadership in the genre, executive artistic director Ernie Nolan's efforts to further expand the scope of NCT and its cadre of artists is obvious and very welcome as he continues to challenge the company with each successive production.
With Ghost, NCT broadens its already noteworthy demographics, giving young audiences something more relevant to their own lives in 2019. Yet rather than taking on the hues of a particularly heartfelt After-School Special (go to your Google machine and find out what that reference means if it seems weird to you), it remains compellingly authentic and genuine, giving young audience members a protagonist with whom they can easily identify. They may even recognize Ghost (or parts of him, at least) in themselves.
Gerold Oliver leads Royal's impressive array of actors in the central role of Ghost, ably portraying the youthful leading character with innate charm and utilizing his stage presence to full effect. When we first meet Ghost, he's a typical middle schooler, but as the story progresses and we are allowed to view his life with sharper focus, Oliver delivers a more complex performance.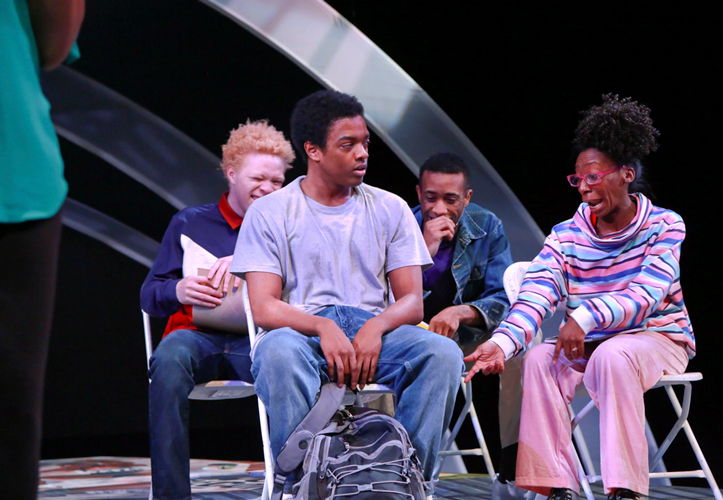 Oliver gives as good as he gets in scenes featuring Tamiko Robinson Steele as his loving mother, Terri, and Joel Diggs as Coach, the man who challenges him to make a better man of himself by applying his God-given abilities on the field of athletic competition. Robinson Steele and Diggs, both of whom have tremendous resumes to back up their scores of critical reviews, give Ghost much of its gravitas and, like Oliver, show off their estimable skill and virtuosity in the process. Both parents themselves in real life (as opposed to their onstage lives), Robinson Steele and Diggs underscore every line with deeper resonance thanks to their own life experiences.
As the new stars of The Defenders, the elite track squad led by Coach (who himself is an Olympic medalist from the 1996 Atlanta games), Nikkita Staggs, Cameron Mitchell and Jordan White deliver beautifully nuanced performances that lend credibility to their scenes. Royal's confident directorial hand may be seen throughout those scenes in which the action is ever in motion to give viewers a real sense of what it means to train day-after-day in pursuit of excellence. Staggs, Mitchell and White easily morph from one character to the next, showing off their own capabilities while so doing.
Finally, Chip Arnold completes the cast as Mr. Charles, a local shopkeeper, who provides refuge for Ghost and Terri on that night they fled their home in search of safety. As expected, Arnold's stage presence ensures that Mr. Charles is presented as a real person rather than some dramatic archetype there to provide a service to move the plot along.
Scott Leathers provides the stunning lighting and scenic design (his eye-popping set uses a forced perspective to give a heightened sense of dramatic tension to the scenes set on the track) that provides the perfect backdrop for the play's action and Patricia Taber dresses the cast members in costumes ideally suited to the story being told. William Kyle Odum's impeccable sound design makes certain every sing fairly leaps from the stage.
With just a handful of performances left before the close of Ghost, the opportunity to see the play is quickly drawing to a close. You shouldn't miss it - if only to be able to say you were there when a new work of art was made public - and you owe yourself the chance to be transformed and transported by Ghost.
Ghost. A world premiere production created through The NCT Hatchery - A New Works Incubator. By Idris Goodwin. Based on the book Ghost by Jason Reynolds. Co-commissioned by Nashville Children's Theatre and Metro Theater Company. Directed by Jon Royal. Presented by Nashville Children's Theatre. Through February 3. For more information, go to www.nashvillect.org. Running time: 70 minutes (with no intermission).
photos by Michael Scott Evans
| | | |
| --- | --- | --- |
| | Donations | Arts Orgs |
Related Articles View More Nashville

Stories

Shows
Jeffrey Ellis is a Nashville-based writer, editor and critic, who's been covering the performing arts in Tennessee for more than 35 years. In 1989, Ellis (read more...)