BWW Review: Circle Players' Sweeping and Epic HUNCHBACK OF NOTRE DAME
With a sense of the sweeping epic about it - and a darkly romantic story to tell - The Hunchback of Notre Dame ("a new musical based on the Victor Hugo novel and songs from the Disney film") offers an intriguing retelling of the story of Quasimodo, the hideously deformed and often reviled bellringer at Paris' Notre Dame cathedral, and Esmeralda, the fiery, passionate gypsy temptress with whom he becomes infatuated. Although set in the late 15th century, The Hunchback of Notre Dame, what with its themes of religious zealotry and bias and prejudice against an ethnic minority, remains eerily prescient and perhaps frighteningly contemporary given the tenor of the times in which we live.
Now onstage at Nashville's Z. Alexander Looby Theatre in a fine, if rather uneven, production from Circle Players (Middle Tennessee's oldest community theater organization), Hugo's tale is as compelling and as complex as ever, but the musicalization of Hunchback renders the tale far more accessible for modern audiences, many of whom have grown to love the story and its songs thanks to the animated Disney film released more than 20 years ago. Clearly, it is not everyone's cup of tea - the story tends to meander and some of the theatrical conceits included to make the story more accessible to audiences tend to muddy the dramatic narrative of the stage show - but with the overwhelming international success of another musical based on a Hugo novel (the theatrical juggernaut known as Les Miserables), it is understandable that the creative team would attempt to once again capture lightning in a bottle, as it were, with another masterpiece from the French author's catalogue.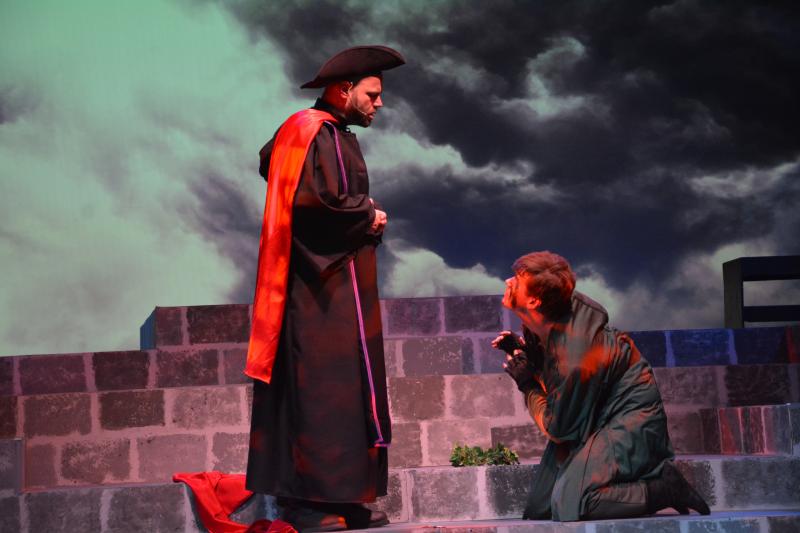 The complexities of Hugo's story of Quasimodo, Esmeralda, evil archdeacon Claude Frollo and dashing soldier Phoebus de Martin lend themselves to a musical treatment: the tale, romantic at its very core, seems apropos to an operatic treatment and suffice it to say that the musical - with music by Alan Menken, lyrics by Stephen Schwartz and book by Peter Parnell - aspires to that level of theatricality while remaining accessible to audiences less likely to be devotees of opera in the 21st century.
Director Tim Larson's production is entertaining although it never seems to soar toward the heavens as some of his earlier works for Circle Players have. Larson's skilled eye as a director ensures a bevy of visual treats to engage the audience and his ability to cast the right actor for the correct role ensures that Hunchback is beautifully sung, even if some of the lyrics are lost in a miasma of muddy sound issues. The physical confines of the Looby Theatre don't necessarily lend themselves to the sweeping and epic production elements usually associated with a Tim Larson-directed show, but he manages to use the space intelligently, moving his cast of 28 performers about the stage with relative grace and ease.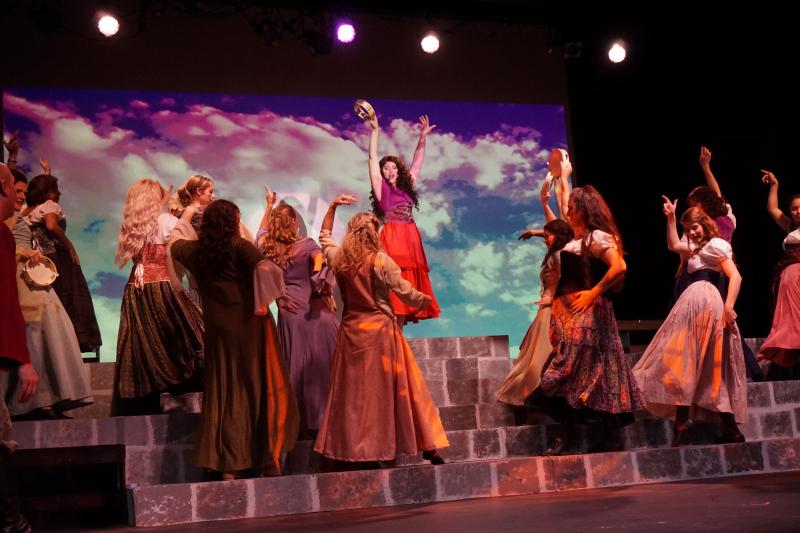 Larson smartly uses digital projections to create the various Parisian locales in which the action of The Hunchback of Notre Dame take place, helping to open up the vistas of the show's narrative.
As Quasimodo, Tyler Evick gives a startling, heartrendingly authentic performance. His Quasi, a role into which he disappears with stage-bound sleight of hand, is sweetly and endearingly played, his gorgeous voice filling the theater to grand effect. It's a role that Evick may have been destined to play and he seizes the opportunity to create a characterization that is at once inwardly intimate and shockingly over-the-top in operatic fashion.
Brian Jones' performance as the dastardly Frollo is equally as stellar, his ability to make a the horridly pedantic man somehow engaging despite the rigid condescension so prevalent in his character. Jones' command of the stage mirrors the autocracy of Frollo's heavy-handed reign over the congregants of Notre Dame.
Courtney Harkins' Esmeralda, the beautiful and free-spirited gypsy who captures Quasimodo's heart by her simple, yet somehow devastating, offer of friendship and understanding, is pleasant enough, but requires more passion to win the attention of three such disparate souls as the bellringer, the archdeacon and the soldier, Phoebus, played with conviction by Dwayne Mitchell.
Among Larson's sizable ensemble, a number of players create memorable onstage moments, including Trey Palmer as Jehan Frollo (Claude's younger brother and father to Quasimodo); Kristina James as Florika (the gypsy woman who steals Jehan's heart and is Quasimodo's mother), whose glorious voice is given its moment to shine late in Act Two; Jacob Dingle as Clopin, king of the gypsies; Joshua Waldrep as Saint Aphrodisus; and Laura Amond as the owner of a Parisian brothel. Zach Williams, Kamryn Victoria Boyd, Tyler Samuel, Breanna Williams, Charlotte Myhre, Gabriel Gillion Welsh, Kiana Gonzalez and Jeremiah Bender stand out among the ensemble in a variety of small, but essential, roles.
Circle Players' production of The Hunchback of Notre Dame concludes its three-weekend run with performances this upcoming weekend.
The Hunchback of Notre Dame. Music by Alan Menken. Lyrics by Stephen Schwartz. Book by Peter Parnell. Directed by Tim Larson. Musical direction by John Kennerly. Choreography by Patricia Peoples. Presented by Circle Players at Z. Alexander Looby Theatre, Nashville. Through November 12. For tickets and information, go to www.CirclePlayers.net or call (615) 332-7529. Running time: 2 hours, 30 minutes (with one 15-minute intermission).
Featured This Week on Stage Door
Shoutouts, Classes, and More from Your Favorite Broadway Stars
Jeffrey Ellis is a Nashville-based writer, editor and critic, who's been covering the performing arts in Tennessee for more than 35 years. In 1989, Ellis (read more...)