BWW Review: Circle Players' AVENUE Q Ushers in 2019 With Fast-Paced Hilarity

For legions of musical theater fans brought up on daily trips to Sesame Street, thanks to the fine folks at Children's Television Workshop, there is quite possibly no show more beloved than Avenue Q - the grown-up version of the kind of programming directed at children in hopes of helping them navigate the vagaries of childhood and adolescence. To be certain, Avenue Q is not for the easily offended or politically conservative, but the Tony Award-winning best musical of the 2004 Broadway season is an ideal outing for anyone with a highly developed sense of humor and a fondness for pushing the envelope, musical theatre-wise.
Now onstage for just four more performances in a delightful, riotously funny and quick-moving production from Circle Players, Avenue Q heats up a Nashville winter thanks to the committed and focused performance of director Brian Jones' eminently capable cast who put on their showbiz wares on display in a no-holds-barred performance. We suspect audiences are lamenting the show's abbreviated two-weekend run (Circle Players' shows customarily perform for three weekends, but theater scheduling is challenging, at best, in a city with new companies popping up on what seems like a weekly basis), so we suggest to them - and to you, our gentle readers - to get up off the couch and make your way to the Z. Alexander Looby Theatre for a rollicking good time that's a far cry from your grandmother's Circle show.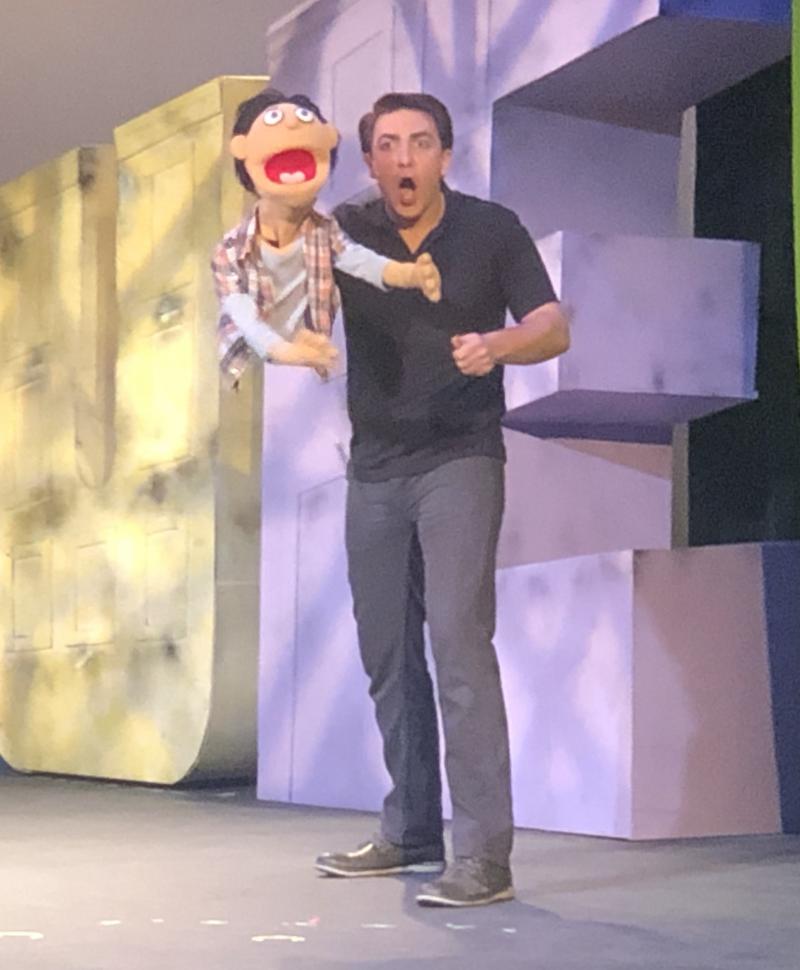 Led by Alex Piniero as Princeton, the affable and easily manipulated recent college grad who cannot afford a better location to launch his life into adulthood than in the questionable environs of the street - populated by various people, monsters and other assorted interesting personages - director Jones' talented ensemble of actors brings the myriad characters to life with sharply focused performances that ensure audiences will be on the edge of their seats throughout the show, lest they miss the slightest nuance or broadly comic moment that sets the show apart from other, tamer offerings.
Piniero's Princeton is as charming as the actor portraying him and it's easy to see why everyone gathers around him (including the nefariously manipulative Bad News Bears, voiced and portrayed by Carter Wright and Abigail Nichol) and the actor's wide-eyed and expansive personality imbues his character with that indefinable "it" that separates principals from the supporting players.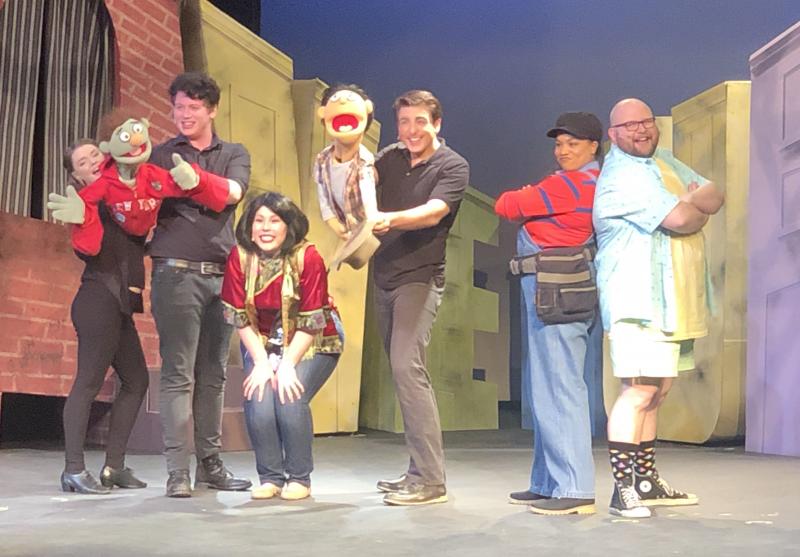 Among the habitues of the street are Justin Barnett as struggling stand-up comic Brian, with Kaitlin Ladd as his rather stereotypical Japanese fiancée Christmas Eve; Clinton Randolph as Rod, the effete financial consultant who harbors a not very well hidden secret in his personal closet, and his roommate Nicky (played with perfect vocal intonations and wit by Seth Brown, who's making a name for himself on local stages) who seeks to help him open that particular door to acceptance; Nick Spencer, who's absolutely terrific as Trekkie Monster, the porn-loving, semi-recluse who knows a thing or two about how to survive during a volatile market; and Sara Smith as building super, former child star Gary Coleman who's selling off souvenirs from his childhood to finance his wacky way of life.
But the real stars of the show, particularly in comparison to the overall consistency of the rest of the class, are (for my money, at least) Carly Rose as Kate Monster and Taylor Simon as the appropriately named Lucy T. Slut. Rose's performance is so finely modulated that you tend to overlook her physical presence (and she's quite lovely) because she seamlessly and unobtrusively becomes Kate. Her Act One-ending performance of "A Fine, Fine Line" is wonderfully sweet and emotional, managing to create a genuinely moving moment in a show filled with enough laughter and gags to ensure you're laughing all the way home.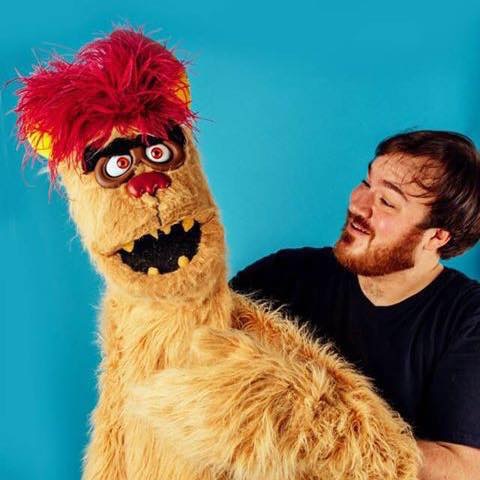 Likewise, Simon's outrageous performance of Lucy, the torch-singing, pole-dancing provocateur who throws a wrench into the works of Kate Monster's budding relationship with Princeton, allows her to virtually stop the show every moment she takes the stage, delivering the most absurd of lines with wicked abandon and creating a portrait of Lucy The Slut that somehow seems authentic and lovable, despite the fact she embodies the term "slut," with every possible meaning of the word intact, in her every utterance or movement.
Performed against the background of Jim Manning's colorful scenic design - a physical rendering in city buildings found on the block to spell out "Avenue Q" - Jones' rendition of Avenue Q moves at a terrific pace, ensuring every audience member is generously along for the ride, rewarding his cast with resounding guffaws, thunderous applause and typically impressive ovations. Music director Wesley King and his band (made up of some of Music City's finest players, including Nathan Girard, Raymond Ridley, Tom D'Angelo, Dale Herr and Dennis Palmer) perform the show's score with a professional flair that's every bit as lively as the onstage performances of the actor/singers, delivering a show that's a surefire hit. Gabrielle Blackburn's lighting design provides the ideal illumination of the proceedings and Cameron Cleland's sound design seems light years beyond what we've experienced in past Circle Players shows.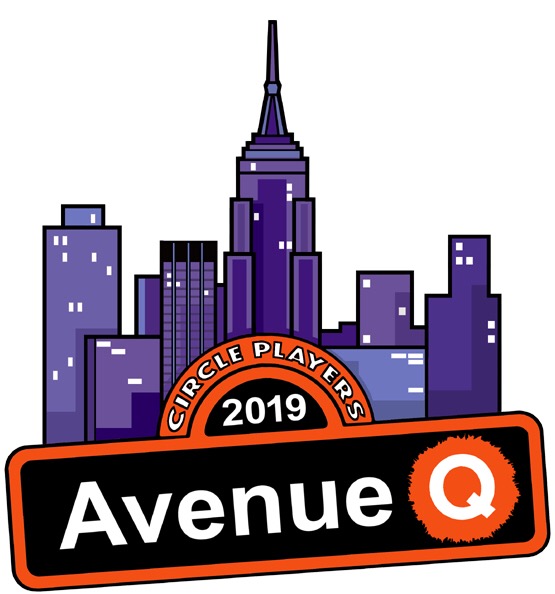 Avenue Q. Music and lyrics by Robert Lopez and Jeff Marx. Book by Jeff Whitty. Book based on an original concept by Robert Lopez and Jeff Marx. Directed by Brian Jones. Musical Direction by Wesley King. Presented by Circle Players, at the Z. Alexander Looby Theatre, Nashville. Through January 20. For details, go to www.circleplayers.net. Running time: 2 hours, 30 minutes (with one 15-minute intermission).
photos by Carter Wright