Infinithéâtre/McGill University Presents Shakespeare's Sonnets At Moyse Hall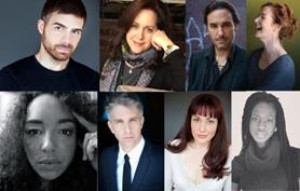 Infinithéâtre, presented by McGill Department of English in collaboration with Early Modern Conversions Project-Shakespeare's Sonnets: Transforming the Voices of Montréal. Along with live music and video, see the sonnets like never before; contemporary, urban and conversational. Fall in love with the universal themes of life, love and death, or be smitten all over again. Directed by Infinithéâtre Artistic Director Guy Sprung, along with Mask Master Brian Smith, the show runs for one week only, October 22-27, at the beautiful Moyse Hall theatre in McGill University's Arts Building. There will be post-show artist talks after each performance.
Under the trance of the mask, these top-rated actors create present-day characters and situations that render obscure Elizabethan language and word-play understandable to a 21st century audience. The selected sonnets take on a power of immediacy and a vernacular as current as the streets and metros of Montréal today. These timeless pieces, considered some of the finest poetry ever written, encompass ideas about social politics (including gender, sexuality and social rank), philosophies (of the self, language, knowledge and nature) and the arts (including how poetry lives in the world). But this isn't your high-school English class...
From director Guy Sprung: "We are definitely not taking an academic approach to Shakespeare's Sonnets. We have rendered the language into authentic, human dialogue-easily understood, but without changing a word. The collection of masks serves to ignite and animate the characters within, who are rich, visceral and diverse. The eight multitalented and creative actors are driven and full of imagination, and bring these works to life in a fresh way."
Let me not to the marriage of true minds admit impediments; love is not love which alters when it alteration finds-sonnet 116
Featuring Charles Bender, Shawn Campbell, Ellen David, Manouchka Elinor, Holly Gauthier-Frankel, Carmen Grant, Mariah Inger and Amir Sám Nakhjavani. Every company member agrees on how the Sonnets resonate as voices from today. Actor Amir Sám Nakhjavani has gobbled up every morsel of Shakespeare and is thrilled to be involved in the show: "I'm taken by eternal themes capped off by an ironic and mocking grin in a rhyming couplet. I love how Shakespeare lampoons himself and how easily we relate to his urge to do so. He's a tonic. He takes the edge off. These four-hundred-year-old words reveal how fundamentally unchanging we are as a species. We'll end Trump, we'll vanquish Islamophobia; we've gotten through much worse. Shakespeare shows us what humans are and will always be."
The Sonnets' themes of love, empathy and humanity speak most to well-known Montréal performer Holly Gauthier-Frankel, made even more present as she is acting alongside her husband Amir, "I hope audiences feel deeply, that they remember their capacity to love and to feel joy. We are so disconnected right now, despite/because of the internet, even though we think we're linked." She wryly adds, "The theatre and storytelling is what will remain when the apocalypse comes." The couple say it's a treat performing together.
From lauded Montréal favourite, Ellen David: "Just as Infinithéâtre can refer to infinite possibilities, that is what one finds in the Sonnets, especially as illustrated through the myriad of characters that magically come to life when we don the masks, allowing the 'voices of Montréal' to embody this historic poetry. In fourteen lines, Shakespeare manages to speak volumes as he talks about lust, jealousy, greed and the ravages of time; illuminating what it means to be alive, to be committed to oneself or another, to feel a bond, to lose it."
Emerging artist Manouchka Elinor is drawn this opportunity to further explore the Sonnets, digging deeper into the subtext. "I feel echoes of my first impressions and experiences from when I first moved to Montréal as a young Canadian Haitian, dark-skinned woman; my first time away from home in my early 20s," she said.
"Today when race, sexual orientation and gender are still a point of contention in our daily conversations, doing pieces written so long ago is always interesting. Subjects of loneliness, death, sex, etc. expose how much further we need to go as a people," adds cast member Mariah Inger.
A crescendo of Montréal sounds kicks off this contemporary show set in a downtown public space, with live music played throughout. Set, costumes and video is by designer extraordinaire Emily Soussana. Michael Tonus keeps it current with his lights and sound design. Kate Hagemeyer is the stage manager.
All days are nights to see till I see thee; and nights bright days when dreams do show thee me-sonnet 43
The McGill Department of English In collaboration with Early Modern Conversions Project presents
Infinithéâtre's Shakespeare's Sonnets: Transforming the Voices of Montréal
October 22-27-Special One Week Limited Engagement
Infinithéâtre at Moyse Hall, McGill University, 853 Sherbrooke St. West (in the Arts Bldg.)
Monday - Saturday, 8:00pm, Saturday matinée at 2:00pm
Tickets $23-$30, group rates available
Box office: (514) 987-1774 #104 or online here
Post-show Artist Talks after each performance
More Hot Stories For You