BWW Review: RIGOLETTO at Opéra De Montréal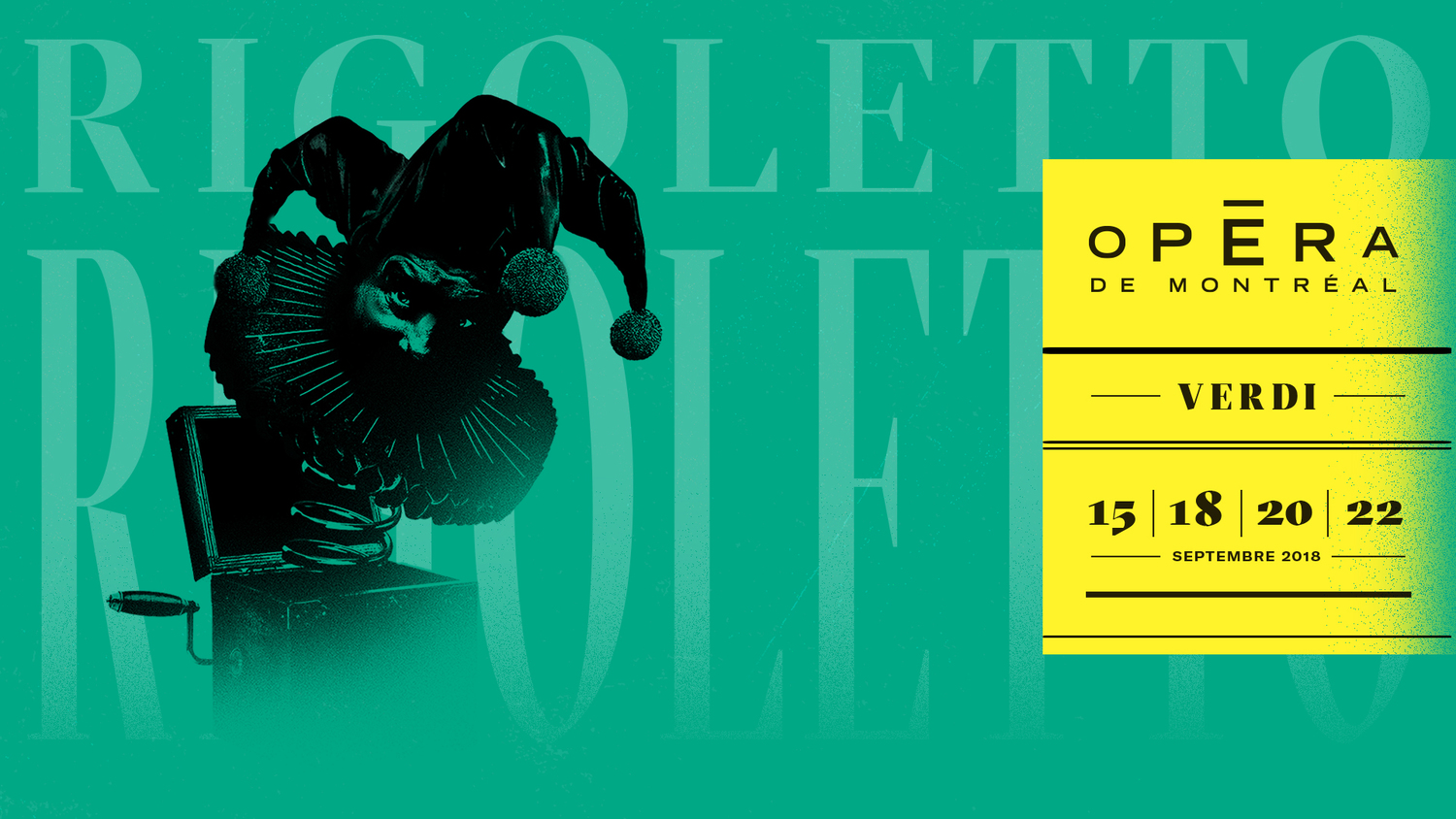 The Opéra de Montréal opened its 39th season on September 15th, 2018 with Giuseppe Verdi's opera Rigoletto at the Salle Wilfrid-Pelletier in Place des Arts. This 19th-century classic is steered by well-known director Michael Cavanagh as well as Italian conductor Carlo Montanaro, who leads the Orchestre Métropolitain and the Opéra de Montréal Chorus. Rigoletto is performed by a mainly Canadian cast including Montréal's very own mezzo-soprano Carolyn Sproule.
Rigoletto was the first of three operas, including Il Trovatore and La Traviata, created during what is often referred to as Verdi's "middle years" period. The Opera sparked a new musical era for Verdi, introducing unorthodox approaches that challenged operatic customs and boundaries. It also contained a dangerously controversial libretto for its time, depicting royalty in an unsavory light and touching on themes of adultery and plots to murder aristocrats. Prior to its debut in 1851, censors took exception to aspects of Verdi's storyline, demanding he make adjustments. Verdi, compromised on some of these demands while maintaining the underlying themes of anarchy, aristocratic debauchery, and vengeance.
The story, derived from Victor Hugo's Le Roi S'amuse with libretto by Francesco Maria Piave, depicts a morally questionable Renaissance court ruled by the philandering Duke of Mantua, whose insatiable appetite for woman creates turmoil for those in his life. Rigoletto, the court jester, hides his only daughter, Gilda, in hopes of keeping her safe from the Duke's predatorial inclinations. However, as the Duke's fool, Rigoletto must defend his master in public and proceed with the required mockery of court members for general amusement. Upon mocking Count Monterone, whose daughter has fallen prey to the Duke's advances, Rigoletto is cursed by the enraged and devastated father. The curse slowly takes its toll on Rigoletto's life, beginning with his daughter falling in love with the Duke. Despite Rigoletto's ruthless mocking at court, he remains a caring and loving father when in the presence of his daughter. As he discovers Gilda's love for the Duke, and the Duke's dishonest pursuit of her, he plots his revenge against his master.
The Opéra de Montréal has created a riveting and musically engaging production of Rigoletto. Starting with the set, designed by Robert Dahlstrom, the audience is immediately transported into the Renaissance court with a larger than life Greco-Roman statue, an elegant, red curtain draped across three-quarters of the stage stretching the entire height of the space and elegantly painted Roman war scenes on the backdrop. This contrasts strongly with the more humble set pieces when transitioning to Rigoletto and Gilda's home in later scenes. Court life appears less depraved in this version of the opera compared to previous productions, removing the opportunity to show grittier moments in the opening scene, however, despite this cleaner approach, the opening number still sets the tone for a delightful experience.
The Duke of Mantua, played by René Barbera, enchants with his light and playful renditions of Questa o quella and La donna è mobile playing a perfect counter to the more serious Rigoletto, played by Canadian Baritone James Westman. Myriam Leblanc plays a genuine, elegant Gilda and beautifully delivers the thoroughly moving cavatina Caro Nome. Carlo Montanaro leads a fantastic orchestra through magnificent renditions of quartet Bella figlia dell'amore and trio Se pria ch'abbia il mezzo and is overall worth hearing a second time for theatergoers who can make an additional visit during this production's short run.
Opera: Rigoletto by Giuseppe Verdi
Language: Italian, with English and French surtitles
Libretto: Francesco Maria Piave (after Le roi s'amuse by Victor Hugo
Opéra de Montréal box office: 514-985-2258 • 1 877 385-2222
operademontreal.com
Place des Arts box office: 514-842-2112 • 1 866 842-2112
Starting at $25
Production Team
Director: Michael Cavanagh
Conductor: Carlo Montanaro
Chorus Master: Claude Webster
Set design: Robert Dahlstrom
Lighting Designer: Anne-Catherine Simard-Deraspe
Costumes: Opéra de Montréal
Photo credits: Yves Renaud
Cast
Rigoletto: James Westman
Gilda: Myriam Leblanc
The Duke of Mantua: René Barbera
Sparafucile: Vartan Gabrielian
Maddalena: Carolyn Sproule
Members of the Atelier lyrique appear in the supporting roles:
Marullo: Max Van Wyck
Servant: Sebastian Haboczki
Monterone: Scott Brooks
Giovanna: Rose Naggar-Tremblay
Borsa: Rocco Rupolo
Countess Ceprano: Elizabeth Polese
Count Ceprano: Brenden Friesen
Page: Andrea Núñez
Opéra de Montréal | 2018-2019 Season - 39th season
All productions remain in their original language. Subtitles in English and French are provided throughout the performances
Salle Wilfrid-Pelletier, Place des Arts (PDA)
Verdi - Rigoletto | September 15, 18, 20, 22, 2018 at 7:30 pm
Wagner - Das Rheingold | November 10, 13, 15, 17, 2018 at 7:30 pm
Terence Blanchard and Michael Cristofer - Champion | January 26, 29, 31, February 2, 2019 at 7:30 pm
Bizet - Carmen | May 4, 7, 9, 11, 13, 2019 at 7:30 pm
Arab World Festival - Pollack Hall, McGill University
Opera at the Arab World Festival
with Joyce El-Khoury | November 1st, 2018
Centaur Theatre
Gordon and Vavrek - Twenty-Seven | March 23, 24, 26, 28, 30, 31, 2019