Circle Theatre Continues Virtual Event Series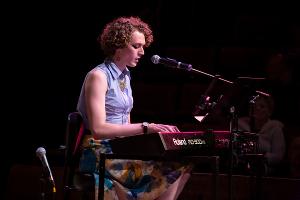 Circle Theatre Virtual Fundraising Events are for everyone: our patrons, volunteers, staff, community, and family near and far.
Enjoy a series of original Circle content on Facebook Live. These experiences, as well as others to be announced, are designed to be at-home experiences that can be watched in real time or on-demand. Circle Theatre is excited to entertain audiences with a minimum of three Virtual Events each week - including two Living Room Concerts at 7:30pm and one episode of Petty's Circle Fireside Chats at 7:00pm.
LIVING ROOM CONCERT SERIES
Sit in the comfort of your home and enjoy your very own "at home concert" with Circle performers! Concerts are hosted by some of your favorite performers, as well as a few brand new faces joining us in 2020!
PETTY'S CIRCLE FIRESIDE CHATS
Hosted by GR's own Broadway drag queen babe, Petty LuPone! Petty brings you a show you won't want to miss with current and former Circle performers, staff, volunteers, patrons, and friends all coming to you weekly! You'll hear favorite Circle stories, a little music, and more.
Tune in at the dates and times below at facebook.com/circletheatre. Show your support by visiting circletheatre.org/supportcircle where you can learn more about virtual events, donation opportunities, purchasing merchandise, and other ways to support Circle Theatre in these trying times. Due to the postponement of Circle's productions, more than half of the 2020 season has been moved to the 2021 season. This causes tremendous financial hardship for the theatre, resulting in a $140,000 loss.
VIRTUAL EVENTS SCHEDULE THROUGH 5/7
Tuesday, April 14 | 7:00PM
Petty's Circle Fireside Chats
Hosted by drag queen Petty LuPone with special Circle guests: Circle's Director of Creative and Audience Development Noddea Skidmore with info on a special donation incentive, Mary Kate Murnen, Amy McFadden, Mia Dart, Board Member Sara Dart, along with Kyle Jurassic who will give us an inside look at his upcoming virtual Living Room Concert
Thursday, April 16 | 7:30PM
Living Room Concert | Kyle Jurassic | A Circle Favorite Returns to Us... Virtually! LIVE FROM NYC
(Circle alum most recently touring with Rock of Ages and regional productions of Buddy: The Buddy Holly Story; Circle credits include Rock of Ages, Catch Me If You Can, How To Succeed..., Altar Boyz, Little Shop of Horrors, and more!)
Monday, April 20 | 7:30PM
Living Room Concert | Matty Owen (Disaster!)
Wednesday, April 22 | 7:00PM
Petty's Circle Fireside Chats
Hosted by drag queen Petty LuPone with special Circle guests to be announced
Thursday, April 23 | 7:30PM
Living Room Concert | Josh Keller (Music Director for Disaster! and Hello Sunshine: Songs of Summer)
Friday, April 24 | 7:00PM
SPECIAL KIDS EDITION | Petty's Circle Fireside Chats
Hosted by drag queen Petty LuPone with guests to be announced featuring Circle kids past and present
Monday, April 27 | 7:30PM
Living Room Concert | Host to be announced
Tuesday, April 28 | 7:00PM
Petty's Circle Fireside Chats
Hosted by drag queen Petty LuPone with special Circle guests to be announced
Thursday, April 30 | 7:30pm
Living Room Concert | Rebekah Rhys (Former Circle credits include Company, Go Your Own Way: The Music of Fleetwood Mac, and Silver Screen: Academy Award Winning Songs)
Monday, May 4 | 7:30PM
Living Room Concert | Host to be announced
Wednesday, May 6 | 7:00PM
Petty's Circle Fireside Chats
Hosted by drag queen Petty LuPone with special Circle guests to be announced
Thursday, May 7 | 7:30PM
Living Room Concert | Host to be announced
"If we can provide our community with entertainment to keep them smiling and hopeful... perhaps it could be a way to bring in donations beyond a traditional ask for support. Our patrons spend $18 for a ticket to the Summer Concert Series... so can they, as well as others from around the state or the country, donate $18 to Circle during a Virtual Event? Second, we all need art and entertainment, even when we're in the brightest of times. So for our audiences and volunteers and staff - all of us - to be sequestered to our homes, why would we not want to bring some joy to people? Theatre and its people are resilient... theatre has helped communities through war, recession, and the darkest of days for centuries. This is the first time in the world that I can think of where theatres on Broadway, in the West End of London, touring productions, regional productions, high school and college productions, and community theatres like Circle have all gone dark for this long of a stretch. In this unique and creative way, Circle Theatre can be there for our community now... so we're showing up to do that." - Noddea Skidmore, Director of Creative and Audience Development