BWW Review: MEMPHIS at Actors' Playhouse at The Miracle Theatre- Well, Hockadoo! MEMPHIS was Fantastical!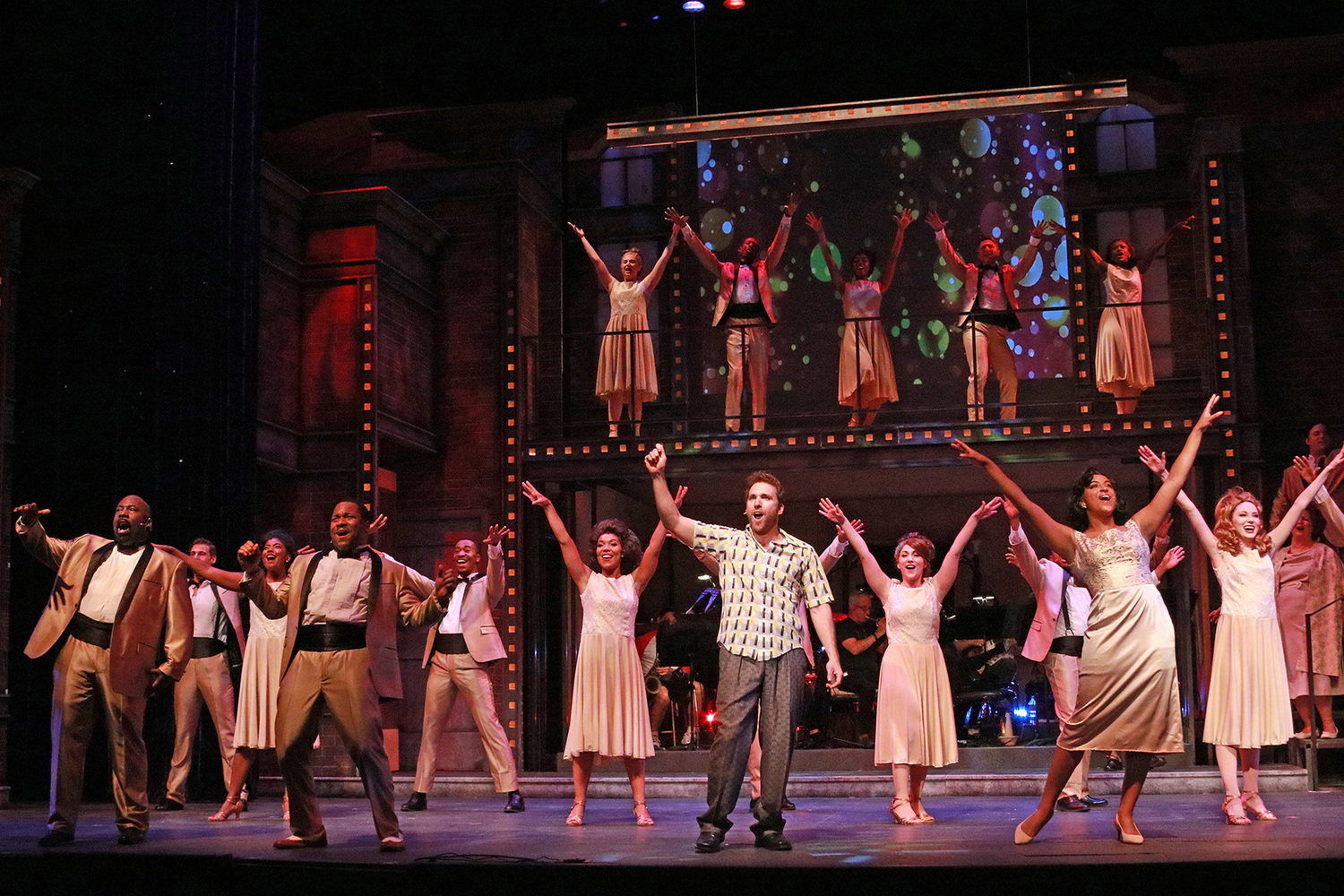 Well, Hockadoo! Memphis at the Actors' Playhouse was FANTASTICAL! Memphis was so fantastical that you can "stick it in your gas tank and it will make your car run...you can rub it all over your head and watch your hair grow back... it's so good your nagging wife will shut up; your kids will stop screaming..." You catch my drift? It's one hell of a production. I remember watching Once the musical at Actors' Playhouse last year thinking that it was magic and I had those same feelings watching Memphis last night. The moment the curtains rose the tangible energy rippling off the stage was exciting.
Actors' Playhouse's production of Broadway's smash hit musical Memphis is playing March 13 through April 7, 2019 at the Miracle Theatre. It's the winner of four Tony Awards® including Best Musical, Best Score, Best Book and Best orchestrations. The Tony®-winning original score features music by Bon Jovi's founding member and keyboardist David Bryan and lyrics by Bryan and Joe DiPietro (I Love You, You're Perfect, Now Change).
With its high-octane songs, Memphis takes place in the smoky halls and underground clubs of the segregated 50's, where a young white DJ named Huey Calhoun falls in love with everything he shouldn't: rock and roll and an electrifying black singer Felicia Farrell. Memphis is an original story about the cultural revolution that erupted when his vision met her voice, and music changed forever.
The cast was right at the center of the dial. Magic! Pure Magic! The principal cast features Eddie Egan as Huey (The New York Radio City Christmas Spectacular; West Side Story, La Mirada Theatre), Gabrielle Graham as Felicia (It Shoulda Been You, Actors' Playhouse), Chaz Rose as Delray (Off-Broadway: Black Angels Over Tuskegee and She Likes Girls), Margot Moreland as Mama (It Shoulda Been You, Sondheim On Sondheim, at Actors' Playhouse), David Berry as Gator (Dreamgirls, Marquee Theater), Mark Sanders as Mr. Simmons (Carousel, Ragtime at Actors' Playhouse) and Jerrial T. Young as Bobby (Bobby in the Broadway National Tour of Memphis).
I can't say enough about the power houses on stage. The show, with its laugh one moment and break your heart the next, was a perfect vehicle to showcase its incredibly talented actors. Not just the leads, the ensemble was filled with wildly talented performers. Chaz Rose as Delray took the story by storm from the very first number, "Underground". Gabrielle Graham as Felicia was the perfect amount of sweet and strong to play the role. But it was David Berry as Gator who brought a tear to my eye. Berry's rendition of "Say a Prayer" was so powerful. It made me think about how important it is for audiences today to hear that message. His voice was heavenly. We had to wait almost into Act Two to finally hear it, but what a gift.
I can't say enough about the creative team. Directed by David Arisco, artistic director of Actors' Playhouse at the Miracle Theatre, the creative team for Memphis includes Musical Direction by David Nagy, Choreography by Ron Hutchins, Set Design by Tim Bennett, Lighting Design by Eric Nelson, Sound and Projection Design by Shaun Mitchell, Costume Design by Ellis Tillman, Properties Design by Jodi Dellaventura and Wig Design by Gerard Kelly. We have a little taste of Broadway right here in South Florida.
As Huey might say, Well, Hockadoo! Don't touch that dial, you good folks should zoom right on over to see Memphis at Actors' Playhouse!
TICKET INFORMATION
Ticket prices range from $30 to $75. Tickets can be purchased by calling (305) 444-9293, visiting www.actorsplayhouse.org, or at the Actors' Playhouse Box Office (280 Miracle Mile, Coral Gables, FL 33134). The theatre offers 10 percent off all weekday performances for seniors and $15 student rush tickets to any performance 15 minutes prior to curtain with identification. Group discounted rates are offered for 15 patrons or more through the group sales department at (305) 444-9293 ext. 1 or on www.actorsplayhouse.org.
PERFORMANCE SCHEDULE
Preview performances will take place March 13 - 14, 2019. The show will open on Friday, March 15, 2019 at 8 p.m. and the final performance will take place on April 7, 2019. Evening performances will be held Wednesday through Saturday at 8 p.m., and Sunday at 3 p.m. A special weekday matinee is scheduled on Wednesday, March 20, 2019 at 2 p.m.
Actors' Playhouse Artistic Director David Arisco will lead a group discussion with the cast following the performance on March 22, 2019 as part of the company's "Second Fridays" series.
About Actors' Playhouse at the Miracle Theatre
Founded by Dr. Lawrence E. Stein, and under the leadership of Executive Producing Director Barbara S. Stein and Artistic Director David Arisco, Actors' Playhouse is an award-winning nonprofit regional professional theatre company celebrating 31 years of excellence. Located in the historic Miracle Theatre on Miracle Mile in downtown Coral Gables, Actors' Playhouse is a Florida Presenting Cultural Organization and one of 14 major cultural institutions in Miami-Dade County. The company produces five Mainstage and five professional Children's Theatre productions annually, a year-round Theatre Conservatory and Summer Camp Program, educational arts outreach programs, and the Young Talent Big Dreams countywide youth talent contest in partnership with The Children's Trust. www.actorsplayhouse.org.
Pictured: (Top L to R): Gabrielle Graham, Eddie Egan, Chaz Rose, Jerrial T. Young, David Berry and Mark Sanders.