Review: LONG DISTANCE AFFAIR presented by Juggerknot Theatre Company And PopUP Theatrics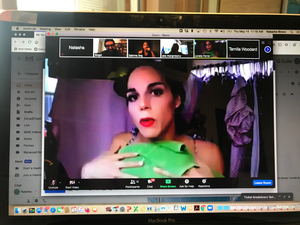 I just did the wildest thing! After being quarantined for over two months I was dying for some theatre. Don't get me wrong, I have watched plenty of recorded theatre and have been bingeing on live musical theatre experiences like Jagged Little Pill's live performance on YouTube (which was incredible!!!). But as a theatre lover and proud theatre geek, I miss what it feels like to be moved while sitting amongst an audience who are all experiencing something together.
Enter 'Long Distance Affair'. Intense! Super Fun. Immersive theatre that is fresh and exciting from the comfort of your living room. Long Distance Affair is a web-based virtual and personal experience where each guest, either by themselves or with a small group, is a participant in their own theatrical experience.
What I did not expect is how intimate the experience would be! Long Distance Affair brings together 18 artists from around the world to tell a wide variety of 10-minute stories for one week (May 23-30). When all of us are stuck a home Long Distance Affair allows you to go to NYC, London, Madrid, Singapore, Miami, Paris- Actors who are actually zooming with you from those places put on six individual interactive scenes. They ranged from a first date, Kick Boxing Class, Eye Lash tutorial even an angel sent to deliver me a miracle.
You can take these trips with a group or alone. Participants can take in one story/one city, or three, or even six cities/six stories. Each story can be experienced for one, two, or as a group. While I enjoyed "traveling" with the group, I loved the intensity of the one on one trips. One of my favorites was Cupid asking me for advice about the woman he fell in love. He took me to his window to point to her home and I caught a glimpse of Brooklyn. It was thrilling. My favorite one on one trips are London, NYC, and Madrid.
It was awesome. It wasn't sitting in the dark and letting theatre happen. The stories need you to happen. You can't hide in the darkness when it's one on one. Even in small groups, the actors talk to you constantly. The criticism I have heard about Theatre on Zoom, Youtube, etc is that film and TV do it better. Well, this is not TV! It is fresh, alive, and intensely interactive.
More about Long Distance Affair you want to experience it for yourself:
WHAT: Long Distance Affair, produced by JuggerknotTheatre Company and PopUP Theatrics
WHEN: May 23 - May 30, 7-9pmEST
Tickets and Info: www.Longdistanceaffair.info
Juggerknot Theatre Company and PopUP Theatrics
present
LONG DISTANCE AFFAIR
Six Cities. One World. Make possible an impossible trip.
TICKETS
TRIP TICKETS
SOLO Travel - THREE Destinations
Go around the world solo.
Three cities for one audience member at a time. These One-on-One encounters will take you to: Madrid, London, and NYC.
($40)
SOLO Travel- ONE Destination
Visit just one city as a solo traveler.
One city for one audience member at a time. You choose between Madrid, London, or NYC for a One-on-One encounter meant just for you.
($15 each)
TRAVEL with STRANGERS -THREE Destinations
We'll match you with a small party of other travelers for globe-trotting encounters in these three cities:
Singapore, Miami, and Paris.
($30)
TRAVEL with STRANGERS - ONE Destination
You choose between Singapore, Miami, and Paris and we'll match you with a small party of other travelers going your way.
($11 each)
THE COMPANY
PRODUCER: POPUP THEATRICS
Ana Margineanu
PRODUCER: JUGGERKNOT THEATRE COMPANY
Tanya Bravo
Natasha Bravo
Michelle M. Lavergne
MIAMI
Juan C. Sanchez
June Raven Romero
SINGAPORE
Ana Margineanu
Sabrina Sng
PARIS
Garret Jon Groenveld
Paul Spera
NEW YORK CITY
Ella Greenhill
Tai Thompson
Dexter McKinney
MADRID
Ana Margineanu
Jean Tay
Angel Peraba
LONDON
David Winitsky
Rebecca Peyton
About Juggerknot Theatre Company is the producer of the critically acclaimed series Miami Motel Stories, a real-time immersive theatre experience that takes place inside hotel/motel spaces within developing neighborhoods. Juggerknot Theatre Company was founded in Miami, Florida in 1998.The company helped redefine the burgeoning theatre scene emerging from Miami's Urban Core, showcasing and developing works from local and national playwrights. Today Juggerknot continues to push the boundaries and expectations of its audience by delivering alternative, experimental, and non-traditional theatre works to audiences.
About PopUP Theatrics is a partnership between theatre artists Tamilla Woodard, Ana Margineanu and Peca Stefan who teamed up in 2011 to create site-specific and immersive events in dynamic collaborations with theatre artists and communities world-wide. Pioneering one-on one theater experiences, the partners, Tamilla Woodard and Ana Margineanu first bought the immersive single spectator Hotel Project to audiences in Mexico in 2011 and to New York City at the WJ Hotel 2012. Long Distance Affair followed as the next multi-country collaboration. Since its premiere Long Distance Affair has been produced for audiences in 5 countries and brought together more than 100 artists on 6 continents, all working in virtual collaborations.
Both Jugerknot Theatre Company and PopUpTheatrics feel it is important to give back to the artistic community around the globe during this difficult time.
"65% of all proceeds will go to our artists.