Playhouse on the Square Presents SHAKESPEARE IN LOVE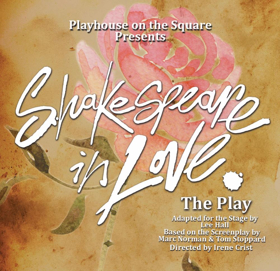 Young Will Shakespeare has writer's block. The deadline for his new play is fast approaching, but he's in desperate need of inspiration - enter Viola. This beautiful young woman is Will's greatest admirer and will stop at nothing to appear in his next play. Set against a bustling background of mistaken identity, ruthless scheming, and backstage theatrics, Will's love for Viola quickly blossoms and inspires him to write his greatest masterpiece. Based on the beloved 1998 film of the same name, Shakespeare in Love is ultimate treat for both film and Shakespeare fans alike.
Playhouse on the Square Resident Company Member Jordan Nichols (Hand to God; Buyer and Cellar) is Will Shakespeare, Jamie Boller (King Charles III) is his muse and inspiration Viola de Lesseps. They are joined by Ann Marie Hall (Ripcord; August: Osage County) as Queen Elizabeth II, Jacob Wingfield (Victory Blues; Lord of the Flies) as Marlowe, and Resident Company Members Dave Landis (Matchmaker; Billy Elliot) as Henslowe and Michael Detroit (9 to 5; Billy Elliot) as Fennyman.
Shakespeare in Love runs September 22 - October 8, 2017 at Playhouse on the Square. Shakespeare in Love is sponsored by Independent Bank. The Circuit Playhouse Inc. Super Sponsor is Dr. Thomas Ratliff. The Pay-What-You-Can performance is Thursday, September 28th at 8pm and is sponsored by ArtsFirst/First Tennessee Foundation and Southland Park Gaming and Racing. Playhouse on the Square is located at 66 S. Cooper St. For more information or to make reservations, please call 901-726-4656 or visit playhouseonthesquare.org.
Cast:
Will Shakespeare - Jordan Nichols
Viola de Lesseps - Jamie Boller
Queen Elizabeth - Ann Marie Hall
Tilney/Singer - Jonathan Christian
Ralph/Singer/Ensemble - Ryan Scott
Kate/Singer/Ensemble - Lauren Ledger
Henslowe - Dave Landis
Robin/Frees/Singer/Ensemble - Curtis C Jackson
Mistress QuigleySinger/Ensemble - Kim Baker
Burbage - John Maness
Molly/Singer/Ensemble - Jacquelyn Scoog
Wabash/Sir Robert/Ensemble - Jason Spitzer
Sam/ Ensemble - Sean Moore
Nurse/Singer - Lorraine Cotten
Marlowe - Jacob Wingfield
Peter/Barman/Singer - Thomas "TeKay" King
Wessex - Gabe Beutel-Gunn
Ned Alleyn - Roman Kyle
Lambert/Guard/Boatman - Micheal J.Vails
Fennyman - Mike Detroit
Webster - Holden Guibao
Nol/Guard/Musician - Isaac Middleton
Player/Benvolio/Musician - Katie Cotten
Player/Ensemble/Singer - Jaukeem Balcom
Player/Musician - Oliver Pierce
Player/Ensemble/Singer/Fight Choreographer - Charles McGowan
Ensemble - Lauren Ledger
Ensemble - Kristen Vandervort
Production Team:
Director - Irene Crist
Music Director - Nathan McHenry
Choreographer - Travis Bradley
Fight Choreographers - Charles McGowan, Courtney Oliver, Jeramie Simmons
Stage Manager - Katharine Hughen
Lighting Designer - Zo Haynes
Costume Designer - Kathleen Kovarick
Scenic Designer - Bryce Cutler
Props Master - Aubanita Kirk
September 22 - October 8
Thursday, Friday, & Saturday, 8pm; Sunday, 2pm
Tickets: $25 Opening Weekend (September 22, 23, 24), $35 - 40 Thursdays and Sundays, $40 - $45, Adults, $25 Senior Citizens, $22 Students/Military, $15 Children under 18
Playhouse Advisory: Adult Situations & Adult Language
Box Office: 901-726-4656