Photo Flash: New Shots from INTO THE WOODS at Theatre Memphis
Stephen Sondheim and James Lapine's INTO THE WOODS runs now through April 3, 2016, on the Lohrey Stage at Theatre Memphis. This storybook fantasy is a musical journey with an original story based on several Brothers Grimm fairy tales. A childless baker and his wife set out on a mission to begin a family but must break a Witch's curse. Their travels bring them to interact with characters from Little Red Riding Hood, Jack & the Beanstalk, Rapunzel, Cinderella and more. The show is a delightful romp with a dose of reality thrown in the mix that makes one question happily ever after. BroadwayWorld has a fresh set of production photos below!
Ann Marie Hall directs this spellbinding production with a keen sense of storytelling alongside music director Gary Beard and choreographer Courtney Oliver.
The formidable cast features talented performers that bring the storybook tales to life. Featured as the Baker and his Wife are, respectively, Lee Gilliland and Lynden Lewis with Lydia Hart as Cinderella, Gia Welch as Little Red Riding Hood, Renee Davis Brame as the Witch, Cody Rutledge as Jack ( of the Beanstalk verse) and Kell Christie as his mother. Atam Woodruff is the Wolf who weaves within the story and challenges trespassers in the "wood."
Other characters who animate the stage are portrayed by Joe Lackie, Jaclyn Suffel, Shannon Sparks, Dani Chaum, Hailey Townsend, Caroline Simpson, Maddie Dunavant, Jacob Wingfield, Philip Himebook, Anna Luanti and Evie Bennett.
Performances play Theatre Memphis on the Lohrey Stage, 630 Perkins Ext, Memphis, TN, 38117, running March 11-April 3, 2016, Thursdays @ 7:30pm, Fridays and Saturdays @ 8pm with matinees @ 2pm on Sundays. Tickets: $30 adults, $15 students with valid ID and youth. Call 901.682.8323 or visit www.theatrememphis.org.
Photos by Skip Hooper (unless otherwise specified)

Renee Davis Brame as The Witch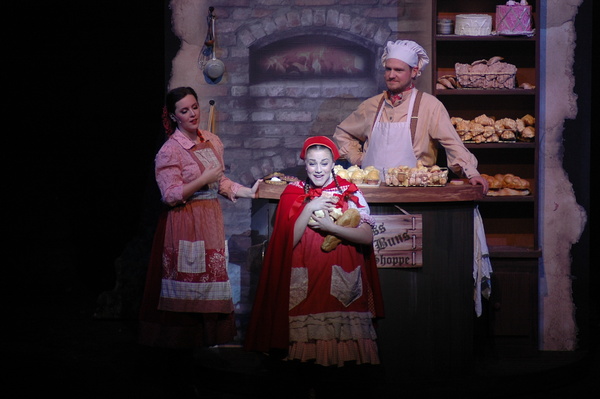 Lee Gilliland, Gia Welch and Lynden Lewis play the Baker, Little Red Ridinghood, and the Baker's Wife

Jacob Wingfield (l) and Philip Himebook are the Princes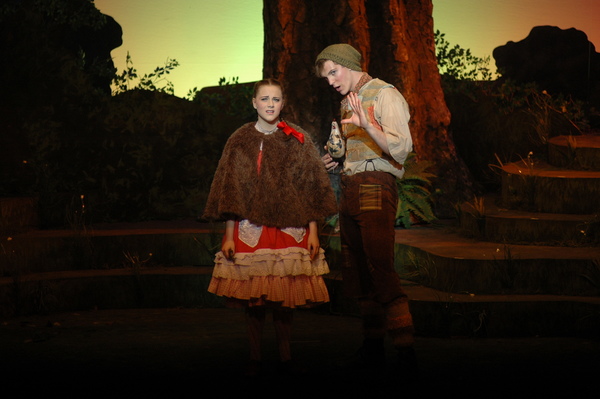 Gia Welch plays Little Red Ridinghood to Cody Rutledge as Jack (of the Beanstalk story)

Renee Davis Brame (right) as The Witch with Lee Gilliland (left) as the Baker holds his child and the Baker's Wife, Lynden Lewis, looks on from the shadows. Photo by Jack Yates.
Featured at the Theatre Shop
T-Shirts, Mugs, Phone Cases & More

More Hot Stories For You