Photo Flash: First Look at Portland Stage's MA RAINEY'S BLACK BOTTOM
Ma Rainey's Black Bottom by August Wilson runs now through October 20, 2013 at Portland Stage. BroadwayWorld has a first look at the cast in action below!
Blues diva Ma Rainey and her band have come to a Chicago studio to cut a record, but their artistic differences nearly stop the session before it starts. Full of unforgettable characters and the raw power of the blues, this 1920s installment of Wilson's groundbreaking cycle of plays confronts the issues of race, fame, and generational divides through the rhythms of the African-American South.
August Wilson (1945-2005) The most-produced African-American playwright of all time, August Wilson was a self-taught writer whose distinctive style combined poeticism and everyday slang. The plays of his remarkable Pittsburgh Cycle chronicled the black experience in America in every decade of the 20thcentury, winning two Pulitzer Prizes and redefining African-American storytelling for a generation of theatergoers.
The cast features: Nyahalé Allie (Dussie Mae); Harvy Blanks (Cutler); Tom Bloom (Irvin); Kevin T. Carroll (Toledo); Winston Duke (Sylvester); Tina Fabrique (Ma Rainey); Corey Gagne (Police Man); Warner Miller (Levee); Tony Reilly (Sturdyvant); and Ray Anthony Thomas (Slow Drag).
The creative team includes: Jade King Carroll (Director); Anita Stewart (Set Designer); Loren Shaw (Costume Designer); Gregg Carville (Lighting Designer); Karin Graybash (Sound Designer); and Myles C. Hatch (Stage Manager).
Estimated Run Time: 2 hours, 30 minutes including a 15 minute intermission. Tickets pricing: Previews $35; Weekdays $40; Weekends $45. Discounts are available for Seniors, Students and Groups. Advertised prices a $3 per ticket fee, when purchased by internet, phone or in person. For more information, click HERE.
Photo Credit: Aaron Flacke

Pianist Toledo (Kevin Carroll*) tells his fellow band members a story

Ma Rainey (Tina Fabrique*) sets the record straight for her manager, Sturdyvant (Tom Bloom*) as police officer (Corey Gagne) looks on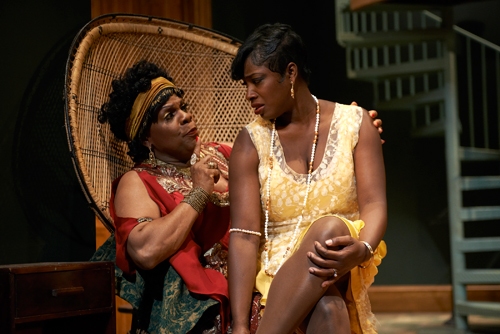 Ma Rainey (Tina Fabrique*) gets cozy with her girl Dussie Mae (Nyahale Allie*) as she complains about her shoes

Ma Rainey (Tina Fabrique*) reminds Irvin (Tom Bloom*) that she is the one in charge of this recording session, as her nephew, Sylvester (Winston Duke*) watches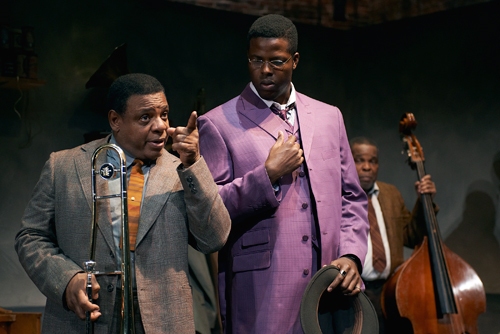 Cutler (Harvy Blanks*) shows Sylvester (Winston Duke*) how to introduce the song "Ma Rainey's Black Bottom"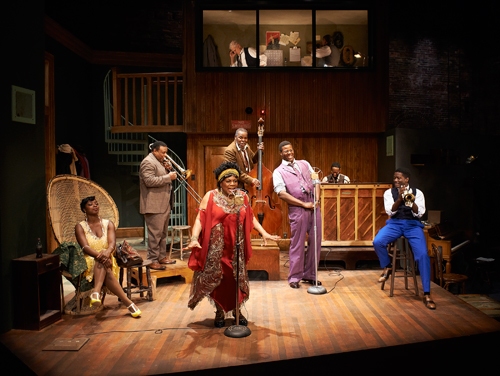 The cast of Ma Rainey's Black Bottom as Ma and her band record a spirited rendition of "Ma Rainey's Black Bottom"

Ma Rainey (Tina Fabrique*) sings straight from the heart

Ma Rainey (Tina Fabrique*) puts her trumpet player, Levee (Warner Miller*), in his place as the band looks on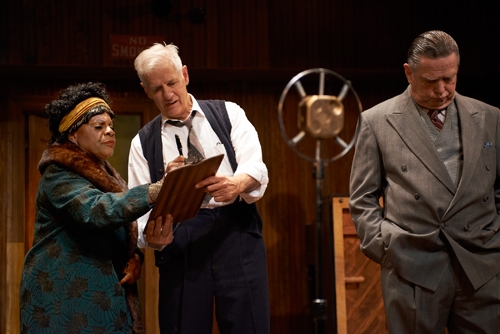 Irvin (Tom Bloom*) finally persuades Ma Rainey (Tina Fabrique*) to sign her record release while producer Mel Sturdyvant (Tony Reilly) keeps his distance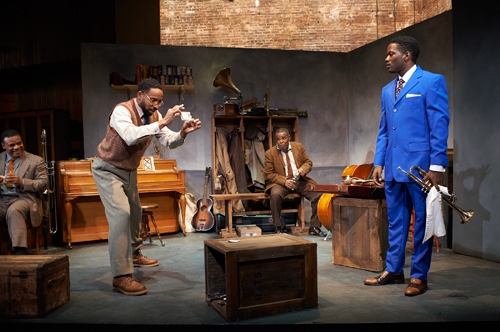 Toledo (Kevin Carroll*) makes a bet with Levee (Warner Miller*) about whether Levee can spell "music" as other band members, Cutler (Harvy Blanks*) and Slow Drag (Ray Anthony Thomas*), watch with amusement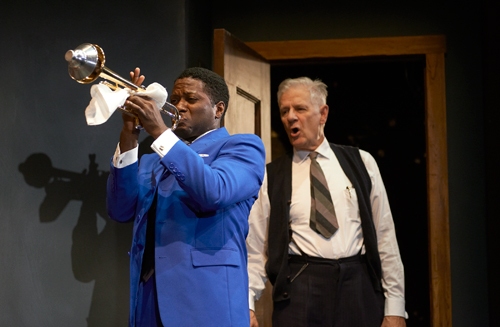 Levee (Warner Miller*) soulfully plays his trumpet just as Irvin (Tom Bloom*) interrupts the band's rehearsal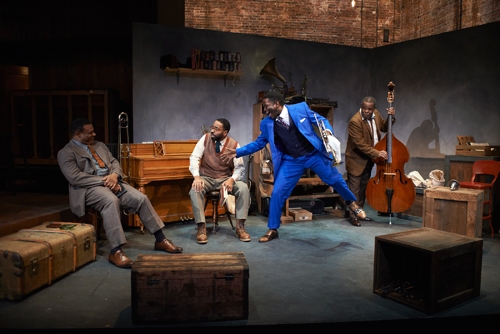 Levee (Warner Miller*) shows his fellow band mates how to have a good time as Slow Drag (Ray Anthony Thomas*) plays him a bass line and Cutler (Harvy Blanks*) and Toledo (Kevin Carroll*) watch, bemused

Producer Mel Sturdyvant (Tony Reilly) delivers some disappointing news to Levee (Warner Miller*)

Trumpet player, Levee (Warner Miller*) negotiates a record deal with producer Mel Sturdyvant (Tony Reilly)
More Hot Stories For You